CrpnDeth Reviews Maiden, Dio & Motorhead in Phoenix


By CrpnDeth, Staff Photographer/Writer
Saturday, September 6, 2003 @ 9:49 PM


| | | |
| --- | --- | --- |
| | | CrpnDeth Reviews Iron Maiden, |
Scream for me Phoenix! Bloody hell! What is it with always missing the opening bands? Bad California habit that I have yet to get rid of. Cruising through the parking lot on the way to the entrance, the bass line for "Killed By Death" rattled everything in its path. Christ, Motorhead is already playing! Next up was "Damage Case" and followed by the show closer "Overkill." From what little I saw, the band was tight and LOUD as usual. Motorhead is consistently right on the money. Long live Lemmy.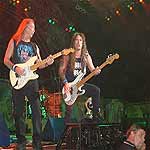 Next up was Ronnie James Dio. Hard to believe this guy is 62. He sounded as perfect as the night I saw him and Megadeth at the Long Beach Area in 1988. "Killing the Dragon" was the first song played by Dio, followed by "Last in Line." He pounded out "Heaven and Hell", "Stand Up and Shout" and "Rainbow in the Dark". Ronnie should be applauded for giving every member of the band their time in the light. Guitar and drum solos showcased the talent that is constantly contained within the band over the years. Ronnie and the band left the audience in awe with his usual stellar performance.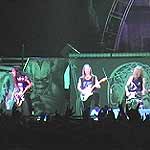 Next, its lights out! There is just something cool about being in a pitch black outdoor arena and hearing a voice on the PA: Woe to you, oh Earth and Sea ... And the crowd goes nuts. Opening of the set was kind of surprising, as the songs were all pre-85: "Number of the Beast," "The Trooper," "Revelations" and "Die With Your Boots On." Unsurprising was the fact that the crowd was outsinging Bruce in volume. This crowd was pumped to see Maiden. And again, another veteran band displaying the perfection of their craft. The jewel of the night was the new song, "Wildest Dreams," which is coming off the new album, Dance of Death due out in September. You can get more information here. Iron Maiden showed us tonight why they are still as strong as ever. The amount of fun they are having as well as the amount of engery just rubs off. You should get out and see them if you get the chance. Very few bands can match up to the caliber of tonight's show. The band has previously announced that they are going to scale down tours and play more festival styles shows (Rock in Rio, Monsters of Rock in England, etc.) so they can play to more fans at one time and reduce traveling. As the US doesn't really have good shows like that anymore, who knows what the future holds as far as seeing them again. (Photos courtesy of the band's official website.)
---

Send your live reviews to submissions@knac.com




Please log in to view RANTS

If you don't have a username, click here to create an account!






2019 RIDE FOR RONNIE Photo Gallery (21)

2019 RIDE FOR RONNIE Photo Gallery (20)

2019 RIDE FOR RONNIE Photo Gallery (19)

2019 RIDE FOR RONNIE Photo Gallery (18)

2019 RIDE FOR RONNIE Photo Gallery (17)

2019 RIDE FOR RONNIE Photo Gallery (16)

2019 RIDE FOR RONNIE Photo Gallery (15)

2019 RIDE FOR RONNIE Photo Gallery (14)

2019 RIDE FOR RONNIE Photo Gallery (13)

2019 RIDE FOR RONNIE Photo Gallery (12)

2019 RIDE FOR RONNIE Photo Gallery (11)

2019 RIDE FOR RONNIE Photo Gallery (10)

2019 RIDE FOR RONNIE Photo Gallery (9)

2019 RIDE FOR RONNIE Photo Gallery (8)

2019 RIDE FOR RONNIE Photo Gallery (7)

2019 RIDE FOR RONNIE Photo Gallery (6)

2019 RIDE FOR RONNIE Photo Gallery (5)

2019 RIDE FOR RONNIE Photo Gallery (4)

2019 RIDE FOR RONNIE Photo Gallery (3)

2019 RIDE FOR RONNIE Photo Gallery (2)

2019 RIDE FOR RONNIE Photo Gallery (1)

CHEAP TRICK In Houston Photo Gallery (15)

CHEAP TRICK In Houston Photo Gallery (14)

CHEAP TRICK In Houston Photo Gallery (13)

CHEAP TRICK In Houston Photo Gallery (12)

CHEAP TRICK In Houston Photo Gallery (11)

CHEAP TRICK In Houston Photo Gallery (10)

CHEAP TRICK In Houston Photo Gallery (9)

CHEAP TRICK In Houston Photo Gallery (8)

CHEAP TRICK In Houston Photo Gallery (7)

CHEAP TRICK In Houston Photo Gallery (6)

CHEAP TRICK In Houston Photo Gallery (5)

CHEAP TRICK In Houston Photo Gallery (4)

CHEAP TRICK In Houston Photo Gallery (3)

CHEAP TRICK In Houston Photo Gallery (2)

CHEAP TRICK In Houston Photo Gallery (1)

SLAYER In Columbia, MD Photo Gallery (15)

SLAYER In Columbia, MD Photo Gallery (14)

SLAYER In Columbia, MD Photo Gallery (13)

SLAYER In Columbia, MD Photo Gallery (12)

SLAYER In Columbia, MD Photo Gallery (11)

SLAYER In Columbia, MD Photo Gallery (10)

SLAYER In Columbia, MD Photo Gallery (9)

SLAYER In Columbia, MD Photo Gallery (8)

SLAYER In Columbia, MD Photo Gallery (7)

SLAYER In Columbia, MD Photo Gallery (6)

SLAYER In Columbia, MD Photo Gallery (5)

SLAYER In Columbia, MD Photo Gallery (4)

SLAYER In Columbia, MD Photo Gallery (3)

SLAYER In Columbia, MD Photo Gallery (2)

SLAYER In Columbia, MD Photo Gallery (1)