RITCHIE BLACKMORE'S RAINBOW Live In Birmingham


By Daniel Höhr, European Correspondent
Monday, June 12, 2017 @ 12:50 AM


| | | |
| --- | --- | --- |
| | | |
RITCHIE BLACKMORE'S RAINBOW
Live In Birmingham
Eagle Records 2017




In 2016 former DEEP PURPLE and RAINBOW guitarist Ritchie Blackmore put a new band together and played three shows under the name "RITCHIE BLACKMORE'S RAINBOW", two in Germany and one in Birmingham, UK. A compilation of material from the German shows on 17 and 18 June 2016 in Sankt Goarshausen and Bietigheim-Bissingen respectively has already been released on CD/DVD under the title Memories In Rock – Live In Germany. Now the show at Birmingham's Genting Arena on 25 June 2016 is out on a double CD. These are the first releases under the mighty RAINBOW banner since the 1994 resurrection of the band (albeit with a completely new line-up), their studio album Stranger In Us All (1995) and the concert filmed in Düsseldorf, Germany for the German Rockpalast TV series in 1995 and released under the title Black Masquerade on CD and DVD.

The line-up of the present incarnation of RITCHIE BLACKMORE'S RAINBOW is, like the 1990's version of the band, a completely new one. Blackmore drafted singer Ronald Romero, bassist Bob Nouveau, keyboard legend Jens Johansson and the drummer of his folk/Renaissance music act BLACKMORE'S NIGHT, David Keith. Blackmore's wife and lead singer in BLACKMORE'S NIGHT, Candice Night, as well as Lady Lynn, background singer in BLACKMORE'S NIGHT, supply the necessary backing vocals.

When Blackmore first announced the upcoming rock shows under the label of RAINBOW, he told Billboard they'd be performing "the old rock stuff, PURPLE stuff and RAINBOW", adding he was "doing it for the fans, for nostalgia". Note that Blackmore mentions "PURPLE stuff" first. Accordingly, the track list of this double live CD includes more DEEP PURPLE (Mark II – IV) than actual RAINBOW songs, which might be expained by the fact that the music of Blackmore's former band got quite a lot of attention in 2015. DEEP PURPLE were heavily touring from February 2013 to December 2015 while David Coverdale had temporarily turned WHITESNAKE into a DEEP PURPLE tribute band with their 2015 effort The Purple Album and the ensuing tour, a project that had originally been conceived as some sort of DEEP PURPLE Mk III reunion and which Ritchie Blackmore could actually have been part of if he had wanted to and if it had worked out the way Coverdale had envisaged it. Blackmore's three rock shows under the RAINBOW banner and the two releases may well have been his answer to Coverdale's tribute to their joint past in DEEP PURPLE Mk III.

Laying all speculation aside, let's turn to the present live recording. The compilation of PURPLE and RAINBOW material from various eras meant for Ronald Romero that he had to sing songs originally recorded by vocal titans Ronnie James Dio, Graham Bonnet, Joe Lynn Turner, Ian Gillan and David Coverdale, a challenge Doogie White, vocalist in the 1994 to 1997 version of RAINBOW, mastered with flying colours, as documented on Black Masquerade. Romero is doing a good job as well. He simply nails the Dio songs "Man On The Silver Mountain", "Catch The Rainbow", "Long Live Rock 'N' Roll" and most certainly the epic "Stargazer". He is completely convincing on "Spotlight Kid" and "Since You've Been Gone" and sounds great on the Coverdale-era PURPLE songs "Mistreated", "Burn" and "Soldier Of Fortune", even though it is quite impossible for anybody except Coverdale himself to get the feel of that song across. However, the Gillan classics "Highway Star", "Perfect Strangers", "Child In Time", "Black Night", "Woman From Tokyo" and the inevtiable "Smoke On The Water" are clearly not Romero's thing.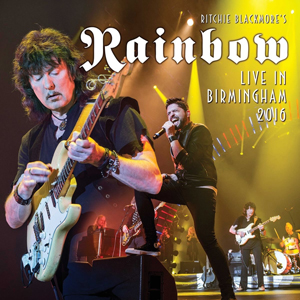 Sadly, this is also true for the entire band. "Highway Star", "Perfect Strangers" and "Child In Time" (which is the lowest point of the album) lack drive, power and dynamics. Seldom have I heard such lame versions of DEEP PURPLE classics. Seriously, I have seen and heard amateur tribute bands doing a better job and playing with a heavier and more appropriate sound. Blackmore's guitar sounds extremely thin and is almost inaudible in some places, which is a real shame because this recording is one of the rarest occasions to hear him play his Fender Strat with a rock band since 1997. Even though the space is filled by Jens Johansson's great Hammond organ playing and Bob Nouveau's melodic bass lines, it sometimes sounds like there is something missing.
Still, Blackmore plays with a lot of feeling and especially the instrumental "Difficult To Cure (Beethoven's Ninth)" showcases not only his but also the other band member's exceptional skills. The interaction of the band, however, leaves something to be desired in certain places. Thus the bass doesn't always lock in with the drums but it speaks for the honesty of the production that the odd inaccuracy such as in "Since You've Been Gone" (1:12 – 1:13) weren't ironed out in the studio – after all, this is a live recording.
Whether the fans are entirely happy with this release, I don't know. It certainly can't hold a candle to the 1995 Black Masquerade live CD/DVD, not to mention earlier live records by the classic RAINBOW line-ups. And as far as the nostalgia factor is concerned, it may make people turn to the classic DEEP PURPLE and RAINBOW albums. And if this is the purpose of the latest incarnation of RITCHIE BLACKMORE'S RAINBOW, then the end certainly justifies the means.
2.0 Out Of 5.0
Grab your copy of Live In Birmingham in the KNAC.COM More Store right HERE.




Please log in to view RANTS

If you don't have a username, click here to create an account!