DROWNED TEN Stand


By Peter Atkinson, Contributor
Thursday, June 15, 2017 @ 10:32 AM


| | | |
| --- | --- | --- |
| | | |
DROWNED TEN
Stand
Self-released




For some, a heart attack might seem like a good reason to give up rocking and rolling – or at least scale said rocking and rolling back. Edinburgh, Scotland's Chris Turpin obviously felt otherwise. After suffering a minor heart attack last year, he decided to more seriously pursue the hard rock game. Indeed, so inspired was Turpin that he put together an album's worth of material in a home studio over the course of just a couple months - and then went about getting a band together.

With fellow Scot Aaron Rankin on bass, and, thanks to Facebook, guitarist Radu Spinache and drummer Rogerio Calil Dos Reis – who hail from Portugal – Turpin was able to round out the DROWNED TEN lineup. The logistics certainly haven't made things easy for the fledgling group. But it has soldiered on – going the crowd-funding route in the hopes of securing some tour support – and already is working on material for a second album, even though the self-released debut Stand was just issued during the spring.

In fact, two new songs, "Fall" and "Internal Solstice", are now available on Bandcamp – even as the band is casting about for new members who "preferably live local", as apparently the "Portuguese experiment" could not overcome its logistical/economic challenges. But the new songs show that DROWNED TEN – in whatever shape or form – seems to be heading in the right direction and address some of the shortcomings of the Stand album, most notably the production and pace.

Stand has a very rehearsal tape/demo-like quality about it. The sound is rough and rather thin, with Turpin's breathy vocals standing out over a scratchy, muted wash of guitar and understated drums. There is a slogging, almost cautious pace, especially over the first half of the album, that almost seems like the material is still being fleshed out, with the focus being more on feeling through the chords, rhythms and arrangements instead of just bashing away at them.

DROWNED TEN bills itself as a "progressive/doom metal" band. But the tunes, as presented here, come across as fairly basic BLACK LABEL SOCIETY-like hard rock and much of the "doomy" aspect comes as a result of a dearth of "Damned Agression", to borrow from one of Stand's titles. Indeed, it isn't until immediately after "Agression" - the misspelling is the band's not mine – with the midtempo bounce of "Double Flow" that the album starts to show some spunk. A bit later, the surprisingly feisty "Relapse", with its "all you haters can fuck off" sentiment, churning rhythm and crunching riffs, stands – no pun intended - as album's most forceful tune.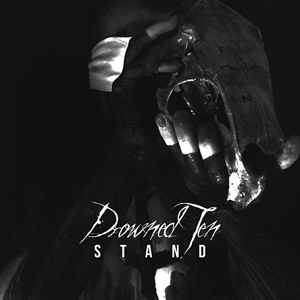 "The Abyss" does bring some genuine doom to the table, echoing BLACK SABBATH especially in Turpin's OZZY-like vocals, ditto "Drag Me To Hell" with its bluesy march. After backsliding a bit with the mopey, ironically titled "Elation" Stand finishes with a flourish with the jaunty "Ultrasonic Brew" and "Soul Awakens", both of which bring ample chug even though they could have benefited from a bolder, more prominent guitar sound, something that could be said for most of the album.
This leads us back to the two newer songs the band has issued. Where much of Stand seems measured and tentative, both "Fall" and "Internal Solstice" offer a noticeable boost in oomph and swagger, and sound more confident, professional and fully realized. A bigger, better mix really does wonders, and the grungier, more emphatic approach provides some welcome punch.
Given that the DROWNED TEN enterprise is barely a year old, there are bound to be some growing pains. And while Stand makes for a bit of shaky foundation, the band already is shoring things up – at least sonically. It will be interesting to hear how things sound when, and if, the band really gels.
2.5 Out Of 5.0




Please log in to view RANTS

If you don't have a username, click here to create an account!