earMUSIC announces the release on CD + DVD of UNISONIC's 2016 Wacken Open Air show.

With their 2012 self-titled debut album, UNISONIC unleashed a storm of enthusiasm. For the first time in 23 years, the two former members of Hamburg's metal institution HELLOWEEN — Michael Kiske and Kai Hansen – reunited to play in the same band. More than a few metal fans might have shed a tear.

After the successful follow-up album Light Of Dawn (2014), a worldwide tour followed with memorable gigs in South America, Europe and Japan until UNISONIC, still at full speed, brought their energy to the small village of Wacken where one of the biggest and most spectacular metal festivals in the world takes place every year.

On stage the band showed their class and diversity; their sound is spiked with remarkable riffs and guitar solos, thundering grooves, classic metal hymns and hooks other bands would be dying to write. And on top the anthemic vocals of Kiske, whose "out-of-this-world" voice is so extraordinary and strong, he is often mentioned in the same breath with Bruce Dickinson, Rob Halford and Geoff Tate.

You can enjoy it by watching a clip below.

Like the studio albums, Live In Wacken was mixed and mastered by the band's own Dennis Ward.

The UNISONIC show will be available on a limited CD+DVD (Digipak) version. The bonus DVD includes the video recording of six songs from their spectacular performance.

TRACKLISTING: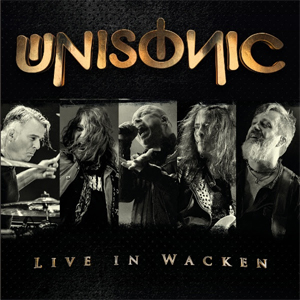 CD
"Venite 2.0"
"For The Kingdom"
"Exceptional"
"My Sanctuary"
"King For A Day"
"A Little Time"
"Your Time Has Come"
"When The Deed Is Done"
"Star Rider"
"Throne Of The Dawn"
"March Of Time"
DVD
"For The Kingdom"
"Exceptional"
"Your Time Has Come"
"When The Deed Is Done"
"March Of Time"
"Unisonic"