Josh Todd Live in Philly


By Tokemaster General, Contributor
Thursday, September 18, 2003 @ 10:43 AM


| | | |
| --- | --- | --- |
| | | Josh Todd (Formerly of Buckche |
REVIEW BY: Bay Breez "From Lit Up To Now Wasted…"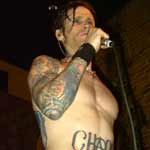 Everyone remembers that song that was all over the radio a few summers ago, you know the cocaine song… "I love the cocaine, I love the cocaine." Well the song was actually called "Lit Up" and the man behind it was Josh Todd, with his former band Buckcherry. Buckcherry was heralded as the next super group, the next Guns 'N Roses, but after their second album bombed, the band called it a day. Josh Todd, then started working with Slash and Duff from GNR on an early version of what has become Velvet Revolver, but Josh was given the boot, and we were all told, he just didn't fit the band. All these things lead to Josh going solo and putting his own band together. A band of no names, and well… kids. His new band, I think, are still in late teens to early twenties. From what I remember, Josh answered a band's ad for a singer, and well he didn't tell them who he was, he jammed with them, and well has now made them his band. Well, let me tell you from the songs I have heard on his webpage, and now what I heard and saw live… you're going to forget all about Buckcherry and you will remember Josh Todd. Josh hit that stage and was like a time bomb just waiting to explode, and from that opening song "Blast," that is what he did. The band launched into the next song "Burn" and "Straight Jacket." Just three songs in, and the Philly crowd were literally blown away. Josh and band, just kept going from one song to another --Josh not saying too much in between songs just letting the music do the talking, with songs "The Walls," "Mind Infection" and "Broken." Josh was dancing and jumping all over the stage, which at times, I said to myself, I wonder why Slash and Duff gave this guy the boot, as he was tearing it up on stage. "Flowers and Cages" and "Afraid" were next and then it was the cocaine song, "Lit Up," which you would think would get the biggest crowd reaction. As the songs went on the band and crowd got more and more excited and into the new songs, with the next few songs really getting the crowd, louder and louder, "Shine," "Circles" and lastly the song, which should be the first single, "Wasted." This song totally blew the crowd away, and the band, was just enjoying it so much playing it, as they were each song. Then the band left the stage, and it seemed to be end of the night, but a few people started screaming for one more, then a few more, and next thing you know, people were stomping their feet on the floor and hollering for more. So the band came back on, and you can tell they weren't expecting it at all. As they were trying to figure out what song to play, a guy in crowd starts hollering, "Lost Idols" and that was what they launched into. After that Josh thanked the Philly crowd for really embracing the new stuff, and thanked everyone for coming out and played the last song, "Catastrophe." Josh and the band came out afterwards, and signed autographs and took pictures with the crowd and thanked everyone for coming out, which was cool. I thanked him for kicking my ass and for putting on the best show I have seen this year so far. So if Josh and the band come to a town near you check them out, and check out his website, as you can order the new CD off his site -- you won't be disappointed.
---

Send your live reviews to submissions@knac.com




Please log in to view RANTS

If you don't have a username, click here to create an account!