V1 Armageddon: End Of The Beginning


By Daniel Höhr, European Correspondent
Monday, June 19, 2017 @ 1:36 PM


| | | |
| --- | --- | --- |
| | | |
V1
Armageddon: End Of The Beginning
Independent Release 2017




Some projects, for whatever reason, take longer than others and some stories take longer to be told than others. In the present case, the project began in 1978 and the story, or rather histry, is an exciting one. It is told in the booklet of the release at hand and, for the music history dabsters, in much greater detail on the band's website . The gist of it is that back in 1978 lead guitarist Terry Wapram and charismatic frontman Dennis Willcock parted ways with a then little known London-based rock outfit by the name of IRON MAIDEN to form V1. Songs were written, gigs were played, and a loyal fanbase known as the V1 Army was established. The band was based at the legendary The Ruskin Arms, one of the best music venues in East London. A demo was recorded and there seemed to be a bright future ahead. However, things didn't quite work out and the rest is history.

Thanks to the growing interest in the NWOBHM in recent years, V1's demo tape was released in 2015, together with material recorded by Willcock's later project GIBRALTAR resulting in the re-launch of V1 with a new line-up. Ten original songs from 1978 as well as two more recent once were recorded and the album is now out on CD under the title Armageddon: End Of The Beginning. Apart from vocalist Dennis Willcock and guitarist Terry Wapram, the line-up consists of Dwight Wharton (bass) and Gareth Dylan Smith (drums). V1 founding member Charlie 'Chas' Borg is featured on bass on "Don't Cause A Scene".

Recorded and engineered by Al Harle at Big Jelly Studios UK, the album contains twelve tracks and each and every one of them is a kick-ass winner. It is difficult to single tracks out but if I had to pick my favourites, I'd go for the following: The up-tempo opener "V1" is a relentless rocker that leaves no doubt that the chorus line "V1 rocket gonna rock your house down" is meant seriously. The mid-tempo number "Taking You Higher" comes grooving along with a cowbell while "Devil Devil" simply makes you turn up the volume to neighbour-annoying levels. The unremitting intensity of Wapram's guitar riffs on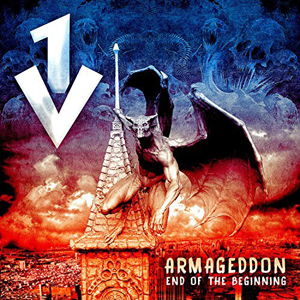 "Don't Cause A Scene", a new song written for the album, goes straight in your face and was the perfect pick for a teaser before the release of the album. One of the undisputed highlights on this excellent album is the more progressive track "Lights" with its different moods, tempo and beat changes, dynamics, a chorus that makes you want to shout along and spacey instrumental parts showcasting Terry Wapram's virtuosity and versatility on guitar. "She's So Easy" combines a bluesy feel with a good-time rock 'n' roll chorus. "Runner" must be killer song live and the concluding gloomy and epic title track "Armageddon", written in 2012, brings in the dramatic element, not only because of Mick Staddon's voice narration but also because the end-of-days feel of the song. Musically, it features Willcock's soaring vocals and a PINK FLOYD-style guitar sound. The lyrics of this song have an uneasy topicality, given the growing ecological destruction of our planet and recent political decisions that are bound to accelerate the development.

Far from being a 1970s nostalgia rock outfit, V1's album features classic rock composed of a range of different elements in a modern, heavy, no-frills sound. The twelve awesome songs, each a world of its own, Dennis Willcock's characteristic vocals, Terry Wapram's excellent guitar work as well as Dwight Wharton's stellar bass playing and Gareth Dylan Smith's brilliant drumming make Armageddon a first-rate rock album and huge fun to listen to. V1's Armageddon: End Of The Beginning will excite classic rock and metal fans alike and is therefore heartily recommended.

The album can be ordered through's V1's website HERE.

5.0 Out Of 5.0




Please log in to view RANTS

If you don't have a username, click here to create an account!






DEEP PURPLE, ALICE COOPER, THE EDGAR WINTER BAND In Los Angeles, CA With Photos!

MICHAEL SCHENKER Michael Schenker Fest Live, Toyko International Forum Hall A

SEETHER Poison The Parish

NIVIANE The Druid King

BARB WIRE DOLLS Rub My Mind

METALLICA, AVENGED SEVENFOLD In Seattle, WA With Photos!

FOREIGNER, CHEAP TRICK In Houston, TX With Photos!

MASTERPLAN Pumpkings

RAGE Seasons Of Black

DIRKSCHNEIDER Back To The Roots-ACCEPTED!

QUIET RIOT Road Rage

METALLICA, AVENGED SEVENFOLD In Phoenix, AZ With Photos!

BRITISH LION In Cologne, Germany With Photos!

GOJIRA, PALLBEARER, ONI In Anaheim, CA

LEPROUS Malina

SEPTICFLESH Codex Omega

RIOT Sons Of Society Bonus Edition Reissue

RINGS OF SATURN Ultu Ulla

HATE Tremendum

NICKELBACK, DAUGHTRY In Houston, TX With Photos!

The 2017 ALTERNATIVE PRESS MUSIC AWARDS In Cleveland, OH With Red Carpet Photos!

12 STONES Picture Perfect

TOWER OF BABEL Lake Of Fire

RIOT Inishmore Bonus Edition Reissue

RIOT Shine On Bonus Edition Reissue

METALLICA, AVENGED SEVENFOLD In LA Photo Gallery

SLAYER, LAMB OF GOD In Baltimore

2017 CHICAGO OPEN AIR Photo Gallery 2

2017 CHICAGO OPEN AIR Photo Gallery 1

BLACK 'N BLUE, AUDIOREHAB In Ottawa, Canada

HINDER The Reign

THUNDERSTICK Something Wicked This Way Comes

ORDEN OGAN Gunmen

BYZANTINE The Cicada Tree

ROB HALFORD The Complete Albums Collection

PRONG Zero Days

WINTERSUN The Forest Seasons