Power Metallists PHEAR Return With New EP, The Curse Lives On


By Larry Petro, News Monkey
Tuesday, June 20, 2017 @ 8:21 AM


| | | |
| --- | --- | --- |
| | | Out June 30th |
If you long for the sounds of vintage power and thrash metal with a prog twist, then there is a fast-rising band that perfectly fits this description - PHEAR. Comprised of Patrick Mulock - Lead Vocals, Graham Stirrett - Guitar/Backing Vocals, Tyson Emanuel - Guitar/Backing Vocals, Chris Boshis - Bass Guitar/Backing Vocals, Chris Lewis - Drums/Percussion/Backing Vocals, the band is gearing up to issue a five-track EP, The Curse Lives On (release date Friday, June 30th, 2017), which follows their debut full-length, Insanitarium.

"PHEAR was formed in Toronto in 2015," explains Patrick. "I played in Metal Blade recording artists EIDOLON with Glen and Shawn Drover - formerly of MEGADETH - from 2001-2004. Prior to that I was in a local outfit called RAMPAGE that had some success in the Toronto area, and for some strange reason, Australia. After a semi-retirement from music (2004- 2014), I had the RAMPAGE boys over to discuss doing it again. Unfortunately, all couldn't commit due to other bands, jobs etc. So, with 2 new members and 3 original RAMPAGE members, we formed PHEAR."

The forthcoming EP does not disappoint with its ferocity, as it contains both studio and live cuts, including a killer IRON MAIDEN cover. "Doing our first cover ever, "Rime Of The Ancient Mariner", I think I'll never forget the first power chord I heard on the guitar. I knew that the 7 string guitars would beef it up a little but BOOM....I just remember smiling and saying, 'That's what I'm talking about.' "Dirty Work" was a little departure for us....We had an ALICE IN CHAINS feel with the harmonies and I really like how it came out. Live songs...."Don't Scream" / "Heaven" / "Regan's Dream", I remember being very nervous for that show. I literally got home from 10 days in Europe and had to perform in 3 days. But the show went well and after 5 minutes, we got into our flow."

A video trailer for "Rime Of The Ancient Mariner" has been posted below.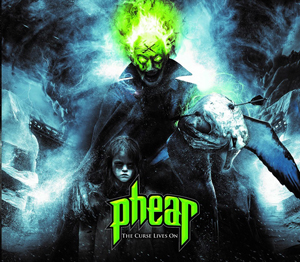 And prepare to be blown away by PHEAR's live show - including Canadian dates in the fall/winter (with the possibility of dates in Europe, Japan, and the US, as well). "PHEAR treats our live show as an event. I go see a lot of live bands in Toronto. We try to support live music as much as possible. Good or bad, most bands go up on stage, play their songs than leave the stage. Well that's not good enough for us. PHEAR owns its own production! We use lighting effects, strobes, lasers, blinders, smoke machines, geysers. We are all in costumes, not our street clothes. If we could use pyro....trust me, we would and hope to be in the near future. We have our own light guy, sound guy because we want it to be a great sounding and great looking show for everybody to enjoy. We are getting more and more theatrical every show we do. The "Rime" video is a good representation of what you are going to see."
Lastly, expect much from PHEAR in the future. "The immediate future is exciting. We will begin rehearsal for the fall and winter 2017 Canadian Shows. Also, we have begun the writing of our next full length album, for release early 2018. We are very excited about bringing our music to the world. With that said, All the fans and Industry that have been so very, very kind to us, we thank you for your continued support and look forward to seeing you soon."
Pre-order The Curse Lives On EP HERE and HERE.
The Curse Lives On EP Tracklisting:
"Rime Of The Ancient Mariner"
"Dirty Work"
"Don't Scream" LIVE
"Heaven" LIVE
"Regan's Dream" LIVE




Please log in to view RANTS

If you don't have a username, click here to create an account!