DREAM EVIL Six


By Alex Yarborough, Orlando Contributor
Friday, June 23, 2017 @ 1:14 PM


| | | |
| --- | --- | --- |
| | | |
DREAM EVIL
Six
2017 Century Media Records




"One day we will have to surrender, we will have to grow up. But not yet, we're still too young… everybody wants to rock!" Welcome back DREAM EVIL! It has been too long (over seven years) since the band released In The Night. This Swedish powerhouse once featured guitarist Gus G and drummer Snowy Shaw. Those members have long since moved on, but the current lineup is always amazing: Guitarist, songwriter and producer Fredrik Nordström, guitarist Markus Fristedt, bassist Peter Stalfors, drummer Patrik Jerksten and the amazing Niklas Isfeldt, who deserves far more recognition for the work he does. He is one of the top vocalists in power metal in my opinion.

It took a while for the band to get things in order to make this album, but once they did, they had a few rules: "There was no auto-tune, no 400-piece symphonic orchestra and no bullshit required". From the group of songs written, they were eventually narrowed down by a jury of DREAM EVIL fans to the 12 on the album.

Six kicks off with the very catchy namesake "Dream Evil", which features a chorus of "See no evil, hear no evil, speak no evil… you just Dream Evil!" You can view the video for this song on KNAC.COM right HERE. The way upbeat "Antidote" became an immediate favorite of mine, with its over-the-top chorus. "Sin City" is another fun track that tells a tale of partying with the devil. "Creature Of The Night" is a mid-tempo track that gets about as close to ballad territory as possible without really being a ballad.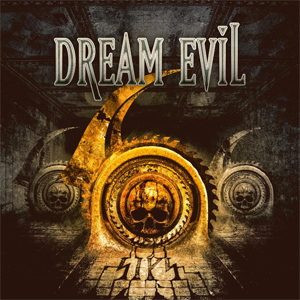 "Hellride" stands out and is one of my favorite songs on the album. This is a fiery track that features an amazing lead vocal from Isfedt and a downright nasty riff from Nordström! Power chords propel the mid-tempo stomp of "Six Hundred And 66", while "How To Start A War" is driven by its sing-along melody. "The Murdered Mind" is a head-banging delight, and offers some of the best riffs on the album. I got a chuckle out of the awesome "Too Loud", a song unabashedly proud in the Heavy Metal lifestyle; this is a fun party anthem for sure. The pounding "44 Riders" celebrates biker culture, and even includes roaring motorcycle sounds. "Broken Wings" is my favorite on the second half of the album. This is a great song with a killer chorus. "We Are Forever" closes the album with a powerful unity statement.
I've had a lot of fun listening to this new album Six (of course, the band's sixth album). The energy and attitude this band injects into a sometimes repetitive genre is much appreciated. There are loads of infectious riffs all over the place; you can crank it up as loud as possible and it sounds terrific, this is simply a sonic masterpiece.
Six is available now on Century Media Records. Having been a fan since day one, I can attest that this is one of their most enjoyable albums. It's like the band hasn't missed a step. At nearly 52 minutes, it is DREAM EVIL's longest album as well.
4.6 Out Of 5.0
Grab your copy of Six in the KNAC.COM More Store right HERE.




Please log in to view RANTS

If you don't have a username, click here to create an account!