MR. BIG In Agoura Hills, CA With Photos!


By Charlie Steffens aka Gnarly Charlie, Writer/Photographer
Thursday, June 29, 2017 @ 7:40 AM


| | | |
| --- | --- | --- |
| | | At The Canyon Club, June 23rd |
All Photos By Gnarly Charlie
Hard-rocking heroes MR. BIG performed for a packed house at the Canyon Club in Agoura Hills, California in support of their ninth studio album, Defying Gravity. It was night one of two L.A. appearances—the last two dates of the U.S. leg of a tour that launched on May 31st.
The original lineup of Eric Martin (vocals), Billy Sheehan (bass), Paul Gilbert (guitar), Pat Torpey (drums and percussion), and Matt Starr (drums) played a two-hour set of fan favorites and a couple songs from the new release.
The band walked onstage as James Brown's "I Can't Stand Myself (When You Touch Me)" pumped from the speakers. As singer Eric Martin handed guitarist Paul Gilbert a blue Makita power drill, it became obvious, particularly to Mr. Big fans, that the kick off for the night would be "Daddy, Brother, Lover, Little Boy". As the drill touched down on Gilbert's strings for the intro, all eyes were on the man regarded as one of the best guitarists on the planet. Billy Sheehan, a bassist's bassist, added depth to the mix as Martin belted out the lyrics to the incendiary track from 1991's Lean Into It album.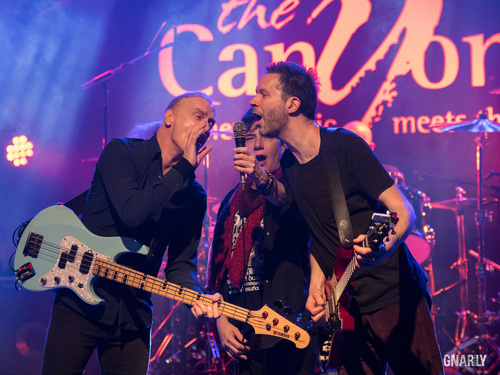 Pat Torpey was noticeably absent from the drum kit for nearly the entire set, except to play "Just Take My Heart". Since the onset of Parkison's disease, most of Torpey's drum duties, both on tour and recently in the studio, have been taken over by Matt Starr. Torpey, however, is still an integral part of the band's vocal harmonies and percussion.
The band was in sync, and the chemistry on stage gave the performance extra gusto as they clowned with each other, ruefully laughing their way through a glitch in the sound during "Undertow". Occasionally there were glimpses of MR. BIG shows from the past: during "Price You Gotta Pay", Sheehan lowered his bass guitar to play harmonica while Martin got behind him to pluck the strings on the neck of the bass, adding a note of fun. Their guitar-heavy sound was enriched by the powerhouse drumming of Starr, who has been touring with the band for almost three years.
The individual solos from Gilbert and Sheehan were well-placed in the set. The way these musicians play, from a technical standpoint, is formidable. Sheehan's powerful bass solo, which lasted several minutes, was fittingly followed by "Addicted To That Rush", a definite highpoint of the evening. Unexpectedly, the band slid into THE ALLMAN BROTHERS classic, "One Way Out", an apparent tribute to the late Gregg Allman.
One of the things that is true about MR. BIG is that they consistently play for large crowds of thousands when touring overseas; at the Canyon Club, the crowd, most of which were sedately seated at tables, numbered about 1000. After the LA shows, they are off to continue their tour. It can be hoped that those crowds will be more enthusiastic in their appreciation of great live rock.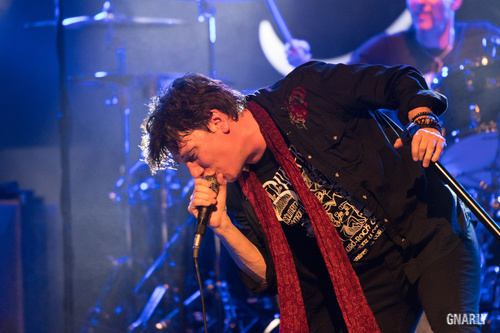 Setlist:
"Daddy, Brother, Lover, Little Boy (The Electric Drill Song)"
"American Beauty"
"Undertow"
"Alive And Kickin'"
"Temperamental"
"Just Take My Heart"
"Take Cover"
"Green-Tinted Sixties Mind"
"Everybody Needs A Little Trouble"
"Price You Gotta Pay"
Guitar Solo
"Take A Walk"
"Wild World" (CAT STEVENS cover)
"Rock & Roll Over"
"Around The World"
Bass Solo
"Addicted To That Rush"
Encore
"To Be With You"
"Colorado Bulldog"
"1992"
"Baba O'Riley" (THE WHO cover)
Check out some more photos from the show!
All Photos By Gnarly Charlie




Please log in to view RANTS

If you don't have a username, click here to create an account!