DYING FETUS Wrong One To Fuck With


By Peter Atkinson, Contributor
Wednesday, July 5, 2017 @ 1:19 PM


| | | |
| --- | --- | --- |
| | | |
DYING FETUS
Wrong One To Fuck With
Relapse Records




After more than than a quarter-century in the death metal trenches, Maryland's DYING FETUS apparently was looking to make an obvious statement with album number eight, the band's first in five years.

For one, DYING FETUS opted to go with the gnarly, more typically "death metal" logo it had used for its T-shirts on the album cover for the first time, instead of the usual block letters, which is a purely cosmetic change. Then, of course, there's the album's profane title and purposefully grotesque machete-wielding maniac cover art, both of which are much more overt and, again, somewhat unprecedented. They certainly do grab one's attention – so mission accomplished from that end.

But go beyond that to the music itself, however, and not much has changed. Wrong One To Fuck With offers the tech-death meets brutal death metal blasting and hammering that has been the band's forte from the get-go. Operating again as a trio, as it has since 2009's Descend Into Depravity, DYING FETUS presents a furious flurry of dizzying widdly twiddly guitar runs, crunching grooves and slams, neck-snap time changes, and the double-team growl-and-puke vocals of guitarist John Gallagher and bassist Sean Beasley.

It all sounds a bit like SUFFOCATION in a blender with DEVOURMENT and Chris Barnes-era CANNIBAL CORPSE, with the topical twist to the lyrics that has always set DYING FETUS apart from the herd. Which is to say business as usual – not that there's anything wrong with that, even if that's almost certainly what prompted/necessitated the unusually garish and provocative artwork and title.

And that still seems like something of a cheap ploy, despite the vehemence of the title track, which is a heaving, chugging monster that closes the album with its tale of righteous comeuppance: "Stalking the weak, making the rules/You just realized, I'm the wrong one to fuck with." But, whatever.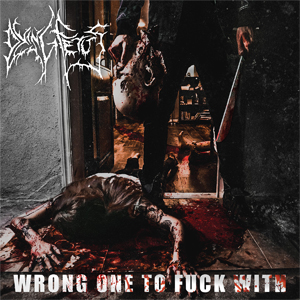 Ironically, "Fuck With" is also one of the album's catchier tracks – in a manner of speaking, of course – matched only by the wicked hooks of "Reveling In The Abyss" and "Weaken The Structure". Despite the obvious dexterity and agility DYING FETUS possess, and the brutality it so often exhibits, the band hasn't forgotten that tunefulness still matters, and there is certainly no shortage of moshability here.
On the tech-death end of things, Gallagher's fleet, fluttery guitar work is at its seizure-inducing peak on "Seething With Disdain" and "Ideological Subjugation", and the band's craftiness – effortlessly weaving complex rhythms into even the most vicious arrangements, and shifting gears from slog to sprint and back - continues to awe. So even if there's not much that's dramatically different in the music or approach here from albums past, the musicianship and raw-boned heaviness are as viscerally satisfying as ever.
And as long as DYING FETUS didn't fuck with that, any shortcomings – cosmetic or otherwise - probably aren't really worth giving a fuck about.
3.5 Out Of 5.0
Grab a copy of Wrong One To Fuck With in the KNAC.COM More Store right HERE.




Please log in to view RANTS

If you don't have a username, click here to create an account!