BLIND GUARDIAN Live Beyond The Spheres


By Daniel Höhr, European Correspondent
Wednesday, July 5, 2017 @ 1:20 PM


| | | |
| --- | --- | --- |
| | | |
BLIND GUARDIAN
Live Beyond The Spheres
Nuclear Blast, 2017




Maybe it's just my perception but it seems that quite a lot of live albums have been released lately. At least more live albums than studio efforts have crossed my desk in recent months, which has given me the impression that bands are keen on preserving the material performed during recent tours for posterity. This is actually good news, especially because most of those live recordings have been of stellar quality so far.

Now, the German progressive/melodic speed metal powerhouse BLIND GUARDIAN have released a live effort, which, for lack of other words, can only be described as monumental. Thirty shows were recorded during their 2015 European tour and each one was about two hours and fifteen minutes long. Thus, there was plenty of material to choose from. Being the perfectionist that he is, BLIND GUARDIAN vocalist Hansi Kürsch selected only the best recordings for the present live album. All in all, Live Beyond The Spheres contains – are you ready for this? – 22 songs recorded at ten different shows, including old classics (with the deplorable absence of "Welcome To Dying"), more recent material such as the three tracks from BLIND GUARDIAN's last studio album Beyond The Red Mirror (the opener "The Ninth Wave", "Twilight Of The Gods" and "Prophecies") and several songs the four-piece plus live keyboarder and bass player rarely perform in concert. This is an incredible compilation of songs but can BLIND GUARDIAN hold a candle to some of the other superb live albums that have been released this year?

Yes, indeed they can. Musically, there is a lot to praise and nothing to complain about. Hansi Kürsch's characteristic and expressive vocals shine through each and every one of the 22 songs and (almost) every note is exactly where it is supposed to be. The performance of Marcus Siepen (guitar), André Olbrich (guitar), Frederik Ehmke (drums) as well as bassist Barend Courbois and keyboardist Michael "Mi" Schüren is simply brilliant and as tight as a duck's arse. Right from the intro, which nicely 'overlaps' with the opener "The Ninth Wave", Live Beyond The Spheres is a compelling and captivating live album. BLIND GUARDIAN's music - always "serious heavy metal" (Hansi Kürsch introducing "Banish From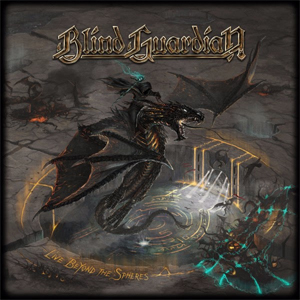 Sanctuary"), often heavily influenced by folk music, especially by the characteristic melodies and chords progressions of Irish folk, sometimes quite progressive and occasionally a tad bombastic – never gets boring and is best enjoyed live or by means of a recording such as this one. The audience is present all the time and forms an integral part of the massive live sound, which gets the energy-laden live atmosphere sufficiently across. Considering the fact that the songs have been selected from ten shows all across Europe, the album sounds remarkably uniform and consistent.
The three energy-packed CDs (or four vinyl records, your choice) will give you plenty of opportunity to dive into BLIND GUARDIAN's fantasy world of metal music. And yet, as huge and as brilliant Live Beyond The Spheres is, I wonder whether less wouldn't have been more in this case. On the whole, the sheer number of 22 tracks, some of them six, seven, eight or even more than nine minutes long, such as the exotic and at the same time epic "Wheel Of Time", might be a bit overwhelming and listeners who are not overly familiar with BLIND GUARDIAN may find it difficult to digest all this at once. Still, BLIND GUARDIAN fans will love this colossal live effort, novices to the German progressive/power metal outfit will have plenty of material to dig deep into the music of one of the finest metal bands of the last decades while connoisseurs of live albums in general are well advised not to miss out on this one.
4.5 Out Of 5.0
Pick up a copy of Live Beyond The Spheres in the KNAC.COM More Store right HERE.




Please log in to view RANTS

If you don't have a username, click here to create an account!