SICK N' BEAUTIFUL is the first REAL band coming from outer space!

Travelling from LV-426 'ACHERON' into deep space, their ship BFS9000 crashed on EARTH, in the land of Rome! They are ruled by HERMA, the sexy singer-captain of the crew, together with LOBO (guitar), REVC-2 (guitar), EVEY (drums) and Big Daddy RAY (bass).

Today the band is pleased to release their brand new video "No Sleep 'Till Hollywood", the last single taken from Hell Over Hell, their debut album released in 2015. Watch it on KNAC.COM right HERE.

This video is the celebration of two years on the road, together with some crazy TERROR TERRANS, the hardcore fans of the band!

SICK N' BEAUTIFUL is the marooned space crew of alien musicians who rock out for the inhabitants of Planet Earth, in the hope of raising enough money to fix their battered ship and thus resume their interstellar travels. Their ship crash-lands in the vicinity of Rome, Italy, sometime in 2013. Immediately the band begins to take over the local club scene, with its unique brand of industrial hard rock, tinged with electro-pop influences. ALICE COOPER meet GARBAGE meet NINE INCH NAILS meet KATY PERRY...not to mention ROB ZOMBIE and KISS!

In December 2013, they release their self-produced first video and single "New Witch 666", with the original vocalist Regina Sick. The song is an instant hit on the local scene, however the band has to find a new frontwoman shortly thereafter, as Regina opts for different career choices.

Enter Herma, a human-alien surgical hybrid, a sexy bombshell with the voice of avenging angels.

On Halloween, 2014, the band is invited to play prestigious Lucca Comics (a media convention arguably even larger than San Diego's Comicon), attended by an estimated crowd of 240,000.

Strong with such a curriculum, SICK N' BEAUTIFUL records its first album, produced and recorded by bass player "Big Daddy" Ray Sperlonga, to be sold online and at the shows. The album Hell Over Hell sees the light on Valentine's Day 2015 - heralded by singles/videos "Radio Siren" and "Sick To The Bone". Reviews come flooding in, and they're resoundingly positive.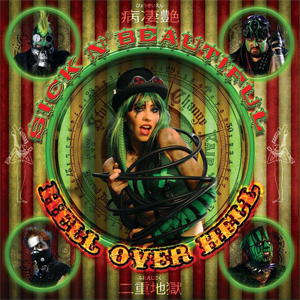 By the summer of 2015, SICK N' BEAUTIFUL is opening shows for national acts, and headlining festivals like STEAMFEST and ROCKTOBEERFEST, playing to crowds of thousands. This is the true dimension of the band. Now completed by props and special FX and with the addition of powerhouse drummer-girl Evey, they release the self-produced video of a full live show from the smash summer festivals.
In both April and October 2016 SICK N' BEAUTIFUL completes a two-stint, four-day meet and greet tour de force at ROMICS, (another ComiCon-like event), promoting the album, selling merchandise and taking pictures with literally thousands of fans.
Just recently, the band has signed an exclusive contract with the manager Ryan Morrison - who presently represents the band concerning all things SNB. In the meanwhile, songs are being written for the Album Numer Two, and more and more live shows are being planned to make the SICK N' BEAUTIFUL machine even more lethal and competitive.