KIK TRACEE Reveal More Big Western Sky Details


By Larry Petro, News Monkey
Wednesday, July 5, 2017 @ 1:33 PM


| | | |
| --- | --- | --- |
| | | B-Sides, Rarities Collection Out 8/18, 9/22 For Vinyl |
Disbanded 90's LA Hard Rockers KIK TRACEE have released the track list for Big Western Sky, a collection of B-Sides, Demos and Rarities being released 8/18 on CD and Digital (9/22 on LP) via THC MUSIC/EMP LABEL GROUP/AMPED. Big Western Sky features early demos and rarities from the bands classic No Rules/Field Trip era, prior to disbanding in the early 90s.

Big Western Sky, featuring cover and inside artwork by bassist Rob Grad, will be released on double CD featuring over 20 tracks, and on 2 limited edition colored vinyl LPs, Big Western Sky Vol 1. And Vol 2. It is available for pre-order in various configurations from empmerch.com HERE.

TRACKLIST:

DISC 1:
"Cats In The Cradle" (Demo) *
"Without Love" (Demo)
"Romeo Blues" (Demo)
"Big Western Sky" (Demo)
"Equal Opportunity" (Demo)
"Generation Express" (Demo)
"Strawberry Jam" (Demo)
"System Above" (Demo)
"Tangerine Man" (Demo)
"Bring Home Yesterday" (Demo)
"Don't Need Rules" (Live Demo)
"Shake The House" (Demo)
"You're So Strange" (Live Acoustic)
"Lost" (Live)
Disc 2:
"Field Trip" (Demo)
"Outta My Bed" (Demo)
"Shine" (Demo)
"Walking With A Dead Girl" (Demo)
"Under The Influence" (Demo)
"Drop In The Ocean" (Demo))
"Blood Brother" (Demo)
"Drop In The Ocean" (Live on Pirate Radio)
"Walking With A Dead Girl" (Live on Pirate Radio)
"In Trance" (Demo)
* CD/LP Only ** CD/Digital Only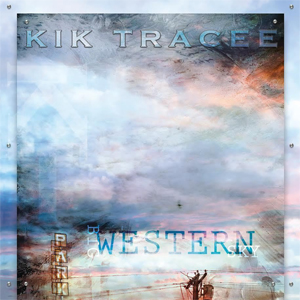 KIK TRACEE vocalist singer Stephen Shareaux said of the release, "After all these years. Why a KIK TRACEE release now? The timing just felt right. We've been sitting on these songs for what, 25 years now? Kinda pulled them out recently, and listened to the stuff, and thought.. You know.. Let's package this stuff and put it out there for the diehard fans to relive the glory days, if you will. Or just get their KIK TRACEE on, man."
"As for how it all came about, myself I have been working with Drew Fortier on ZEN FROM MARS, or ZFM, and we had been working with Thom Hazaert from EMP.. THC and EMP had been involved in the ZFM release, and in doing that, Thom said, "hey man.. do you guys have any KIK TRACEE stuff? Leftover B-Sides, demos, curiosities.." And I was like well yeah, we have tons of stuff.. Demos, B-Sides. Live shows. Etc.. And he was like, "Dude, let's put it out." And that's pretty much how this whole thing came about. So thank Thom Hazaert. Or blame him. Whatever."
KIK TRACEE formed in LA in 1988 by guitarists Greg Hex and Michael Marquis, bassist Rob Grad, and drummer Scott Donnell (who was later replaced by Johnny Douglas) eventually recruiting Minnesota transplant Stephen Shareaux to be the band's vocalist. The band signed to RCA/BMG and recorded their Dana Strum (SLAUGHTER) produced debut No Rules, that quickly became a fan favorite, with the band being prominently featured in the Rock Press, and finding some success with their singles "Don't Need Rules" and "You're So Strange", which landed just outside of the Billboard Top 40 (and No Rules landing at #46 on Rolling Stone's "Best Hair Metal Albums of All Time").
The band veered left for their follow up, 1992's Field Trip EP, produced by "Godfather of Desert Rock" MASTERS OF REAILTY's Chris Goss, who would go on to produce influential records for KYUSS and QUEENS OF THE STONE AGE. Field Trip showed the band moving in a direction away from the LA Hard Rock of its predecessor, and into the more eclectic alternative direction the band had originally intended for No Rules.
After recording their second full length, the unreleased Center Of A Tension, with producer Garth "GGGGarth" Richardson (RAGE AGAINST THE MACHINE, MUDVAYNE) KIK TRACEE disbanded in 1993, with Shareaux becoming a contender for not only the vacant vocal spot in MOTLEY CRUE, eventually filled by John Corabi, but a frontrunner for the vocalist position in VELVET REVOLVER, as documented in the documentary The Rise Of Velvet Revolver.
Sheareaux released his first solo LP Golden independently in 2013, and is in the final stages of recording the debut LP from ZEN FROM MARS.




Please log in to view RANTS

If you don't have a username, click here to create an account!