DECAPITATED Anticult


By Peter Atkinson, Contributor
Thursday, July 6, 2017 @ 1:16 PM


| | | |
| --- | --- | --- |
| | | |
DECAPITATED
Anticult
Nuclear Blast Records




On the third album since its 2009 resurrection, Poland's DECAPITATED continues its move into more groove-oriented territory and away from the technical death metal of its earlier era. And while there remains a degree of dexterity and athleticism in the music and its presentation, much of Anticult – the band's seventh overall – is built around the crushing, crashing riffs of guitarist/lone original member Waclaw "Vogg" Kieltyka.

The wall of guitar here is utterly massive, rivaling that of PANTERA at its Far Beyond Driven heaviest, especially on "Kill The Cult" and "Earth Scar" with their Tyson-esque hooks. Indeed, with its thick, meaty production, which also enhances the propulsive bottom end of drummer Michal Lysejko and new bassist Hubert Wiecek, Anticult brings some serious thunder from top to bottom.

It is certainly the most well-developed and complete of DECAPITATED's "comeback" albums, with the aimless jaunts, loose ends and bits of filler that occasionally marred 2011's Carnival Is Forever and 2014's Blood Mantra all but stripped away - save for the plodding, mostly instrumental outro "Amen" that doesn't really seem to have much purpose. Despite Vogg's cavalcade of riffs, Anticult is pretty lean and definitely mean – especially with frontman Rafal (Rasta) Piotrowski's militant bark over the top.

The songs move along at a brisk clip, riding the super-tight, locomotive rhythms of Lysejko and Wiecek, who keep everything in lock step whether it be the aforementioned chug of "Kill The Cult", the steady gallop of "One Eyed Nation" or the blast-beat breathlessness of "Anger Line". And with their more linear arrangements, the eight tracks here make up in muscle what they may lack in the technicality of old, which may not be the kind of news purists were hoping for.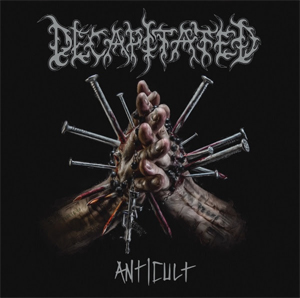 But Anticult is a logical – and certainly more accomplished – progression for DECAPITATED as a whole and Vogg in particular. He chose to look forward instead of back when he reformed the band after a two-year hiatus prompted by the 2007 tour bus accident that killed his younger brother, drummer Witold "Witek" Kieltyka, and gravely injured then-frontman Adrian "Covan" Kowanek. And who can blame him, given that sort of trauma.
Yet where DECAPITATED V2.0 was still trying to find the way ahead – along with some lineup stability – on Carnival and Mantra, the band sounds cohesive, confident and concussive here. There are no awkward moments and very little wasted space on Anticult. And even if the death metal elements are less pronounced, the album's sheer heaviness is undeniable and its impact is immense.
4.0 Out Of 5.0
Grab your copy of Anticult in the KNAC.COM More Store HERE.




Please log in to view RANTS

If you don't have a username, click here to create an account!