SAXON To Release Solid Book Of Rock Box Set


By Larry Petro, News Monkey
Friday, July 7, 2017 @ 2:25 PM


| | | |
| --- | --- | --- |
| | | Out August 4th; Video Trailer Launched |
Metal giants SAXON have announced the release of Solid Book Of Rock, an upcoming 14-disc box set which will be available on August 4th. A video trailer for the release has been launched and you can check it out below.

Solid Book Of Rock contains SAXON's nine studio albums from 1991 to 2009 with eight bonus tracks, plus two bonus CDs (Classics Re-Recorded originally issued with the initial pressings of Killing Ground, and Lionheart - Rough Studio Mix originally issued on the 2006 limited edition) and three bonus DVDs (the limited edition DVDs originally released with Lionheart, The Inner Sanctum and Into The Labyrinth. It all comes in a 12" x 12" casebound book featuring a stunning brand new cover painting by Paul R. Gregory and includes a 24-page booklet with all the lyrics and credits, plus photos.

If that wasn't enough, you can get this fabulous cover art as a print signed by Biff with the Amazon Exclusive Edition. These are limited to just 500 copies so be quick. Order yours HERE.

Tracklisting:

Solid Ball Of Rock:
"Solid Ball Of Rock"
"Altar Of The Gods"
"Requiem (We Will Remember)"
"Lights In the Sky"
"I Just Can't Get Enough"
"Baptism Of Fire"
"Ain't Gonna Take It"
"I'm On Fire"
"Overture In B-Minor / Refugee"
"Bavarian Beaver"
"Crash Dive"
Bonus tracks:
"Requiem (We Will Remember)" [single version]
"Reeperbahn Stomp"
Forever Free:
"Forever Free"
"Hole In The Sky"
"Just Wanna Make Love To You"
"Get Down And Dirty"
"Iron Wheels"
"One Step Away"
"Can't Stop Rockin'"
"Nighthunter"
"Grind"
"Cloud Nine"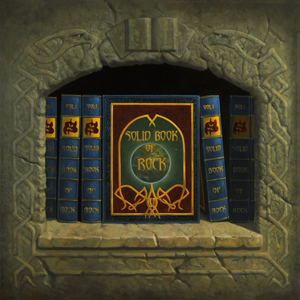 Bonus tracks:
"Princess Of The Night" [live]
"Forever Free" [live]
Dogs Of War:
"Dogs Of War"
"Burning Wheels"
"Don't Worry"
"Big Twin Rolling (Coming Home)"
"Hold On"
"The Great White Buffalo"
"Demolition Alley"
"Walking Through Tokyo"
"Give It All Away"
"Yesterday's Gone"
Bonus tracks:
"The Great White Buffalo" [live]
"Denim And Leather" [live]
Unleash The Beast:
"Gothic Dreams"
"Unleash The Beast"
"Terminal Velocity"
"Circle Of Light"
"The Thin Red Line"
"Ministry Of Fools"
"The Preacher"
"Bloodletter"
"Cut Out The Disease"
"Absent Friends"
"All Hell Breaking Loose"
Bonus tracks:
"Crusader" [live]
"Solid Ball Of Rock" [live]
Metalhead:
"Intro"
"Metalhead"
"Are We Travellers In Time"
"Conquistador"
"What Goes Around"
"Song Of Evil"
"All Guns Blazing"
"Prisoner"
"Piss Off"
"Watching You"
"Sea Of Life"
Killing Ground:
"Intro"
"Killing Ground"
"Court Of The Crimson King"
"Coming Home"
"Until Hell Freezes Over"
"Dragon's Lair"
"You Don't Know What You've Got"
"Deeds Of Glory"
"Running For The Border"
"Shadows On The Wall"
"Rock Is Our Life"
Classics Re-Recorded [Bonus CD]:
"Princess Of The Night"
"Crusader"
"Wheels Of Steel"
"Motorcycle Man"
"Strong Arm Of The Law"
"Denim And Leather"
"Dallas 1pm"
"And The Bands Played On"
Lionheart:
"Witchfinder General"
"Man And Machine"
"The Return"
"Lionheart"
"Beyond The Grave"
"Justice"
"To Live By The Sword"
"Jack Tars"
"English Man O'War"
"Searching For Atlantis"
"Flying On The Edge"
Lionheart Studio Audio - Rough Mix [Bonus CD]:
"Witchfinder General"
"Man And Machine"
"The Return"
"Lionheart"
"Beyond The Grave"
"Justice"
"To Live By The Sword"
"Jack Tars"
"English Man O'War"
"Searching For Atlantis"
"Flying On The Edge"
"Beyond The Grave" [single version]
The Inner Sanctum:
"State Of Grace"
"Need For Speed"
"Let Me Feel Your Power"
"Red Star Falling"
"I've Got To Rock (To Stay Alive)"
"If I Was You"
"Going Nowhere Fast"
"Ashes To Ashes"
"Empire Rising"
"Attila The Hun"
Into The Labyrinth:
"Battalions Of Steel"
"Live To Rock"
"Demon Sweeney Todd"
"The Letter"
"Valley Of The Kings"
"Slow Lane Blues"
"Crime Of Passion"
"Premonition In D Minor"
"Voice"
"Protect Yourselves"
"Hellcat"
"Come Rock Of Ages (The Circle Is Complete)"
"Coming Home" [bottleneck version]
Lionheart DVD:
Lionheart - making of
"Lionheart" - live clip
"Beyond The Grave" - promo video
5.1 96k high end sound mix of the album
The Inner Sanctum DVD:
A Night Out With The Boys
"To Hell And Back Again"
A Night Out With Boys - The Idea
A Night Out With Boys - Not Really
"See The Light Shining"
A Night Out With Boys - Now It Started
"Redline"
"Suzie Hold On"
"Stand Up And Be Counted"
"Frozen Rainbow"
"Never Surrender"
Into The Labyrinth DVD:
"Perceval" - Biff plays King Arthur in this Spanish film, directed by Pablo Aragues Millan
"Let There Be Light" - documentary about the live staging and lighting
Audio interview with Biff Byford - Biff talks about the songs on Into The Labyrinth




Please log in to view RANTS

If you don't have a username, click here to create an account!






Represent! Get Your KNAC.COM Bumper Sticker

Happenings This Week on KNAC.COM

MUSHROOMHEAD To Release New DVD, Volume III

Guitar Legend ADRIAN GALYSH Releases "So Close... So Far" Single

MEGADETH Bassist DAVID ELLEFSON Announces First Dates For His 'Basstory' Tour

TESTAMENT Guitarist ERIC PETERSON Reveals New DRAGONLORD Album Details

HIRAX Announce European 2018 Tour For August

U.D.O. Reveal New Album Steelfactory, First Single

SERPENTS KISS Stream New Track "Black Wizard"

BLITZKRIEG Unleash "Angels Or Demons" Single, Video

PHILIP H. ANSELMO & THE ILLEGALS' US Tour Rescheduled For This Fall

LORD OF THE LOST Launch "Morgana" Video

AFM Reveals All For Metal Vol. V Compilation

HELION PRIME Set To Release New Album Terror Of The Cybernetic Space Monster

KING DIAMOND LP Reissues Now Available For In Concert 1987: Abigail, The Graveyard And The Spider's Lullabye

MEKA NISM Premiere "Trailblazer" Video

GRETA VAN FLEET Adds More Dates To 2018 World Tour

MR. BIG Releases Live Video Of "Colorado Bulldog"

BLESSTHEFALL Announce September Headline Tour

FATE DESTROYED Reveal New Video For "Break Free"

LIZZY BORDEN Streams "The Scar Across My Heart" Track

A PERFECT CIRCLE Debut 2D Clip Of "The Contrarian"

VOIVOD Announce New Album "The Wake", European Tour

MADBALL Release Video For New Single, "Rev Up"

ANGEL's PUNKY MEADOWS, FRANK DIMINO Announce First Ever UK Tour

VICIOUS RUMORS Set To Release Limited Live DVD 666 Years of Blood, Sweat & Cheers

GOATWHORE Announces European Headlining Dates

BEYOND THE BLACK Reveal New Album Details For Heart Of The Hurricane

DORO Releases First New Video "All For Metal"

TREAT Announces New Album Tunguska

KORPIKLAANI Stream New Single, Lyric Video For "Kotikonnut"

MOONSPELL Unveil Details Of Upcoming Live DVD/Blu-Ray/3CD

VAN CANTO Announce New Album For August

MOTORHEAD To Release Official ROAD CREW Beer In The United States

ENUFF Z'NUFF Announce New Album Diamond Boy

MEAN STREAK "Settle The Score" With New Video

DREAM CHILD Reveal Debut Album Details

TRIVIUM To Embark On Headline Tour This Fall

BILLY MORRIS AND THE SUNSET STRIP Set To Release Debut Album Holdin' All The Aces

REVOCATION Confirm North American Headline Tour

EVERYONE LOVES A VILLAIN Debut "Eater Of Worlds" Video

GEN X Tour Partners With Anrgirl For Pay Per View Live Stream Of July 3rd Show

JACK RUSSELL'S GREAT WHITE To Headline The 2018 HAIR NATION TOUR

MINISTRY Announces Fall North American Tour

LIVESAY Inks Deal, Set To Release Compilation Album

GRAVE DIGGER Unveil Title, Release Date Of New Album

MOB RULES To Release New Album Beast Reborn

RYAN ROXIE Announces US Tour Dates

CANE HILL, KING 810 Announce Co-Headline Summer Tour

RATBREED Debut "Hunting High, Reaping Low" Single

GODSMACK, SHINEDOWN Confirm Additional Co-Headlining Tour Dates Into The Fall

CHRONUS Announce U.S Album Release Date

BULLET FOR MY VALENTINE Release "Letting You Go" Video

URIAH HEEP Reveal Living The Dream Album Details

WINTERSUN Announce North American Tour

HALCYON WAY Premiere Music Video For New Track "Blame"

DEE SNIDER Streams New Track "Tomorrow's No Concern"

LOUDER THAN LIFE Festival Expands, 2018 Band Lineup Announced

HOLLYWOOD UNDEAD Share New Track, "Gotta Let Go"

STEVE 'N' SEAGULLS Announce Grainsville Album Details

KATAKLYSM Release Music Video For "Outsider"

THE SKULL Stream New Album Title Track "The Endless Road Turns Dark"

TARJA Premieres "Love To Hate" Video

COLDSPELL Release "It Hurts" Music Video

DC4 Set To Unleash Atomic Highway Album

T.R.O.Y. Release Official Video For "Wicked World"

OF LIMBO Launches GO FUND ME After Near Fatal Van Wreck

MONSTER TRUCK Return With New Album True Rockers

European MTV "Headbanger's Ball Tour" 2018 Announced

METALOCALYPSTICK Unleashes FREE Festival Digital Sampler - Metal Queens Vol. 2

KAMELOT Release Official Video For "Amnesiac"

SKINFLINT Return With New Self-Titled Album

FATES WARNING Launch "The Light and Shade of Things" Video

BUTCHER BABIES Debut "Look What We've Done" Video

EXMORTUS Announce "The Summer Of Steel" Tour

POWERWOLF Unleash Video "Demons Are A Girl's Best Friend"

SYMPHONY X Guitarist MICHAEL ROMEO Set To Release First Solo Album War Of The Worlds, Pt. 1

EPICA Release New Single "Crimson Bow And Arrow"

HALESTORM Are About To Get Vicious