SAXON To Release Solid Book Of Rock Box Set


By Larry Petro, News Monkey
Friday, July 7, 2017 @ 2:25 PM


| | | |
| --- | --- | --- |
| | | Out August 4th; Video Trailer Launched |
Metal giants SAXON have announced the release of Solid Book Of Rock, an upcoming 14-disc box set which will be available on August 4th. A video trailer for the release has been launched and you can check it out below.

Solid Book Of Rock contains SAXON's nine studio albums from 1991 to 2009 with eight bonus tracks, plus two bonus CDs (Classics Re-Recorded originally issued with the initial pressings of Killing Ground, and Lionheart - Rough Studio Mix originally issued on the 2006 limited edition) and three bonus DVDs (the limited edition DVDs originally released with Lionheart, The Inner Sanctum and Into The Labyrinth. It all comes in a 12" x 12" casebound book featuring a stunning brand new cover painting by Paul R. Gregory and includes a 24-page booklet with all the lyrics and credits, plus photos.

If that wasn't enough, you can get this fabulous cover art as a print signed by Biff with the Amazon Exclusive Edition. These are limited to just 500 copies so be quick. Order yours HERE.

Tracklisting:

Solid Ball Of Rock:
"Solid Ball Of Rock"
"Altar Of The Gods"
"Requiem (We Will Remember)"
"Lights In the Sky"
"I Just Can't Get Enough"
"Baptism Of Fire"
"Ain't Gonna Take It"
"I'm On Fire"
"Overture In B-Minor / Refugee"
"Bavarian Beaver"
"Crash Dive"
Bonus tracks:
"Requiem (We Will Remember)" [single version]
"Reeperbahn Stomp"
Forever Free:
"Forever Free"
"Hole In The Sky"
"Just Wanna Make Love To You"
"Get Down And Dirty"
"Iron Wheels"
"One Step Away"
"Can't Stop Rockin'"
"Nighthunter"
"Grind"
"Cloud Nine"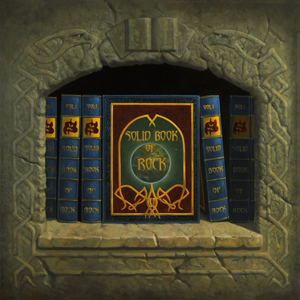 Bonus tracks:
"Princess Of The Night" [live]
"Forever Free" [live]
Dogs Of War:
"Dogs Of War"
"Burning Wheels"
"Don't Worry"
"Big Twin Rolling (Coming Home)"
"Hold On"
"The Great White Buffalo"
"Demolition Alley"
"Walking Through Tokyo"
"Give It All Away"
"Yesterday's Gone"
Bonus tracks:
"The Great White Buffalo" [live]
"Denim And Leather" [live]
Unleash The Beast:
"Gothic Dreams"
"Unleash The Beast"
"Terminal Velocity"
"Circle Of Light"
"The Thin Red Line"
"Ministry Of Fools"
"The Preacher"
"Bloodletter"
"Cut Out The Disease"
"Absent Friends"
"All Hell Breaking Loose"
Bonus tracks:
"Crusader" [live]
"Solid Ball Of Rock" [live]
Metalhead:
"Intro"
"Metalhead"
"Are We Travellers In Time"
"Conquistador"
"What Goes Around"
"Song Of Evil"
"All Guns Blazing"
"Prisoner"
"Piss Off"
"Watching You"
"Sea Of Life"
Killing Ground:
"Intro"
"Killing Ground"
"Court Of The Crimson King"
"Coming Home"
"Until Hell Freezes Over"
"Dragon's Lair"
"You Don't Know What You've Got"
"Deeds Of Glory"
"Running For The Border"
"Shadows On The Wall"
"Rock Is Our Life"
Classics Re-Recorded [Bonus CD]:
"Princess Of The Night"
"Crusader"
"Wheels Of Steel"
"Motorcycle Man"
"Strong Arm Of The Law"
"Denim And Leather"
"Dallas 1pm"
"And The Bands Played On"
Lionheart:
"Witchfinder General"
"Man And Machine"
"The Return"
"Lionheart"
"Beyond The Grave"
"Justice"
"To Live By The Sword"
"Jack Tars"
"English Man O'War"
"Searching For Atlantis"
"Flying On The Edge"
Lionheart Studio Audio - Rough Mix [Bonus CD]:
"Witchfinder General"
"Man And Machine"
"The Return"
"Lionheart"
"Beyond The Grave"
"Justice"
"To Live By The Sword"
"Jack Tars"
"English Man O'War"
"Searching For Atlantis"
"Flying On The Edge"
"Beyond The Grave" [single version]
The Inner Sanctum:
"State Of Grace"
"Need For Speed"
"Let Me Feel Your Power"
"Red Star Falling"
"I've Got To Rock (To Stay Alive)"
"If I Was You"
"Going Nowhere Fast"
"Ashes To Ashes"
"Empire Rising"
"Attila The Hun"
Into The Labyrinth:
"Battalions Of Steel"
"Live To Rock"
"Demon Sweeney Todd"
"The Letter"
"Valley Of The Kings"
"Slow Lane Blues"
"Crime Of Passion"
"Premonition In D Minor"
"Voice"
"Protect Yourselves"
"Hellcat"
"Come Rock Of Ages (The Circle Is Complete)"
"Coming Home" [bottleneck version]
Lionheart DVD:
Lionheart - making of
"Lionheart" - live clip
"Beyond The Grave" - promo video
5.1 96k high end sound mix of the album
The Inner Sanctum DVD:
A Night Out With The Boys
"To Hell And Back Again"
A Night Out With Boys - The Idea
A Night Out With Boys - Not Really
"See The Light Shining"
A Night Out With Boys - Now It Started
"Redline"
"Suzie Hold On"
"Stand Up And Be Counted"
"Frozen Rainbow"
"Never Surrender"
Into The Labyrinth DVD:
"Perceval" - Biff plays King Arthur in this Spanish film, directed by Pablo Aragues Millan
"Let There Be Light" - documentary about the live staging and lighting
Audio interview with Biff Byford - Biff talks about the songs on Into The Labyrinth




Please log in to view RANTS

If you don't have a username, click here to create an account!






Represent! Get Your KNAC.COM Bumper Sticker

Happenings This Week on KNAC.COM

ROCK FEST Announces 2021 Festival Lineup

DISCIPLES OF BABYLON Return With Their First New Song In Three Years, "Liberty"

PHIL CAMPBELL & THE BASTARD SONS Release Music Video For "We're The Bastards"

EPICA Unveil New Album Omega

GWAR Announces "Scumdogs XXX Live" Livestream

KING PARROT "Kick Up A Stink" With New Animated Video

FIVE FINGER DEATH PUNCH Officially Confirms Lineup Change

BAD OMENS Announce New EP Recording Of FGBGFM Unplugged

BPMD Shares EDDIE VAN HALEN Tribute Video Featuring "D.O.A." Cover

KILLER BE KILLED Release "Dream Gone Bad" Video

TRIVIUM Announce 'The Deepest Cuts II', Free Livestream Event

VENOM PRISON Unleash "Slayer of Holofernes" Video

DEATH ANGEL Cover DAVID BOWIE/QUEEN's "Under Pressure"

STEEL PANTHER Announce 'Halloweenie Ride Livescream' Event

GRETA VAN FLEET Return With New Single, Video "My Way, Soon"

ELLEFSON Drops Video For CHEAP TRICK Cover "Auf Wiedersehen"

SHADOWS FALL To Reissue Of One Blood On Black Friday 2020

SABATON Reveal "Night Witches" Animated Video

HEADBANGERS CON CONLINE Announced For December

KICKIN VALENTINA Reveal New Album The Revenge of Rock

AMON AMARTH Unleash "Fafner's Gold" Video

VOLBEAT Announces Hokus Bonus Record Store Day Black Friday Release

FATES WARNING Stream New Track "Now Comes the Rain"

MR. BUNGLE Announce 'The Night They Came Home!' Virtual Live Concert

NANOWAR OF STEEL Launches Video For "Uranus" Featuring MICHAEL STARR (STEEL PANTHER)

AVATAR Premieres Scaling The Mountain Documentary

IRON SAVIOR Unveil New Album Skycrest

NECROPHOBIC Drop Video For "Devil's Spawn Attack" Featuring SCHMIER (DESTRUCTION)

SEETHER Releases 'Fantasy Flashcards' Interview Video Series

DEVIN TOWNSEND Launches Live Video For "War"

CROWN THE EMPIRE, VOLUMES Square Off For "The Battle Of Los Angeles"

EDDIE VAN HALEN Passes Away At 65

WEAPONS OF ANEW Announce New Album Art Of War

AMARANTHE Release Music Video For "Fearless"

VOIVOD Announces Live Album Lost Machine - Live

ACCEPT Unveil Video For "The Undertaker"

WARRIOR SOUL Reveal Covers Album Release, Cocaine and Other Good Stuff

JANET GARDNER, JUSTIN JAMES "Rise Up" With New Video

STEVE RILEY's L.A. GUNS Set For Renegades Album

BAD WOLVES Unleash Video For "Learn To Walk Again"

ICE NINE KILLS Launch App Based Fan Community, Psychos Only Club

PERSUADER Unveil New Album Necromancy

SANCTUARY Announce 2021 "Into The Mirror Black 30th Anniversary" European Tour

SIX FEET UNDER Unleashes "Blood Of The Zombie" Video

IRON MAIDEN Set To Release New Live Album, Nights Of The Dead, Legacy Of The Beast: Live In Mexico City

VANDEN PLAS Unveil New Album The Ghost Xperiment - Illumination

BLUE ÖYSTER CULT Release New Video For "Tainted Blood"

DEEDS OF FLESH Return With New Album, Nucleus

KATAKLYSM Drop Music Video For "Cut Me Down"

MOONSPELL Announces Very Special Halloween Show

THE NIGHT FLIGHT ORCHESTRA Releases New Single, Video For "Impossible"

MY DYING BRIDE Announce New EP Macabre Cabaret

DEVILDRIVER Reveals New Video For New Single "Wishing"

SODOM Release New Track "Sodom & Gomorrah"

DREAM THEATER Set To Unleash New Live Album, Distant Memories – Live In London

THE QUIREBOYS Reschedule December UK Tour To June 2021

THE DEAD DAISIES Kick It Up A Gear And Release "Bustle And Flow"

HYDROGYN Announce New Album, The Boiling Point

ACCUSER Reveals Details For New Self-Titled Album

MR. BUNGLE Drop New Video For "Eracist"

BAY AREA GODFATHERS Documentary Set For Release October 6th

FIVE FINGER DEATH PUNCH Announce Second Compilation, A Decade Of Destruction, Volume 2

OBITUARY Announce Live Stream Concert Series Beginning October 17th

STATIC-X Unleash Video For "Dead Souls"

HARLOTT Reveals Details For New Album, Detritus of The Final Age

KING PARROT Reveal New Single "Nor Is Yours" Featuring PHIL ANSELMO

SEETHER To Release Three Classic Albums On Vinyl For The First Time

CARCASS Releases New Track "The Long And Winding Bier Road"

DEFTONES Launch Adopt-A-Dot For Charity

HAMMERFALL Launch "Keep The Flame Burning" Live Video

BLACK STONE CHERRY Release "Ringin' In My Head" Single

DIAMOND HEAD's Lightning To The Nations Gets 40th Anniversary Re-Recording

HEATHEN Drop New Video For "Sun In My Hand"

HOLLYWOOD UNDEAD Stream New Track "Coming Home"

BENEDICTION Release New Music Video For "Stormcrow"

SODOM Return With New Album Genesis XIX

AMARANTHE Release Third Single, Video "Archangel"

CORNERS OF SANCTUARY Stream New Track "Best Of The Best"

EVERY MOTHER'S NIGHTMARE (EMN) Will Resurrect The Faithful With New Album

ACCEPT Are Set To Release New Single "The Undertaker"

PUSCIFER Unveil New Album Existential Reckoning

NONPOINT Announce "20 YEARS OF MAKING A STATEMENT"

DRY KILL LOGIC Release Heavy New Single "Don't See Ghosts"

BURNING WITCHES Unleash "Circle Of Five" Video

ALTER BRIDGE To Release Walk The Sky 2.0 EP

SEPULTURA Launch "Guardians Of Earth" Music Video

OZZY OSBOURNE's Blizzard Of Ozz Album Gets 40th Anniversary Expanded Digital Edition Release

SICK OF IT ALL Release New Video For "Alone"

AUGUST BURNS RED Announce Fall 2021 European Tour

TOM KEIFER #KEIFERBAND Drops "All Amped Up" Video

AARON LEWIS, SULLY ERNA Join For "The American Drive-In Tour"

ANTI-MORTEM Returns To Action With New Single, "STFU"

FIREHOUSE Guitarist BILL LEVERTY Drops New Solo Album, Divided We Fall

SABATON Release New Building Block Video For "The Future Of Warfare"

JEFF SCOTT SOTO Announces New Solo Album Wide Awake (In My Dreamland)

ARMORED SAINT Are "Standing On The Shoulders of Giants" With New Video

COREY TAYLOR Announces 'FORUM OR AGAINST 'EM' Livestream Event

REB BEACH Unveils New Solo Album A View From The Inside

PEARL JAM Announces Vote-By-Mail Initiative -- 'PJ VOTES 2020'

DARK TRANQUILLITY Reveal New Album Moment

BLUE ÖYSTER CULT Release "Box In My Head" Video

HATEBREED Announce New Album Weight of The False Self

CREMATORY Releases New Video, "Like The Tides"

JINJER Announces Alive In Melbourne Live Album

KING PARROT Drop New Track "Banished, Flawed and Docile"

EVILDEAD Reveal New Album Details For United $tate$ Of Anarchy

GWAR Announces Drive-In Show For Richmond, VA

(HED) P.E. Releases Music Video For "First Blood"

LORDS OF BLACK Unveil New Album Alchemy Of Souls, Pt. I