Iced Earth To Release New Album, DVD in January; Teaser EP Releases in October


By Sefany Jones, Contributing Editor
Monday, September 29, 2003 @ 3:50 PM


| | | |
| --- | --- | --- |
| | | Iced Earth Will Release The |
For Immediate Release: Iced Earth Welcomes New Vocalist Tim Owens On The Glorious Burden History-honoring Opus Slated For January 13th Release Through SPV Records Gettysburg DVD and World Tour To Follow Indiana-based melodic metal specialists Iced Earth have recently completed what can be deemed as nothing short of a masterwork; a ten song musical enterprise honoring the valor and sacrifices that made the world what it is today. Entitled The Glorious Burden, the band's 9th full-length album will be released through SPV Records on January 13th, 2004. Having only hinted at their infatuation with history in the past with "Ghost Of Freedom" (from 2001's Horror Show) and "1776" (from 1998's Something Wicked This Way Comes), Iced Earth felt it was time, in the wake of the last few years of international events, to remind the world where we originated. Guitarist and mastermind behind the Iced Earth legacy, Jon Schaffer comments on the importance of this album, "In today's politically correct world, things aren't taught the way they should be, and the importance is not emphasized in the manner it should. So now you've got a bunch of people running around today who don't give a s***, and are spoiled brats who take for granted everything they have. It's quite disgusting sometimes when I see college students interviewed by Jay Leno who have no clue. It's very frightening. I'm hoping that somewhere we can inspire some of these kids and get them interested – if your history teacher sucks and makes history boring, go and read some books on your own because it's far from boring. The sacrifices these hundreds of thousands of men made over the past 200 years is the reason these little brats can sit around playing video games all day and live pretty safe lives. I hope we can do some good with this record." The title The Glorious Burden is a metaphor for band's endurance as well as statement towards America as a world power. As to what brought on this idea for a concept album, Schaffer admits that it has been a long time coming. "I've been a military history buff all my life. The bicentennial was a great time for me as both a history buff and a young kid, because I was literally obsessed with reading about the founding fathers and the American Revolution. I've always read history books far more than any fiction, but I never really put it into music before, with these kinds of emotions." Schaffer's adoration with history has impacted him not only as a musician, but as a merchant as well. He recently opened a historical collectibles shop in Columbus, Indiana, called Spirit of '76 Collectibles, where he hopes to educate and enthuse budding history buffs with a wide selection of art, miniatures, models, battlefield relics, etc. An official website for the store is located at: www.spirit-of-76.com. The tracklisting for The Glorious Burden consists of the following: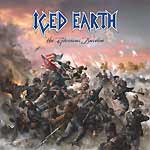 The Star-Spangled Banner
Declaration Day
When The Eagle Cries
The Reckoning (Don't Tread On Me)
Greenface
Valley Forge
Attila
Hollow Man
Red Baron Blue Max
Gettysburg (1863)
Part I. The Devil To Pay
Part II. Hold At All Costs
Part III. High Water Mark

The album closer, "Gettysburg (1863)", is a 32-minute epic comprised of three sections that represent specific events that happened on each of the 3 days of the Battle of Gettysburg (from the struggle of General Buford, Colonel Joshua Lawrence Chamberlain's defending of Little Round Top, to Pickett's charge). Schaffer hired the Prague Philharmonic Orchestra to enhance the theatrical atmosphere of the project and give it a true epic sensation. Joining Schaffer on this historic journey are former Death drummer Richard Christy, longtime bassist James MacDonough, guitarist Ralph Santolla, and the latest addition to the Iced Earth family, former Judas Priest vocalist Tim Owens. Schaffer is especially excited about this acquisition, as he has been a fan of Tim's for some time. "When I first heard Tim on Jugulator, I said to myself, 'damn, THAT is the voice I hear when I write songs!' He brings an excellent sense of pitch, power and emotion. People are going to hear sides of Tim on this record that they didn't even know existed."
To whet the fans' appetites until the full album is released, Iced Earth is releasing a special 4-song single for "The Reckoning (Don't Tread On Me)" on October 21st (nearly 3 months prior to The Glorious Burden's street date). The single will contain the aforementioned song, as well as "Valley Forge," "Hollow Man," and "When The Eagle Cries (Unplugged)." Adding to the 'special' nature of this release, this version of "When The Eagle Cries" is exclusive to the single! Shortly following the release of The Glorious Burden, Iced Earth plans to supplement the album with the band's first-ever DVD, simply titled Gettysburg. The DVD is planned to contain footage of the recording sessions with the Prague Philharmonic Orchestra, a full documentary on the Gettysburg battlefield hosted by Jon Schaffer (who discusses important locations/details about the battle, as well as matches the song's themes to their actual locations in the historic battle), a fully animated video for "Gettysburg," and 2 special DVD-Audio mixes of the song (a 'theatrical mix' and a 'metal mix'). In true Iced Earth fashion, a full world tour is also planned to ensue thereafter, thus perpetuating its own 'glorious burden'. www.icedearth.com * www.spvusa.com




Please log in to view RANTS

If you don't have a username, click here to create an account!






Represent! Get Your KNAC.COM Bumper Sticker

Happenings This Week on KNAC.COM

FULL TERROR ASSAULT OPEN AIR Festival Returns For Fifth Year

GLENN HUGHES Announces November 2019 UK Tour

GYGAX Releases "Hide Mind" Single

Calgary's DECIMATE METALFEST Announces 2019 Lineup

CANNIBAL CORPSE Unveil Brutal "Red Before Black" Video

PAUL GILBERT Presents Video For "A Herd Of Turtles"

SHALLOW SIDE Announce Spring Tour Dates

SHATTERED SUN Drop "Shades Of Melodie" Video

KEELFEST 2019 Celebrates Three Decades Of Music In Non-Stop Show Over Three Hours Long

SUMMONER'S CIRCLE Drop Become None Album

HOLLYWOOD VAMPIRES Stream "The Boogieman Surprise" Track

BLACK STAR RIDERS Return With Another State Of Grace Album

CROBOT Debut New Video For "Keep Me Down"

VANDEN PLAS Set To Release The Epic Works 1991-2015 Box Set Collection

SOTO Launch "HyperMania" Single, Video

ROCKLAHOMA Band Performance Times Announced

TAKE THE DAY Release Music Video For "Save Me Now"

HARD ROCK HELL Announce HRH Road Trip XI - Ibiza 2020

SLIPKNOT Unveil New Album We Are Not Your Kind, First Video For "Unsainted"

RED FANG Launch Headbanging Music Video App Featuring New Single

PSYHO LAS VEGAS Announces Daily Band Lineups

SAMMY HAGAR Confirms The Lineup For His Second "High Tide Beach Party & Car Show"

HEAVY AS TEXAS Unleash "King Of Fools" Video

DESTRUCTION Reveal Cover Art For New Album Born To Perish

PAUL GILBERT Announces Solo Album Tour Dates

VOLBEAT Return With Rewind, Replay, Rebound Album

BARONESS Stream New Track "Throw Me An Anchor"

DONNIE VIE Gets Release Date For New Solo Album Beautiful Things

KILLSWITCH ENGAGE, CLUTCH Join For Summer Tour Dates

GRETA VAN FLEET Announces Fall Leg Of 2019 Tour

AS I MAY Unveil My Own Creations Album Details

HATE Launches Video For "Sovereign Sanctity"

TORCHE Reveal New Album Admission Details

THE ROCK GODS & METAL MONSTERS Auction Commences

ROTTING CHRIST Announce North, South American Headline Dates

AVATAR To Support BABYMETAL In North America

ALIEN WEAPONRY Release Music Video For "Ahi Ka"

PHILIP H. ANSELMO & THE ILLEGALS Confirm European Tour

(HED) P.E. Announces New Album Stampede

GLORYHAMMER Stream "The Siege Of Dunkeld (In Hoots We Trust)" Track

GENERATION AXE Lineup Reveal Live Album, Generation Axe: The Guitars That Destroyed The World (Live In China)

HELIX Go Old School With New Album Of Unreleased Material

ABBATH Announce European Tour

TENGGER CAVALRY Reveal Northern Memory Full Album Stream

Bay Area Thrash Metal Documentary Murder In The Front Row: The San Francisco Bay Area Thrash Metal Story Set For Public Premiere

Fantasy Metal Crusaders GYGAX Reveal New Album High Fantasy

LO-PAN Debuts New Song "Ascension Day"

SWEET Announce November/December UK Tour

JORN Set To Release New Live On Death Road Album

HELION PRIME Announces 'The Cybernetic Terror Tour'

ALIEN WEAPONRY Premiere New Single "Ahi Ka"

THUNDERPUSSY Announces Summer Headline Tour

METAL FOR KIDS UNITED Reveals 2019 Benefit Lineup

THE WILD! Launch New Single "Helluva Ride"

OF MICE & MEN Drop "Mushroom Cloud" Video

TARJA Unveils New Album In The Raw

THE RODS Stream New Single "Louder Than Loud"

SABATON Unleash New Single/Video, "Fields Of Verdun"

ABNORMALITY Launches New Single, "Monarch Alpha"

CHICAGO OPEN AIR Reveals Band Performance Times

SLASH FT MYLES KENNEDY AND THE CONSPIRATORS Release "Boulevard Of Broken Hearts" Video

COLD KINGDOM Release "A New Disaster" Video

GRUESOME Announce EU/UK Summer Headline Tour Dates

NEW YEARS DAY Premiere "Shut Up" Video

ROCKLAHOMA Announces 2019 Onsite Attractions

THEM Releases New Single And Epic Video For "As The Sage Burns"

SANCTUARY Announce 2019 North American Headline Tour

ARCH/MATHEOS Drop New Single, "Wanderlust"

UFO Tour 2019 Will Continue With New Guitarist

NORTHLANE Reveal New Album Alien, Debut Video For "Bloodline"

OZZY OSBOURNE Announces Rescheduled UK/Europe "No More Tours 2" Dates

DUANE MORANO Celebrates '80s Metal With Incognito Album

FLESHGOD APOCALYPSE Launch "Healing Through War" Video

HAMMERFALL Unveil New Album Dominion

URIAH HEEP To Join JUDAS PRIEST On North American Tour

MONOLITH ON THE MESA Announce After Party Lineup

THREE TREMORS Unleash "Fly Or Die" Video

LOVE N' REVENGE Drop New Single "All 4 U"

SABATON Plots 'The Great Tour' North American Invasion

DEATH ANGEL Unleashes New Song "The Pack"

DEF LEPPARD To Release 2nd Limited Edition Box Set, Def Leppard - Volume Two

ENFORCER Present "Regrets" Music Video

JANET GARDNER Announces Your Place In The Sun Album

AXEL RUDI PELL Releases New Single And Video For "Only The Strong Will Survive (Live)"

THY ART IS MURDER Announce New Album Human Target

HE IS LEGEND To Release New Album White Bat

DEAD BY WEDNESDAY Release New Self-Titled Album

HATE Reveal Details For New Album Auric Gates of Veles

SOTO Release Second Single, Title Track "Origami"

TURILLI/LIONE RHAPSODY Set To Release Debut Album Zero Gravity (Rebirth And Evolution)

THE DAMNED THINGS Stream New Track "Omen"

FOZZY Announces 'Unleashed In The West' U.S. Tour

BLACK LABEL SOCIETY Are "Bored To Tears" In New Video

STRIKER Reveal More 'Summer Of Shred' Tour Dates

LO-PAN Release New Single, Video For "Ten Days"

BUCKCHERRY Announce November U.K. Tour

RIDE FOR RONNIE Motorcycle Ride & Concert Announces Additional Performers, EDDIE TRUNK's All-Star Band Members

UK Supergroup TRONOS Drop "Premonition" Single

DIAMOND HEAD Unveil "Death By Design" Video

STATIC-X, DEVILDRIVER Announce WEDNESDAY 13, RAVEN BLACK As Additional North American Tour Support

SONIC TEMPLE Festival Reveals Music & Comedy Performance Times

DUFF McKAGAN Releases New Track "Don't Look Behind You"

AFTERSHOCK 2019 Expands To Three Days, Announces Lineup

3TEETH Debut NSFW "Exxxit" Video

CORROSION OF CONFORMITY Announces North American Summer Headlining Tour

MONOLITH ON THE MESA Festival Comes To Taos, NM

WARRIOR SOUL Return With New Album Rock n' Roll Disease

Inaugural EXIT 111 Fesitval Reveals Full Details

SKILLET, SEVENDUST Join For Co-Headline 'Victorious War' Summer Tour

Mexico's CERBERUS Set To Unleash Fire!

GEARS Release Music Video For "Tango Yankee"

NEW YEARS DAY Announce 2019 'Unbreakable' Headline Tour

SAINT VITUS Unveil New Song, "Useless"

JINJER Announce North American Headline Tour

CELLAR DARLING Debut New Track "Freeze"

ABNORMALITY Debut New Single "A Catastrophic and Catalyzing Event"

EXODUS Celebrate 40th Anniversary With Unearthed Live Single, "No Love (Live At Day In The Dirt 1984)"

HALCYON WAY Debut "The Church Of Me" Video

THE HOLLYWOOD VAMPIRES Are Back With Rise Album

EPICENTER Festival Reveals Band Performance Times

ENTHRONED Premiere "Hosanna Satana" Video

EXMORTUS Confirm North American Spring Tour

SNEW Release New Video For Track "Sharpie"

MEGADETH, OPETH Join 2019 PSYCHO LAS VEGAS Lineup

MIND OF FURY Drop "Let Me Fly" Video

AMON AMARTH Launches "Crack The Sky" Video, Announces North American Headine Dates

KING'S X Enter The Studio To Record First New Album In Over A Decade

BEASTO BLANCO Releases Music Video For "The Seeker"

HARDLINE Announce First Leg Of 2019/2020 Life Tour Dates

KNAC.COM Exclusive: AFTER THE FALL Debut Lyric Video For "The Fight"

BULLET Set To Release New Live Album Live

STITCHED UP HEART Premieres New Song "Lost" Featuring SULLY ERNA Of GODSMACK

AT THE GATES Drop "The Colours Of The Beast" Video

ELUVEITIE, KORPIKLAANI Join For Co-Headline North American Tour

VENOM Stream Track "Bring Out Your Dead"

METALACHI Announce Spring 2019 Tour Dates

GLORYHAMMER Release Namesake Video For "Gloryhammer"

SEPTEMBER MOURNING Announces New Dates With ROB ZOMBIE, HED PE And KOTTONMOUTH KINGS

BEASTO BLANCO Return With New Album We Are

PSYCHO LAS VEGAS Reveals 2019 Pre-Party Details

LORD DYING Announces North American Headlining Tour

JESUS CHRÜSLER SUPERCAR Reveal Lucifer Album

STRIKER Announces Tour Dates With HOLY GRAIL, BEWITCHER

SANTA CRUZ Return With New Song "Changing Of Seasons"

ABBATH Unleash Fiery New Music Video, "Harvest Pyre"

METALOCALYPSTICK: Canada's Premier Women Focused Metal Festival Announces 2019 Lineup

WHITESNAKE Release New Single "Hey You (You Make Me Rock)"

M.O.D. Announces Release Of Ritz Hotel Presents M.O.D. The Official First Live Performance

ORANGE GOBLIN Announces U.S. Tour Dates

UFO Guitarist/Keyboardist PAUL RAYMOND Dies At Age 73

FALLING IN REVERSE Drop New Song, Video For "Drugs", Featuring SLIPKNOT's COREY TAYLOR

ALL THAT REMAINS Announce Spring 2019 Headline Tour

LOUDER THAN LIFE Reveals 2019 Band Lineup, Including GUNS N' ROSES

AXEL RUDI PELL Set To Release Live Anniversary Album, XXX Anniversary Live

NEW YEARS DAY Release New Song "Come for Me"

RINGWORM Share "Acquiesce" Music Video

BUCKCHERRY Announces Leg Two Of 'Warpaint' Tour

KORN To Replace OZZY OSBOURNE At ROCKLAHOMA

EUROPE Release New Single, Video, "Turn To Dust"

GEOFF TATE Fronts New Project SWEET OBLIVION

DEMONS & WIZARDS Announce North American Tour

THE RODS To Release New Album Brotherhood Of Metal

Eyellusion Presents The DIO RETURNS U.S. Tour 2019