Iced Earth To Release New Album, DVD in January; Teaser EP Releases in October


By Sefany Jones, Contributing Editor
Monday, September 29, 2003 @ 3:50 PM


| | | |
| --- | --- | --- |
| | | Iced Earth Will Release The |
For Immediate Release: Iced Earth Welcomes New Vocalist Tim Owens On The Glorious Burden History-honoring Opus Slated For January 13th Release Through SPV Records Gettysburg DVD and World Tour To Follow Indiana-based melodic metal specialists Iced Earth have recently completed what can be deemed as nothing short of a masterwork; a ten song musical enterprise honoring the valor and sacrifices that made the world what it is today. Entitled The Glorious Burden, the band's 9th full-length album will be released through SPV Records on January 13th, 2004. Having only hinted at their infatuation with history in the past with "Ghost Of Freedom" (from 2001's Horror Show) and "1776" (from 1998's Something Wicked This Way Comes), Iced Earth felt it was time, in the wake of the last few years of international events, to remind the world where we originated. Guitarist and mastermind behind the Iced Earth legacy, Jon Schaffer comments on the importance of this album, "In today's politically correct world, things aren't taught the way they should be, and the importance is not emphasized in the manner it should. So now you've got a bunch of people running around today who don't give a s***, and are spoiled brats who take for granted everything they have. It's quite disgusting sometimes when I see college students interviewed by Jay Leno who have no clue. It's very frightening. I'm hoping that somewhere we can inspire some of these kids and get them interested – if your history teacher sucks and makes history boring, go and read some books on your own because it's far from boring. The sacrifices these hundreds of thousands of men made over the past 200 years is the reason these little brats can sit around playing video games all day and live pretty safe lives. I hope we can do some good with this record." The title The Glorious Burden is a metaphor for band's endurance as well as statement towards America as a world power. As to what brought on this idea for a concept album, Schaffer admits that it has been a long time coming. "I've been a military history buff all my life. The bicentennial was a great time for me as both a history buff and a young kid, because I was literally obsessed with reading about the founding fathers and the American Revolution. I've always read history books far more than any fiction, but I never really put it into music before, with these kinds of emotions." Schaffer's adoration with history has impacted him not only as a musician, but as a merchant as well. He recently opened a historical collectibles shop in Columbus, Indiana, called Spirit of '76 Collectibles, where he hopes to educate and enthuse budding history buffs with a wide selection of art, miniatures, models, battlefield relics, etc. An official website for the store is located at: www.spirit-of-76.com. The tracklisting for The Glorious Burden consists of the following: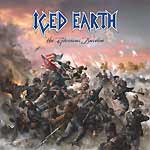 The Star-Spangled Banner
Declaration Day
When The Eagle Cries
The Reckoning (Don't Tread On Me)
Greenface
Valley Forge
Attila
Hollow Man
Red Baron Blue Max
Gettysburg (1863)
Part I. The Devil To Pay
Part II. Hold At All Costs
Part III. High Water Mark

The album closer, "Gettysburg (1863)", is a 32-minute epic comprised of three sections that represent specific events that happened on each of the 3 days of the Battle of Gettysburg (from the struggle of General Buford, Colonel Joshua Lawrence Chamberlain's defending of Little Round Top, to Pickett's charge). Schaffer hired the Prague Philharmonic Orchestra to enhance the theatrical atmosphere of the project and give it a true epic sensation. Joining Schaffer on this historic journey are former Death drummer Richard Christy, longtime bassist James MacDonough, guitarist Ralph Santolla, and the latest addition to the Iced Earth family, former Judas Priest vocalist Tim Owens. Schaffer is especially excited about this acquisition, as he has been a fan of Tim's for some time. "When I first heard Tim on Jugulator, I said to myself, 'damn, THAT is the voice I hear when I write songs!' He brings an excellent sense of pitch, power and emotion. People are going to hear sides of Tim on this record that they didn't even know existed."
To whet the fans' appetites until the full album is released, Iced Earth is releasing a special 4-song single for "The Reckoning (Don't Tread On Me)" on October 21st (nearly 3 months prior to The Glorious Burden's street date). The single will contain the aforementioned song, as well as "Valley Forge," "Hollow Man," and "When The Eagle Cries (Unplugged)." Adding to the 'special' nature of this release, this version of "When The Eagle Cries" is exclusive to the single! Shortly following the release of The Glorious Burden, Iced Earth plans to supplement the album with the band's first-ever DVD, simply titled Gettysburg. The DVD is planned to contain footage of the recording sessions with the Prague Philharmonic Orchestra, a full documentary on the Gettysburg battlefield hosted by Jon Schaffer (who discusses important locations/details about the battle, as well as matches the song's themes to their actual locations in the historic battle), a fully animated video for "Gettysburg," and 2 special DVD-Audio mixes of the song (a 'theatrical mix' and a 'metal mix'). In true Iced Earth fashion, a full world tour is also planned to ensue thereafter, thus perpetuating its own 'glorious burden'. www.icedearth.com * www.spvusa.com




Please log in to view RANTS

If you don't have a username, click here to create an account!






Represent! Get Your KNAC.COM Bumper Sticker

Happenings This Week on KNAC.COM

IRON MAIDEN Announce "Legacy Of The Beast" 2019 Dates

NORDIC NOISE Announces First Bands For 2019

A PERFECT CIRCLE Drop Gleefully Apocalyptic Video For "So Long, And Thanks For All The Fish"

TRIPTYKON, ROADBURN Collaborate In The Completion Of CELTIC FROST's Unfinished Requiem

More MEGADETH Inaugural MEGACRUISE Details Revealed

QUIET RIOT Set To Release One Night in Milan Live Album

CRIMSON REIGN Debut '"The Darker Side Of Life" Video

CORROSION OF CONFORMITY Announces 2019 North American Headlining Tour

MEMPHIS MAY FIRE Premiere "The Old Me" Video

Ex-DOKKEN Supergroup Changes Band Name From SUPERSTROKE To THE END: machine

VANDENBERG'S MOONKINGS Release Lyric Video For "Walk Away"

DEKO MUSIC Launches New Label With Specialty Vinyl Releases

SILVER TALON Rises From SPELLCASTER Ashes

TANTRIC Premieres Official "Letting Go" Music Video

RAVEN Set To Unleash New Live Album Screaming Murder Death From Above: Live in Aalborg

SLEEPKILLERS Drop Video For "Dirty Foot"

BILLYBIO (BIOHAZARD/POWERFLO) Set To Release Debut Solo Album, Feed The Fire

DREAM THEATER Unveil New Album Distance Over Time, 2019 North American Tour

LIKE A STORM Release New Video For "Pure Evil"

HOLLOW CRY Unleash New Track, "Procrastinated"

OZZY OSBOURNE Announces Tour Dates With MEGADETH

BILL HUDSON's NORTHTALE Unveil First Song "Shape Your Reality" From Upcoming Album

CELLAR DARLING Stream New Single, Video For "Insomnia"

METALWINGS Launch "For All Beyond" Video

BEDLEM, Featuring PAUL WANDTKE (ex-TRIVIUM), Releases Debut LP Back To Bedlem

MEKA NISM Premiere Music Video "Black Sky"

BLACK WATER RISING Premieres New Video For "World of Frustration"

HERMAN FRANK Set To Release Fight The Fear Album

AMON AMARTH Launches "Raise Your Horns" Live Video

"Burn In Hell" With DANKO JONES' New Track

HOLLYWOOD UNDEAD Release Surprise EP, Psalms

BUCKCHERRY Reveal First New Track in Over Three Years, "Head Like A Hole"

THE POWER OF THE RIFF's Final Lineup Announced

New Book, Long Live Queen: Rock Royalty Discuss Freddie, Brian, John & Roger, Out Now

THE NIGHT FLIGHT ORCHESTRA Debut New Music Video, Kick Off European Tour

GODSMACK Announce 2019 European Tour Dates

SEVENDUST Release Music Video For "Unforgiven"

TENGGER CAVALRY Frontman Curates Nomadic Metal Compilation, Sound of The Raging Steppe

SODOM Go "One Step Over The Line" With New Single, Video

WHITECHAPEL Set To Release New Album The Valley

AUGUST BURNS RED Confirm Winter 2019 Tour Dates

DUST BOLT Are Trapped In Chaos With New Album

More OZZFEST New Year's Eve Los Angeles Details Revealed

MAGNUM Announce New Live Album Live At The Symphony Hall

KAMELOT Announce 2019 North American Tour

ARCHITECTS Release "Modern Misery" Video

BEAST IN BLACK Unveil From Hell With Love"

THE MARYLAND DOOM FEST Confirms Its 2019 Full 5th Anniversary Lineup

FIGHT THE FURY Drop New Video "My Demons"

LAST UNION Featuring MIKE LEPOND, ULI KUSCH And JAMES LABRIE Reveal Twelve Album Details

AMBERIAN DAWN Premiere Video For "Cherish My Memory"

ALTITUDES & ATTITUDE Feat. DAVID ELLEFSON (MEGADETH), FRANK BELLO (ANTHRAX) Ready New Album Get It Out

QUEENSYRCHE Unveil New Album The Verdict, Spring Tour

BRITISH LION Stream New Track "Spit Fire" Ahead Of November Tour

HAMMERFALL To Release Legacy Of Kings - 20 Year Anniversary Edition Boxset

STELLAR CIRCUITS Drops "Skylights" Video

GRANNY 4 BARREL Kick Off Tour With CKY

SOILWORK Release "Full Moon Shoals" Single, Video

NIGHTWISH Confirm Re-Issue End Of An Era Live Album

ASHES OF ARES Unleash "Let All Despair" Video

MARTY FRIEDMAN Reveals 2019 U.S Tour Dates

ACCEPT Reveal Live Video For "Symphony No. 40"

VOLBEAT To Release Live Album, Concert Film Let's Boogie! Live From Telia Parken

KISS Announces First "End Of The Road" Tour Dates

GIN ANNIE Set To Release Debut Album 100% Proof

SURF CITY BLITZ Reveals Band Performance Times, Motorcycle Event Times, Onsite Activities & More

JETBOY Are "Beating The Odds" With New Track Streaming

LORD OF THE LOST Reveal Confession (Live at Christuskirche) CD/DVD

WARKINGS Release Second Glorious Single "Hephaistos"

OPETH Announce LA Garden Of The Titans Film Screening

METAL ALLEGIANCE Confirm Their Annual Los Angeles January Metal Assault

Music Industry Veterans Look To Reward Fans, Sites, And Musicians With Revolutionary CNOTE

Canadian Rockers ONE Go All Or Nothing With New Album

STEVE VAI Unveils "Dark Matter" Video

CENTURY MEDIA RECORDS Streams Documentary Of WARREL DANE Recording Shadow Work

TED POLEY's Modern Art Album Gets Splatter Vinyl Issue

POWERWOLF Premiere Video For Title Track "The Sacrament Of Sin"

REPENTANCE Stream New Single, "Enter The Gallows"

ICE NINE KILLS Drop "Stabbing In The Dark" Video

STATIC-X Returns with Original Band Lineup, Announces New Album, World Tour For 20th Anniversary Of Debut Album, Wisconsin Death Trip

SIRENIA Launch Official Video For "Into The Night"

Artist VINCENT CASTIGLIA Documentary Bloodlines: The Art And Life Of Vincent Castiglia Out In November

STRIKER Go "Head First" With New Video

2019 ROCKSTOK Festival Announced

JINJER Releases New Single And Video For "Ape"

OZZFEST To Celebrate New Year's Eve In Los Angeles

LIKE A STORM Announce December Headline Tour

MAC SABBATH Debuts Meaty Marionette Music Video For "Sweet Beef"

JORN To Release 50 Years On Earth - The Anniversary Box Set

MYLES KENNEDY Releases The Great Beyond Video

STARBREAKER, Featuring TONY HARNELL And MAGNUS KARLSSON, Readies New Album Dysphoria

AFTERSHOK Unleash "Forever In Metal" Video

FATE DESTROYED Caution "We Fall" In New Music Video

INGLORIOUS Announce New Album Ride To Nowhere

DIRE PERIL Unleash "Blood In The Ice" Video

ARTILLERY Releases New Single, "Crossroads To Conspiracy"

BEAST IN BLACK Reveal New Album "From Hell With Love"

FRACTAL CYPHER's New Music Video Reaches "From The Above And To The Stars"

TENGGER CAVALRY Announce North American Tour

GHOST Reaches Into The Past For "Dance Macabre" Video

REVERENCE Announce Vengeance Is...Live Live Album

KATAKLYSM Release New Animated Video For "...And Then I Saw Blood"

ALL THAT REMAINS Guitarist OLI HERBERT Passes Away At 44

GWAR Set To Release New Graphic Novel GWAR: The Enormogantic Fail

BULLET FOR MY VALENTINE Are "Not Dead Yet" With New Video

ENSIFERUM Announces 2019 North American Headlining Trek, "Two Paths Of Glory Tour"

ARIA Stream Lyric Video Ahead Of New Album Curse Of The Sea

ACE FREHLEY Is "Rockin' With The Boys" In New Video

KILLCODE Drop First Video In Trilogy For "The Answer"

ROCKFEST 80's Music Festival Returns For Year Three

GODSMACK's 2018 European Tour Postponed

GOATWHORE Announces Additional Headlining Shows

WAR OF THRONES Unleash "Say What" Video

Inaugural ROCKLANTA Festival Announced For 2019

AUDIOTOPSY Stream Heavy New Anthem "War"

POP EVIL Announce 2019 U.S. Headline Tour Dates

FAITHSEDGE, Featuring Ex-Members Of STRPYER, MR. BIG, DOKKEN, Wrapping Up Recording Fourth Album

A PERFECT CIRCLE Release 2D Version Of "Eat The Elephant" Video

IRON MAIDEN Remasters Get CD Digipak Treatment

AVANTASIA Set To Release New Album Moonglow

SOULFLY Announce 2019 North American Tour

SOILWORK Reveal Verkligheten Album Details

CHEVELLE Stream New Track "In Debt To The Earth"

METAL CHURCH Release "Damned If You Do" Video

JIZZY PEARL'S LOVE/HATE Returns To The UK For Four Special Shows