Iced Earth To Release New Album, DVD in January; Teaser EP Releases in October


By Sefany Jones, Contributing Editor
Monday, September 29, 2003 @ 3:50 PM


| | | |
| --- | --- | --- |
| | | Iced Earth Will Release The |
For Immediate Release: Iced Earth Welcomes New Vocalist Tim Owens On The Glorious Burden History-honoring Opus Slated For January 13th Release Through SPV Records Gettysburg DVD and World Tour To Follow Indiana-based melodic metal specialists Iced Earth have recently completed what can be deemed as nothing short of a masterwork; a ten song musical enterprise honoring the valor and sacrifices that made the world what it is today. Entitled The Glorious Burden, the band's 9th full-length album will be released through SPV Records on January 13th, 2004. Having only hinted at their infatuation with history in the past with "Ghost Of Freedom" (from 2001's Horror Show) and "1776" (from 1998's Something Wicked This Way Comes), Iced Earth felt it was time, in the wake of the last few years of international events, to remind the world where we originated. Guitarist and mastermind behind the Iced Earth legacy, Jon Schaffer comments on the importance of this album, "In today's politically correct world, things aren't taught the way they should be, and the importance is not emphasized in the manner it should. So now you've got a bunch of people running around today who don't give a s***, and are spoiled brats who take for granted everything they have. It's quite disgusting sometimes when I see college students interviewed by Jay Leno who have no clue. It's very frightening. I'm hoping that somewhere we can inspire some of these kids and get them interested – if your history teacher sucks and makes history boring, go and read some books on your own because it's far from boring. The sacrifices these hundreds of thousands of men made over the past 200 years is the reason these little brats can sit around playing video games all day and live pretty safe lives. I hope we can do some good with this record." The title The Glorious Burden is a metaphor for band's endurance as well as statement towards America as a world power. As to what brought on this idea for a concept album, Schaffer admits that it has been a long time coming. "I've been a military history buff all my life. The bicentennial was a great time for me as both a history buff and a young kid, because I was literally obsessed with reading about the founding fathers and the American Revolution. I've always read history books far more than any fiction, but I never really put it into music before, with these kinds of emotions." Schaffer's adoration with history has impacted him not only as a musician, but as a merchant as well. He recently opened a historical collectibles shop in Columbus, Indiana, called Spirit of '76 Collectibles, where he hopes to educate and enthuse budding history buffs with a wide selection of art, miniatures, models, battlefield relics, etc. An official website for the store is located at: www.spirit-of-76.com. The tracklisting for The Glorious Burden consists of the following: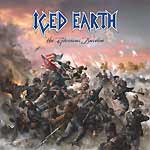 The Star-Spangled Banner
Declaration Day
When The Eagle Cries
The Reckoning (Don't Tread On Me)
Greenface
Valley Forge
Attila
Hollow Man
Red Baron Blue Max
Gettysburg (1863)
Part I. The Devil To Pay
Part II. Hold At All Costs
Part III. High Water Mark

The album closer, "Gettysburg (1863)", is a 32-minute epic comprised of three sections that represent specific events that happened on each of the 3 days of the Battle of Gettysburg (from the struggle of General Buford, Colonel Joshua Lawrence Chamberlain's defending of Little Round Top, to Pickett's charge). Schaffer hired the Prague Philharmonic Orchestra to enhance the theatrical atmosphere of the project and give it a true epic sensation. Joining Schaffer on this historic journey are former Death drummer Richard Christy, longtime bassist James MacDonough, guitarist Ralph Santolla, and the latest addition to the Iced Earth family, former Judas Priest vocalist Tim Owens. Schaffer is especially excited about this acquisition, as he has been a fan of Tim's for some time. "When I first heard Tim on Jugulator, I said to myself, 'damn, THAT is the voice I hear when I write songs!' He brings an excellent sense of pitch, power and emotion. People are going to hear sides of Tim on this record that they didn't even know existed."
To whet the fans' appetites until the full album is released, Iced Earth is releasing a special 4-song single for "The Reckoning (Don't Tread On Me)" on October 21st (nearly 3 months prior to The Glorious Burden's street date). The single will contain the aforementioned song, as well as "Valley Forge," "Hollow Man," and "When The Eagle Cries (Unplugged)." Adding to the 'special' nature of this release, this version of "When The Eagle Cries" is exclusive to the single! Shortly following the release of The Glorious Burden, Iced Earth plans to supplement the album with the band's first-ever DVD, simply titled Gettysburg. The DVD is planned to contain footage of the recording sessions with the Prague Philharmonic Orchestra, a full documentary on the Gettysburg battlefield hosted by Jon Schaffer (who discusses important locations/details about the battle, as well as matches the song's themes to their actual locations in the historic battle), a fully animated video for "Gettysburg," and 2 special DVD-Audio mixes of the song (a 'theatrical mix' and a 'metal mix'). In true Iced Earth fashion, a full world tour is also planned to ensue thereafter, thus perpetuating its own 'glorious burden'. www.icedearth.com * www.spvusa.com




Please log in to view RANTS

If you don't have a username, click here to create an account!






Represent! Get Your KNAC.COM Bumper Sticker

Happenings This Week on KNAC.COM

CATTLE DECAPITATION Reveal Details For Rarities Album, Medium Rarities

VANDENBERG'S MOONKINGS Get Rugged And Unplugged

ROXANNE Set To Release New Album Radio Silence

LORDS OF THE TRIDENT Premiere 360 Degree VR Video "Zero Hour"

SAXON Unleash New Video For Track "Predator"

MEMPHIS MAY FIRE Announce New Album Broken

BYZANTINE Launches New Video For "The Cicada Tree"

ARCHER NATION Readies New Album Beneath The Dream

WARKINGS Release First Glorious Single, Video "Gladiator"

DECIBEL METAL & BEER FEST: LA Announces PRE-FEST With ARMORED SAINT, NIGHT DEMON, PERSEKUTOR And UADA

WRATH Streams New Track "Draw Blood" From The New Album Rage

DEVILSKIN Release "ENDO" Video With Important Message

KISS Announces The "End Of The Road" Final Tour

MADBALL Release Music Video For "Freight Train"

ICARUS WITCH Return With Goodbye Cruel World Album

TRIBULATION Release "Nightbound" Video

VIRGIN STEELE Will Release With Seven Devils Moonshine Special 5 CD Boxset For Their 35th Anniversary

KNAC-FM DJ THRASHPIE Release Head Bangin' Radio Book

DREAM CHILD Drop "Midnight Song" Video

WITHIN TEMPTATION Announce New Album Resist

BMG To Reissue DIO's Classic 1996 - 2004 Studio Albums

DEE SNIDER Is "American Made" With New Video

STEEL PANTHER Announce More "SUNSET STRIP LIVE!" Tour Dates

IMPELLITTERI Unleash "Run For Your Life" Video

THE POWER OF THE RIFF Makes Its Return To Los Angeles In November

GRAVE DIGGER Stream New Track "The Power Of Metal"

VOIVOD Release "Inconspiracy" Video, 7 Inch EP

CASTLE Unveils New Song "Can't Escape The Evil"

MEGADETH Bassist DAVID ELLEFSON Announces East Coast "BASSTORY" Dates

FIVE FINGER DEATH PUNCH Premiere "When The Seasons Change" Video

UNLEASH THE ARCHERS Stream Track "Ten Thousand Against One"

LACUNA COIL Release "Blood, Tears, Dust" Clip From The 119 Show - Live In London

ARCHITECTS Return With Holy Hell Album

STEELHEART Set To Release Rock'n Milan Live Album, DVD

'A BOWIE CELEBRATION' Announces 32-Date North American Winter Tour

BLACKTOP MOJO Reveal PledgeMusic Campaign To Fund Upcoming Album

POP EVIL Announces 2018 Canadian Headline Tour Dates

SODOM To Release New EP Partisan In November

CIRITH UNGOL Releases First New Track Since 1991 With "Witch's Game"

STRATOVARIUS To Release Enigma: Intermission 2

ENUFF Z'NUFF Release Video For Title Track of New Album Diamond Boy

ALCATRAZZ Reveal Parole Denied-Tokyo 2017 Live LP

SEPTICFLESH Announce Show With Live Orchestra

HELIX To Release A Helix Christmas Album

SUPERSUCKERS Debut "History Of Rock N' Roll" Video

LOUDER THAN LIFE Daily Music Schedule Announced

STEVE VAI Reveals First Round Of Guests Performing At "The Big Mama-Jama Jamathon"

FIFTH ANGEL Unleash 'Can You Hear Me' Lyric Video

GHOST Announces 2019 European Headline Dates

WITHERFALL Release "Ode to Despair" Single/Video

AUDIOTOPSY Reveal Grooving New Track "What Am I?"

KROKUS To Call It A Day With "Adios Amigos Tour"

Former MUSHROOMHEAD Frontman, Co-Founder JEFFREY NOTHING Returns With New Single

METAL ALLEGIANCE Unleash New Beer Visualizer Video For "The Accuser"

FOZZY Announces Full Canadian Tour

SEVENTH WONDER Debut New Song "The Everones"

MADAM X Release 'Monstrocity' Music Video

GRETA VAN FLEET Announces Its Debut Full-Length Album, Anthem of The Peaceful Army

YOB Premiere "Original Face" Video

RIVER CITY ROCKFEST Announces Band Performance Times

BEHEMOTH Launches Video For "Wolves Ov Siberia"

RED FANG Announce Late 2018 West Coast Tour Dates

AFTERSHOCK, LOUDER THAN LIFE Festivals Announce VINNIE PAUL ALL-STAR TRIBUTES

OBSCURA Announce Winter 2019 Headlining Tour Dates

OZZY OSBOURNE Partners With OMAZE To Offer Fans An Epic Concert Experience

HOLTER Set To Release Vlad The Impaler Album

KAMELOT Premiere Video For "MindFall Remedy"

VICIOUS RUMORS Kick Off the "Digital Dictator 30th Anniversary Tour" With SOLD OUT Show In Santa Rosa

SEVEN KINGDOMS Announce North American Headline Tour

ANTHRAX To Celebrate The 30th Anniversary Of State Of Euphoria With Special Edition

STRYPER Guitarist OZ FOX To Resume Touring After Medical Scare

GWAR Takes Over DC's Rick And Morty-Themed Pop-Up Bar