Iced Earth To Release New Album, DVD in January; Teaser EP Releases in October


By Sefany Jones, Contributing Editor
Monday, September 29, 2003 @ 3:50 PM


| | | |
| --- | --- | --- |
| | | Iced Earth Will Release The |
For Immediate Release: Iced Earth Welcomes New Vocalist Tim Owens On The Glorious Burden History-honoring Opus Slated For January 13th Release Through SPV Records Gettysburg DVD and World Tour To Follow Indiana-based melodic metal specialists Iced Earth have recently completed what can be deemed as nothing short of a masterwork; a ten song musical enterprise honoring the valor and sacrifices that made the world what it is today. Entitled The Glorious Burden, the band's 9th full-length album will be released through SPV Records on January 13th, 2004. Having only hinted at their infatuation with history in the past with "Ghost Of Freedom" (from 2001's Horror Show) and "1776" (from 1998's Something Wicked This Way Comes), Iced Earth felt it was time, in the wake of the last few years of international events, to remind the world where we originated. Guitarist and mastermind behind the Iced Earth legacy, Jon Schaffer comments on the importance of this album, "In today's politically correct world, things aren't taught the way they should be, and the importance is not emphasized in the manner it should. So now you've got a bunch of people running around today who don't give a s***, and are spoiled brats who take for granted everything they have. It's quite disgusting sometimes when I see college students interviewed by Jay Leno who have no clue. It's very frightening. I'm hoping that somewhere we can inspire some of these kids and get them interested – if your history teacher sucks and makes history boring, go and read some books on your own because it's far from boring. The sacrifices these hundreds of thousands of men made over the past 200 years is the reason these little brats can sit around playing video games all day and live pretty safe lives. I hope we can do some good with this record." The title The Glorious Burden is a metaphor for band's endurance as well as statement towards America as a world power. As to what brought on this idea for a concept album, Schaffer admits that it has been a long time coming. "I've been a military history buff all my life. The bicentennial was a great time for me as both a history buff and a young kid, because I was literally obsessed with reading about the founding fathers and the American Revolution. I've always read history books far more than any fiction, but I never really put it into music before, with these kinds of emotions." Schaffer's adoration with history has impacted him not only as a musician, but as a merchant as well. He recently opened a historical collectibles shop in Columbus, Indiana, called Spirit of '76 Collectibles, where he hopes to educate and enthuse budding history buffs with a wide selection of art, miniatures, models, battlefield relics, etc. An official website for the store is located at: www.spirit-of-76.com. The tracklisting for The Glorious Burden consists of the following: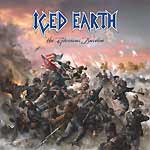 The Star-Spangled Banner
Declaration Day
When The Eagle Cries
The Reckoning (Don't Tread On Me)
Greenface
Valley Forge
Attila
Hollow Man
Red Baron Blue Max
Gettysburg (1863)
Part I. The Devil To Pay
Part II. Hold At All Costs
Part III. High Water Mark

The album closer, "Gettysburg (1863)", is a 32-minute epic comprised of three sections that represent specific events that happened on each of the 3 days of the Battle of Gettysburg (from the struggle of General Buford, Colonel Joshua Lawrence Chamberlain's defending of Little Round Top, to Pickett's charge). Schaffer hired the Prague Philharmonic Orchestra to enhance the theatrical atmosphere of the project and give it a true epic sensation. Joining Schaffer on this historic journey are former Death drummer Richard Christy, longtime bassist James MacDonough, guitarist Ralph Santolla, and the latest addition to the Iced Earth family, former Judas Priest vocalist Tim Owens. Schaffer is especially excited about this acquisition, as he has been a fan of Tim's for some time. "When I first heard Tim on Jugulator, I said to myself, 'damn, THAT is the voice I hear when I write songs!' He brings an excellent sense of pitch, power and emotion. People are going to hear sides of Tim on this record that they didn't even know existed."
To whet the fans' appetites until the full album is released, Iced Earth is releasing a special 4-song single for "The Reckoning (Don't Tread On Me)" on October 21st (nearly 3 months prior to The Glorious Burden's street date). The single will contain the aforementioned song, as well as "Valley Forge," "Hollow Man," and "When The Eagle Cries (Unplugged)." Adding to the 'special' nature of this release, this version of "When The Eagle Cries" is exclusive to the single! Shortly following the release of The Glorious Burden, Iced Earth plans to supplement the album with the band's first-ever DVD, simply titled Gettysburg. The DVD is planned to contain footage of the recording sessions with the Prague Philharmonic Orchestra, a full documentary on the Gettysburg battlefield hosted by Jon Schaffer (who discusses important locations/details about the battle, as well as matches the song's themes to their actual locations in the historic battle), a fully animated video for "Gettysburg," and 2 special DVD-Audio mixes of the song (a 'theatrical mix' and a 'metal mix'). In true Iced Earth fashion, a full world tour is also planned to ensue thereafter, thus perpetuating its own 'glorious burden'. www.icedearth.com * www.spvusa.com




Please log in to view RANTS

If you don't have a username, click here to create an account!






Represent! Get Your KNAC.COM Bumper Sticker

Happenings This Week on KNAC.COM

SEBASTIEN Are Back Behind The World With New EP

THE THREE TREMORS Announce First-Ever US Tour

BURNING RAIN Reveals Forthcoming Fourth Album, Face The Music

Inaugural PSYCHO SMOKEOUT Announced: Psycho Entertainment Partners With RidingEasy Records For A Day-Long Celebration Of Reefer And Riffs

TYR Reveals Details For New Album, Hel

RONNIE MONTROSE REMEMBERED: A NAMM 2019 ALL-STAR MEMORIAL CONCERT Event Set For NAMM 2019

GARY HOEY Returns With Neon Highway Blues

JINJER Premiere Video For Track "Perennial"

THE END machine, Featuring GEORGE LYNCH, JEFF PILSON, MICK BROWN, & ROBERT MASON, To Release Debut Album

VARNA Release Lyric Video For "The Craving"

CARMINE APPICE's GUITAR ZEUS Albums Get Reissue

HALL OF HEAVY METAL HISTORY Announces Final Inductees List For 2019 Metal Hall of Fame Gala

PERIPHERY Join DANCE GAVIN DANCE For 15 Date North American Trek

BEHEMOTH Unleash "Ecclesia Diabolica Catholica" Video

STATEMENT Reveal New Album, Force Of Life

SEPTEMBER MOURNING Launch "Glass Animals" Video

BLOODBOUND Announce 2019 European Headlining Trek, "Tour Of The Dragon Empire"

PROPHETS OF ADDICTION Release "Babylon Boulevard" Video

HIGH ON FIRE Cancels 'Electric Messiah Tour 2019' Due To Medical Emergency

MIKE TRAMP Is Set To Stray From The Flock In March

SWALLOW THE SUN Streams First Single "Upon The Water"

CRYSTAL LAKE Debuts "Lost In Forever" Video

HATEVIRUS Reveal New Album Hateful Mind

STEEL ENGRAVED Unleash "Where Shadows Remain" Video

BLACKLIST 9 Announce New Album Mentally Ill, Legally Sane

JOHN 5 AND THE CREATURES Release "Zoinks!" Video

LORDS OF SALEM Drop EP Hell Over Salem

GRANNY 4 BARREL Launches PledgeMusic Campaign For New EP

SOILWORK Release Brand New Song "Stålfågel"; Animated Music Video Available

KILLCODE Drop Final Video For "Show Me" In Their 'Trilogy' Series

SNAKEYES Returns To Studio, Releases RAINBOW Cover "Kill The King"

DIMEBASH 2019 Details Revealed

THE BROWNING Reveal 2019 Tour Plans

IGNITE Release "Nothing Can Stop Me" Video

BUCKCHERRY Announce Leg One Of Warpaint Tour

BATTLE BEAST Unveil New Studio Album No More Hollywood Endings

YOB Announce Spring 2019 Tour With VOIVOD & AMENRA

CANDLEMASS Release New Track 'The Omega Circle'

DIRTY MACHINE Unleash "Against The World" Video

GWAR Announces End Of Year Shows

MALEVOLENT CREATION Unveil The 13th Beast Album

KILLSWITCH ENGAGE, PARKWAY DRIVE Announce Co-Headline "Collapse The World" Tour

DUST BOLT Streams New Track "Bloody Rain"

MEGADETH Announce Iconic Album Reissues For The World Needs A Hero & The System Has Failed

NIGHTRAGE Releases New Video For "By Darkness Drawn"

'KISSWORLD – THE BEST OF KISS Coming In January

CANE HILL Drop "Acid Rain" Video

OVERKILL Unveil New Single "Last Man Standing"

LEGION OF THE DAMNED Unleash New Video For "Slaves Of The Southern Cross"

HORROR PAIN GORE DEATH Launches Free 2018 Label Sampler

CURRENTS Debut "Forever Marked" Video

THE RAVEN AGE Announce New Album Conspiracy

MOB RULES Releases New Single And Video For "My Sobriety Mind (For Those Who Left)"

GHOST SHIP OCTAVIUS Release "Edge of Time" Video

WHITECHAPEL Launches New Single, "Black Bear"

RELAPSE RECORDS Launches Free 2018 Label Sampler

RIVERS OF NIHIL Announces USA Headlining Tour

DELAIN Announce Hunter's Moon< Release

To Join RAZOR, EXCITER As Headliners Of HELL'S HEROES Fest

TETRARCH Announce 'Twisted Dreams' Tour Dates

PRETTY MAIDS Set To Release A Blast From The Past 12CD Box Set