PAT TRAVERS At Ottawa Bluesfest


By Andrew Depedro, Ottawa Corespondent
Monday, July 24, 2017 @ 10:57 AM


| | | |
| --- | --- | --- |
| | | Crash And Burn? More Like Splash And Churn As Canadian Guitar Legend Puts It Straight And Does Battle Against The Elements On July 9, 2017 |
Pop sensation PINK may have had the pyro, the acrobat setup and the glowing reviews from the main stage at the Ottawa Bluesfest on this Sunday, but it was the Mack Daddy of Canadian blues rock who brought the real rustic power of the blues some 400 feet away at the Black Sheep stage. Yes, after countless years of absence from the vast musical playground known as LeBreton Flats just minutes away from downtown O-Town, guitar legend Pat Travers finally graced the area with a wild albeit brief performance at the cherished music festival. Time was a bit more on his side than the weather was, but in true modest Travers style, the Mack Daddy himself along with his recent lineup went for what they knew and delivered a high-energy performance of blues power which never let up even if at one point the torrential downpour would not.

Kicking off the set with "Rock 'N Roll Suzie" and "Life In London" from 1977's Puttin' It Straight to commemorate the album's 40th anniversary, Travers, along with his rhythm section comprised of drummer Tommy Craig and bassist David Pastorius (better known as the nephew of legendary bassist Jaco) entertained the crowd of about 500 as the hits and the occasional covers were churned out. Even without the accompanying keyboard intro, Travers still made the title track to Crash And Burn kick hard like an angry sensei while Craig and Pastorius delivered a solid rhythmic backbone to the powerful riffs.

And then came the signature hit "Snortin' Whiskey" - followed by a sudden deluge.

IN....SANITY!!!!

"Time to water the lawn." Travers joked as he was forced to postpone the song midway through the first verse as stage staff immediately cut the power and covered the instruments up with plastic tarp while motioning the band to leave the stage. After CHEAP TRICK's ill-fated performance at the festival back in 2011 when their stage collapsed midway during their set also due to a sudden storm, the festival could not afford to take any chances this time around.

A ten-minute wait for the storm to pass and for the stage to dry out was followed by another five-minute wait for organizers to give the all-clear for the band to resume the show once the power was on. Travers usually tunes his own instruments and, being the perfectionist that he is, he did just that as David Pastorius entertained the crowd with bass renditions of "Battery" and "The Trooper". The crowd eats it up as the background screen captures a mass of flashing devil horns saluting his work.

Eventually, Travers, upon having to make a couple of last-minute adjustments to the abbreviated setlist, launches into a near-perfect rendition of "Boom Boom (Out Go The Lights)" featuring the famous audience participation part of the song ("When I say 'boom boom' you shout back with 'Out go the lights!'"). The audience does not fail him as he continues with his homage to the late, great Gregg Allman with a stellar cover of "Statesboro Blues" which he plays on a Gibson SG with a slide - quite possibly the only other decent version of the song I've ever heard.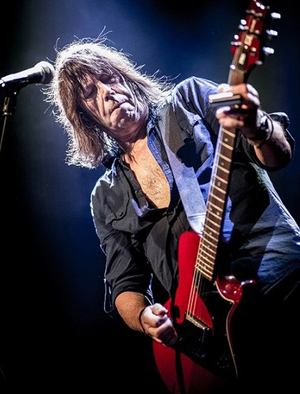 Next on his tribute list are not one but two Jimi Hendrix covers - neither of which are "Purple Haze", thank Christ. "Red House" is the first Hendrix number that the band launch into and it's a slow-moving but bluesy jam. But it's a riveting performance of the rarely-heard "Come On (Let The Good Times Roll)" which follows a second and more successful attempt at "Snortin' Whiskey" that outshines the previous Hendrix number. That said, any Hendrix song has special significance to Pat Travers as it was his 1968 show at the former Capital theater (now a row of condos) which inspired him to pick up the guitar and hone his craft some nearly 50 years later - a story which Travers only seems to get prouder in telling each time he's on tour. He also takes pride in honoring his Ottawa roots despite being born in Toronto, and not in the "We're from California!" way that the RED HOT CHILI PEPPERS often tend to do either, unless an Ottawa-themed version of "Snortin' Poutine" is what the world really thinks it needs right after our 150th anniversary (Spoiler alert: It really doesn't as it would sound rather tacky and lame, so....just....no). That said, he apologizes for not having played a Bluesfest show in a while but promises to make more appearances in the near future.
Travers' set wraps up just in time as the more densely-attended show by PINK is also wrapping up on the main stage, complete with pyro, acrobatics and other smoke and mirror effects resembling the exact same setup which KISS had when they played Bluesfest back in 2009. All that was missing from that set was a lecture from Paul Stanley about those pesky death metal fans starting up unnecessary Walls Of Death Wacken-style during her slower numbers (though in fairness, singing while doing acrobatics isn't an easy feat for anyone so mad props to her as well, if you'll excuse the unintended pun). Luckily, both her and Pat Travers, in honoring their respected genres, thankfully look past color while delivering their own individual versions of what the blues genre speaks to them.
Setlist:
"Rock 'N Roll Suzie"
"Life In London"
"Crash And Burn"
"I've Got News For You"
"Gettin' Betta"
First attempt at "Snortin' Whiskey" before the storm hit David Pastorius bass solo once the power went back on
"Boom Boom (Out Go The Lights)" (STAN LEWIS cover)
"Statesboro Blues" (ALLMAN BROTHERS cover)
"Red House" (JIMI HENDRIX cover)
"Snortin' Whiskey" (second and more successful attempt)
"Come On (Let The Good Times Roll)" (JIMI HENDRIX cover)
http://www.pattravers.com/
https://www.facebook.com/pattraversband/




Please log in to view RANTS

If you don't have a username, click here to create an account!