WINTERSUN The Forest Seasons


By Peter Atkinson, Contributor
Tuesday, July 25, 2017 @ 6:50 AM


| | | |
| --- | --- | --- |
| | | |
WINTERSUN
The Forest Seasons
Nuclear Blast Records




The long, strange trip that has been the career of Finnish epic-metallers WINTERSUN keeps getting longer and stranger. The band just issued its long-awaited third album, The Forest Seasons, and first in five years — but it's not the third album just about everyone had been waiting for! Indeed, it appears "that" album is still not complete — and just when it will see the light of day remains anyone's guess.

After issuing its self-titled debut in 2004 debut, WINTERSUN began recording a follow-up in 2006. That now-legendary second release, Time I, however, didn't emerge until 2012 for a variety of reasons, many of them technical but just as many driven by the practical matters of capturing the complexity and grandeur of the material.

Its counterpart, Time II, was meant to conclude the endeavor, and was planned for release in 2013. But things started going off the rails, for many of the same reasons Time I was so fraught, as the project moved along and have yet to get completely back on track. In the interim, WINTERSUN — and, in particular, mastermind/frontman/guitarist Jari Mäenpää — spent a lot of, well, time kvetching and playing prima donna, issuing a stream of gripes and demands in several much-ballyhooed postings on the Interwebs about all the excruciating delays and the reasons for them that really boiled down to one thing — $$$.

"The reason why TIME I&II has taken so long to make (and still is taking long to finish TIME II), is because I haven't gotten enough advances (money) to make these complex albums. Not even close. … I´ve been struggling all these years and sacrificed everything to make these albums," he wrote.

To realize its/his artistic vision, Mäenpää reasoned, the band required "our own WINTERSUN Headquarters studio & rehearsal place," which was going to cost approximately 750,000 Euro, or roughly $875,000. When the band's crowd-funding plans gave its label, Nuclear Blast, some initial heartburn, Mäenpää took to the web again saying, "they would rather see WINTERSUN dead, than me doing a crowd funding." Eventually, the two sides worked things out and WINTERSUN was able to launch its fundraising campaign.

Thus far, it's been a blockbuster, with the band already raising nearly $500,000 as of April 1, with more to come. As part of a compromise with Nuclear Blast, there now is new music from WINTERSUN to tide everyone over until the Time II magnum opus is finally unveiled – or at least that would appear to be the plan. The Forest Seasons is integral to the fundraising effort, with the physical product being issued by Nuclear Blast and the band offering the digital versions and a multitude of extras via Indiegogo, etc., as inducement/reward for contributions.

But is it worth all the hoohah? And what might it all mean for Time II? I, for one, found The Forest Seasons overblown and underwhelming. And given it was put together in far less time than the still unfinished Time II, one can only imagine just how monumental — for better or worse — that may end up.

Inspired by Vivaldi's The Four Seasons, but seemingly unrelated to it in anything other than title and scale, The Forest Seasons aims to capture the spirit of each season in its own epic track, the shortest being "The Forest That Weeps (Summer)" at 12:18, the longest "Awaken From The Dark Slumber (Spring)" at 14:40. The 54 minutes of music over the four songs were composed and performed almost entirely by Mäenpää, save for some backing vocals. It's essentially a solo album under the WINTERSUN banner, though one could argue Mäenpää/WINTERSUN are really one in the same anyway, so the semantics hardly matter.

Regardless, The Forest Seasons is big, brash and indulgent in every sense, which could be said about the band's previous work but is especially true here. It is jam-packed with symphonic, black, power and folk metal elements, and boast choirs, clean/dirty vocal tradeoffs, orchestration, blazing intensity contrasted by delicate melodies, and arrangements that will leave you dizzy. Indeed, each song feels more massive than the next, although the finale "Loneliness (Winter)" is rather subdued.

There is a distinct DIMMU BORGIR-ish vibe throughout The Forest Seasons in its intermittent black metal pomp. But given the Norwegians' penchant for going overboard with the window dressing – especially on 2010's Abrahadabra – that does not bode well. And, indeed, Forest Seasons often stumbles under the weight of its adornments, with the respective length of the songs only exacerbating things.

Does the mammoth "Awaken From The Dark Slumber (Spring)" really need a half-dozen or however many guitar/keyboard tradeoffs that snake their way in and out of it? Probably not. And the jaunty mead-hall chorus near the end lends a curiously cheesy note, although its nothing compared to the shout-alongs in "The Forest That Weeps (Summer)" that include members of ENSIFERUM, TURISAS, MOONSORROW and TÝR. Each chorus in the otherwise groovy, mid-paced bruiser is bigger than the last, though here it sounds more natural. Still, there's three-four minutes of chugging digression midway through that easily could have been omitted.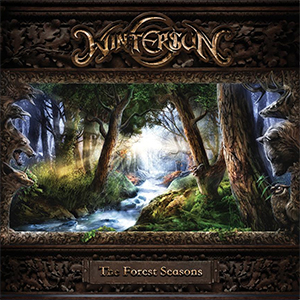 The rampaging "Eternal Darkness (Autumn)" lays the strings/synths on thick, which steals a bit of the song's black metal thunder as they swirl and dance amid the manic riffs and Mäenpää's feral growling. But "Autumn" never lets up and at least here manages to power through Mäenpää's penchant for meandering all the way to its rather abrupt end.
The best song is the last, the aforementioned "Loneliness (Winter)". Thought it's unquestionably grand, "Winter"'s deliberate, consistent pace, Mäenpää's mournful cleans and the well-integrated orchestration give it a genuine melancholia, effectively conveying its emotions instead of plowing them under or bowling them over.
The Forest Seasons is still not Time II. But if you're of the "any new WINTERSUN music is better than no new WINTERSUN music" camp, then it will certainly suffice. And for those who have ponied up for the "WINTERSUN World Headquarters" campaign, they would seem to have gotten their money's worth as there is a lot of music to be had here – especially with the expanded/bonus editions. There's just a lot of aimlessness and fluff as well. And the end result is only likely to heighten the already lofty expectations for Time II. Which only means more pressure on WINTERSUN to deliver — and the likelihood of an even longer wait, world headquarters or no.
2.5 Out Of 5.0
Pick up your copy of The Forest Seasons in the KNAC.COM More Store right HERE




Please log in to view RANTS

If you don't have a username, click here to create an account!