The Dictators
D.F.F.D.


By Ken Shimamoto, Contributor
Friday, November 30, 2001 @ 2:30 PM


| | | |
| --- | --- | --- |
| | | (Dictators Records/Norton) |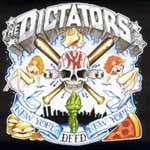 You can't keep a good city down, and Noo Yawk is certainly living proof. In the wake of 9/11, the capital of "What are YOU lookin' at?" on the East Coast has reaffirmed the greatness of its heart and spirit before the world, and the appearance of Manhattan's proud skyline, Twin Towers to the south, on the cover of this new Dictators album is not without poignancy. Not to mention those other potent symbols of Dics consciousness - babes, baseball, White Castle burgers, pizza. (Which reminds me of the story I read on Newsweek.com or one of those about the pizza guy down in Florida where some of the terrorists holed up prior to the attacks; it seems they usedta favor something called "The Works," which they made a point of ordering WITHOUT the ham. Stupid motherfuckers - what did they think was in the SAUSAGE and PEPPERONI? Dipshits! I can just picture them making it to their Heaven and being told sorry, it doesn't MATTER if you sacrificed your life for the jihad and took out a bunch of infidels in the process, you boys were a little too into KILLING THE PIG while you were hanging out down in Florida HAHAHAHAHAHAHAHAHA!).

To business...this is undoubtedly the most important release of what's been a better-than-average year for rock n' roll releases (as well as a cataclysmic year for everything else). The Dictators have been cementing their reputation over the last couple of years as THE live band to see. Now they've finally delivered this, their long-heralded first new album in, uh, TWENTY-THREE YEARS. Okay, okay, there WAS the Manitoba's Wild Kingdom album ...And You? back in '90, a Dictators record in all but name, but "D.F.F.D." restores ALL the essential elements (that is, Scott "Top Ten" Kempner returns to the fold from the rootsy-rock pastures of the Del-Lords) and picks up where they left off with Bloodbrothers, way, WAY back in '78. As anyone who's heard 'em recently can tell ya, Andy Shernoff is the finest writer of rock anthems (remember those?) extant, Ross the Boss the greatest Guitar Hero (ditto?), Handsome Dick Manitoba the ultimate frontman, and Top Ten the unsung hero and Most Valuable Player, but this band and album are definitely a whole lot more than the sum of their parts. You gotta hear to believe.

Europretenders step aside: the REAL Kings of Rock are back to claim their throne. Strong words, but they're borne out by the music on this shiny silver disc. D.F.F.D. roars to life with the devastating assault of the Dics' last two searing singles, "Who Will Save Rock and Roll?" and "I Am Right!" The former is a witty manifesto, bemoaning the fact that "Murray the K/Is not here today," conceding that "My generation/Is NOT the salvation," remembering a time when "I saw the Stooges/Covered with bruises," and admitting that "I wish Sgt. Pepper/Never taught the band to play," all the while holding out the promise of kicks and fast times to come with blazing guitar action and an irresistible sing-a-long chorus that simply can't be beat. "I Am Right" is quite simply the most full-on slab of Rock Action this writer's heard since, oh, I dunno, the Stooges' "I Got a Right," which it resembles in more than title; the guitar blast and J.P. Patterson's slamming drums are THAT classic.

Those two tracks woulda been the highlights of any LESSER band's album, but having dropped those two gems on our collective plate, the Dics proceed to raise the ante even higher with "Pussy and Money." I recently either read (or DREAMED ABOUT) an article somewhere on the 'net wherein Long Island punk figurehead Jimi Lalumia (of Psychotic Frogs/"Death to Disco" fame, whom I usedta sell records when he was still writing about the nascent scene for the student paper at Suffolk County Community College and whom I then considered a bit of a joke, not because he was one of the first openly, nay, FLAMINGLY gay people I ever knew, but because he actually believed that real homos would dig David Bowie back in Ziggy Stardust daze, when all of the ones I usedta see in the store dug disco, not glam) was decrying a conspiracy to hide the "gay roots of New York punk." The Dictators were certainly present at the creation of NYC punk - Go Girl Crazy! was released in '75, for chrissakes, predating the Ramones, CBGB's, the whole shooting match - and while it's a matter of record that when hetero and homo in the form of Handsome Dick Himself and Wayne/Jayne County collided in the arena of Noo Yawk punkdom, it was Straightdom that came out on the wrong end of the mic stand, a broader study of history confirms that it's still an undeniable fact: "What's it all about? Pussy and money! And it's always going to be that way."

"The Moronic Inferno" gets a LOT of people's numbers while positing The Rawk as a viable alternative to a plethora of modern-day pretensions ("Twelve steps worth of psychobabble/Feel good in the Prozac moment...Last call for the Woodstock Nation," indeed). All the bands that have been trying to do Big Rock a la Cheap Trick or AC/DC over the last coupla years (Gluecifer, Nashville Pussy) could learn a lot from these badass Bronx Jewboys, who have now surpassed their erstwhile Sandy Pearlman stablemates Blue Oyster Cult (whose mojo the Dics invoke with the cry "On your feet or on your knees" on "In the Presence of a New God" - itself a possible reference, conscious or subconscious, to Australia's New Christs and their early single "Face of a New God") in the songwriting and musicianship stakes, revealing BOC by comparison to be the quirky ironists that they always were. (And speaking of Aussie cousins, could the title "The Moronic Inferno" have been inspired by the Hitmen's album of the same name? Lead Hitmen Johnny Kannis and Chris Masuak DID, after all, visit Handsome Dick and Ross the Boss during the studio sessions for ...And You? Coincidence? YOU decide!!!)

I could continue the track-by-track tease, but I'm not gonna. Suffice to say, if you love rock n' roll (you remember, that FUN music with loud electric guitars?) that's well-written and played (FUCK all that "it's an attitood" bullshit; while that may be true, it has so much more impact when there are melodies and hooks to pull you in before the brutal beat and raging guitars - manipulated with skill and finesse by guys who Know How - kick your ass) by a band with more than a dash of survivor's smarts and a fair amount of humor (which we need now more than ever, I'm thinking), you need to log off and run out to buy this immediately (or at least surf over to www.thedictators.com). Currently my fave bit is the tryptich of "The Savage Beat," "In the Presence of A New God," and "Avenue A," but that'll prolly change with repeated listenings and at any rate, you'll find your own.

Lengthy delays in album releases are often the sign of a band in trouble. Nothing could have been farther from the truth in the case of "D.F.F.D." With this album, Andy Shernoff emerges as ROCK'S GREATEST OBSESSIVE-COMPULSIVE PERFECTIONIST. He writes nothing without killer riffage and hooks galore, and also gets credit, as producer (with assistance from co-conspirators on a coupla tracks), for this album's superb sonics. The danger of having a live show as consistently, intimidatingly great as the Dictators' is that "you'll never be able to capture THAT on record." Shernoff's done that here, and the achievement is impressive. Worth waiting for? You betchum! Here's hoping he doesn't wait another 23 years for the next one!

*****






Please log in to view RANTS

If you don't have a username, click here to create an account!






BLACK LABEL SOCIETY, PRONG And OBITUARY In Portland, OR With Photos!

GEMINI SYNDROME 3rd Degree - The Raising

DORO/WARLOCK Triumph And Agony Live

BETWEEN WORLDS Between Worlds

ALCATRAZZ V

BEHEMOTH Sventevith (Storming Near the Baltic) Reissue

ALICE COOPER, ACE FREHLEY In Nashville, TN With Photos!

CARNIFEX Graveside Confessions

BLOOD RED THRONE Imperial Congregation

GUS G. Quantum Leap

BILLY IDOL The Roadside EP

AVATAR, MAGIC SWORD In Houston, TX With Photos!

APRIL WINE, MONKEYJUNK At The Ottawa Bluesfest

MINISTRY Moral Hygiene

CRYPTA Echoes Of The Soul

SKILLET In Houston, TX With Photos!

Immortal Axes: Guitars That Rock Book

IRON MAIDEN Senjutsu

GRINDER BLUES El Dos

GEORGE LYNCH Seamless Review #2

IN THIS MOMENT, BLACK VEIL BRIDES In Houston, TX With Photos!

WARLANDO Festival 2021 Photo Gallery

KISS In Ridgefield, WA With Photos!

LAURENNE/LOUHIMO The Reckoning

TREMONTI Marching In Time

ROCKLAHOMA 2021 Day 3 Photo Gallery

ROCKLAHOMA 2021 Day 2 Photo Gallery

ROCKLAHOMA 2021 Day 1 Photo Gallery

CARCASS Torn Arteries

SETH La Morsure de Christ

GEORGE LYNCH Seamless

POWERWOLF Call of The Wild

BRAINSTORM Wall of Skulls

THE BLACK CROWES, DIRTY HONEY In Ridgefield, WA With Photos!