Camarosmith
Self-Titled


By Frank Meyer, Contributing Editor
Monday, October 13, 2003 @ 11:22 PM


| | | |
| --- | --- | --- |
| | | (Dead Teenage Records) |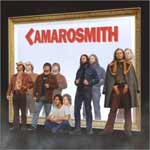 Heavy, bludgeoning, raw and rockin' is how one might describe the self-titled debut by Seattle's Camarosmith. Starring Jeff Matz and Donny Paycheck from Zeke, Camarosmith is a band that started as a side-project, a hard rock retreat for the guys to escape the speed metal-punk fury of Zeke, but has blossomed into a full-time lean, mean metal machine.

Camaerosmith's self-titled debut was produced by legendary grunge knob-twirler Jack Endino and certainly has shades of the Seattle sound, yet is much closer in sonic thrills to bands like Fu Manchu, Speedealer or Nebula. I wouldn't call songs like "It's Alright," "S.O.S.," and "Corrupt" stoner rock, so much as odes to '70s metal gods like Black Sabbath, Montrose and Judas Priest carried on in the most faithful tradition. While they don't stray much from the familiar formula of this genre, they embrace it so wholeheartedly that it's hard not to be enticed.

When the band gets bluesy on "714" you can hear the Robin Trower influence as strongly as the Budgie leanings. And when guitarists Chris Johnson and Pat Brown noodle on "Flight of the Red Wing," you can just feel them giggling as they reminisce down Maiden lane. Yet it's vocalist Ben Rew who really steals the show here, unleashing as ass-whomping, bluesy snarl over every tracks and flexing quite a dynamic vocal range (which is virtually unheard of this genre). The man is a powerhouse, the kind of singer all rock bands should have.

Sure, fans of Zeke will dig this, but me say lots of others will too. So go buy.

* * * * .




Please log in to view RANTS

If you don't have a username, click here to create an account!





HENDRIX: The Illustrated Story

L.A. GUNS The Missing Peace

ENSLAVED E

UFO, SAXON, JARED JAMES NICHOLS In Akron, OH With Photos!

ACT OF DEFIANCE Old Scars, New Wounds

JACKYL 25

REVOLUTION SAINTS Light In The Dark

TESLA, WEAPONS OF ANEW, VOICES OF EXTREME In Orlando, FL With Photos!

THE BLACK DAHLIA MURDER Nightbringers

SONS OF APOLLO Psychotic Symphony

OBITUARY, EXODUS And POWER TRIP In Ottawa, Canada

EVERY MOTHER'S NIGHTMARE Grind

FOZZY Judas

LYNCH MOB In Saint Petersburg, FL With Photos!

DIAMOND HEAD In Ottawa, Canada

VENOM, INC. Ave

NOCTURNAL RITES Phoenix

EXIT EDEN Rhapsodies In Black

MARDUK, INCANTATION In Ottawa, Canada

NIGHT RANGER In New Braunfels, TX

AVATARIUM, THE SLAYER KING In Sieburg, Germany

STEELHEART Through Worlds Of Stardust

SATYRICON Deep Calleth Upon Deep

SERIOUS BLACK Magic

CRADLE OF FILTH Cryptoriana - The Seductiveness Of Decay