RINGS OF SATURN Ultu Ulla


By Brian Davis, Contributor
Thursday, August 10, 2017 @ 1:23 PM


| | | |
| --- | --- | --- |
| | | |
RINGS OF SATURN
Ultu Ulla
Nuclear Blast




RINGS OF SATURN are a bands' band – if you were a fly on the sweaty seat of the cramped van of a touring Metal band you would probably hear Johnny Cash, audio self-help books and RINGS OF SATURN in heavy rotation. It's one thing to stun listeners with mind-bottling technical instrumental prowess and elite Death vocals (which is the core essence of RINGS OF SATURN), but when you're so ridiculously good at your craft that your peers have to stop, step back, lift up their shades and say, "Daaaaaaammn!!!!" – then you know you have something special.

Though established in 2009 and having released several brutally solid albums that showcased their uber-technical style, it was 2014's Lugal Ki En that detonated on the Metal scene sending flaming debris of influence & awe blasting across our psyches, forcing even the most elite metal fan to bow in respectful reverence to the inhuman level of technical perfection we now know to expect from RINGS OF SATURN. One listen to that album's keystone track "Natural Selection" would set the hook firmly in the mouth of any who stumble across it (I speak from lip-scarred experience). Lugal Ki En established such a prolific legacy of perfection that it left no room to doubt the band's legitimacy, leaving fans to chomp anxiously at the bit in anxious anticipation of more premium devastation.

Three years later RINGS OF SATURN is back with Ultu Ulla and with it comes the unfiltered bliss of satisfaction in seeing an already epic band blast out of the gates with another flawless display of dominant musical mastery. If you've heard them before you know exactly what to expect and what you'll find, but for those who haven't experienced this sonic eardrum pummeling let's break down what makes RINGS OF SATURN so exceptional: The core defining element is and will always be displaying stunningly technical instrumental mastery woven deftly throughout schizophrenic tapestries of sweet technical shreddy awesomeness courtesy of the furious fingers of Miles Baker & founding guitarist Lucas Mann and the fluid mechanical drumming dominance of Aaron Stechauner. The guitars and drumming are symbiotic forces that drive the music, but the drive is the equivalent of having a coked up off-his-psycho-meds Ricky Bobby at the wheel, constantly shifting through turn after turn at neck-wrecking speeds with so much controlled chaos & shifting fury you don't know where the hell he's taking you but you know if you manage not to crash it's going to be a ride that you'll never forget. Each musician is a true master of their instrument operating on a level that most of us could never hope to achieve, executing complexly layered and constantly shifting rhythms with an amazing ability to sustain distinct infectious grooves throughout.

The other exceptional element and the aspect that pushes RINGS OF SATURN into the realm of full-on brilliance is the crushing vocal capability of Ian Bearer. Coupling lyrical themes steeped in extra-terrestrial paranoia with a range of guttural vocals that vary from brutally deep to downright demonic, the Hellmouthed deliveries of Mr. Bearer are worship-worthy for their ability to wrap themselves so deftly around the insane rhythms. Any vocalist worth their salt can maintain a rhythm and flow with the music, but few can wrap syllabic emphasis around such frenetic notes so succinctly; just crank the seventh track, "Harvest", and listen in awe as he manically & maniacally navigates the shifting chaotic soundscapes, belting out sick vocal turns over particularly frenetic passages where one would not have believed it was possible.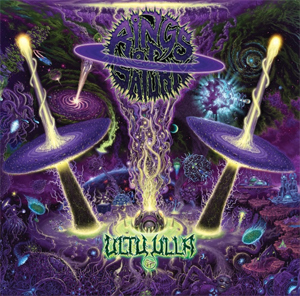 And that's really all you need to weigh the merits of this band & album; there's no need to break down Ultu Ulla song by song, as anyone who takes an interest in the uber-technical styles of Death Metal is guaranteed to find boundless merit and high replay value throughout the entire album. And there's nothing to criticize (unless waiting three years for an album is too long for you) – more effort went into the composition, structuring and delivery of the songs on this album than some bands put into their entire careers. Every once in a great while an album is so good it really does speak for itself, and so it is with Ultu Ulla – it is not only the strong leader for album of the year but also a highly defendable candidate for one of the best Extreme Metal albums released this side of the 21st century. Combined with a devastating release from ORIGIN already and upcoming crushers from NERVECELL & ARCHSPIRE, 2017 may go down as the most dominant year in the history of Technical Death Metal. So pull up a lawn chair, put on your 3-D anti-radiation glasses, look to the horizon and watch for UFOs & mushroom clouds – when the smoke clears the TechDeath soundscape will never be the same again.
5.0 Out Of 5.0
Grab your copy of Ultu Ulla in the KNAC.COM More Store right HERE.




Please log in to view RANTS

If you don't have a username, click here to create an account!






BRITISH LION, CONEY HATCH In Ottawa, Canada

SUNFLOWER DEAD C O M A

SURF CITY BLITZ In California Photo Gallery

TRIVIUM, AVATAR, LIGHT THE TORCH In Portland, OR Photo Gallery

DEVILDRIVER, JINJER In Cleveland, OH With Photos!

CORROSION OF CONFORMITY In Dublin, Ireland

CAULDRON New Gods

STEVE GRIMMETT'S GRIM REAPER In Ottawa, Canada

JUDAS PRIEST, KREATOR In Quito, Ecuador

CAL JAM '18 Photo Gallery

BLOODBATH The Arrow of Satan Is Drawn

STRIKER Play To Win

NIGHT RANGER "Dawn Of Madness" Show In Waukegan, IL

BUTCHER BABIES, KOBRA AND THE LOTUS, SKARLETT RIOT, IGNEA, MAERTYRIUM, In Siegburg, Germany

HOUSE OF LORDS In New Bedford, MA

GRETA VAN FLEET Anthem Of The Peaceful Army

IMPELLITTERI The Nature Of The Beast

ALICE COOPER In Houston Photo Gallery

ICARUS WITCH Goodbye Cruel World

TARJA, STRATOVARIUS, SERPENTYNE In Cologne, Germany

CLUTCH, SEVENDUST, TYLER BRYANT & THE SHAKEDOWN In Portland, OR With Photos!

ACCEPT In Houston, TX With Photos!

U.D.O. Steelfactory

SKULL FIST Way Of The Road

SOULFLY Ritual

ANTHRAX State of Euphoria 30th Anniversary Deluxe Edition

FIFTH ANGEL The Third Secret

STEVE GRIMMETT'S GRIM REAPER In New Bedford, MA

ANAAL NATHRAKH A New Kind of Horror

PRIMAL FEAR Apocalypse

BEHEMOTH I Loved You At Your Darkest

DORO Forever Warriors, Forever United

SLASH FEATURING MYLES KENNEDY AND THE CONSPIRATORS In Houston, TX Photo Gallery

BILLY MORRIS AND THE SUNSET STRIP Holdin' All The Aces

VINCE NEIL In Houston, TX Photo Gallery

DEE SNIDER For The Love Of Metal

UNLEASH THE ARCHERS, STRIKER, HELION PRIME In Houston, TX W/Photos!

DREAM CHILD Until Death Do We Meet Again

SCORPIONS, QUEENSRYCHE In Tampa, FL With Photos!

HUMBLE PIE Live At The Ottawa CityFolk Festival

BEHEMOTH Album Listening Party In Los Angeles For I Loved You At Your Darkest

THE DEAD DAISIES, HOOKERS 'N BLOW In Ottawa, Canada With Photos!

DRAGONLORD Dominion

STONE BROKEN Ain't Always Easy

BRANT BJORK Mankind Woman

KORPIKLAANI Kulkija