LEPROUS Malina


By Peter Atkinson, Contributor
Monday, August 14, 2017 @ 8:00 AM


| | | |
| --- | --- | --- |
| | | |
LEPROUS
Malina
Inside Out Music




Norwegian prog-metallers LEPROUS have been gradually chipping away at the "metal" side of its sonic template pretty much since its official debut, Tall Poppy Syndrome, in 2009. The contrasts between ethereal, almost electronic hues and pulses – accentuated by frontman/keyboardist Einar Solberg's soaring tenor – and jagged rhythmic bursts and stabbing riffs have grown more subtle and less dramatic.

And while that has made the band more accessible and perhaps not so intimidating – despite the death metal connotations of its name – it also has taken away some of what made its music so compelling and exhilarating. LEPROUS inhabits a unique niche, with fellow Norwegian "blackjazz" avant-gardists SHINING among its few contemporaries, but as it creeps ever closer to the mainstream some of its mystique is fading.

2015's The Congregation had a MUSE-like feel with its pronounced electro-rock sheen and grandiose melodies, but its frenetic tempos and intermittent fits of guitar thunder still made for an acrobatic, spirited listen. The band's new fifth album, Malina, is more deliberate and controlled, even somber, building its momentum slowly and rarely delivering the rousing crescendos and startling freakouts of its earlier work. And while it's still absorbing, and at times even challenging, there's just not much spunk to speak of.

It's telling that album opener "Bonneville" eases into action in a wash of soft, smoky jazz. And even when the band flexes a bit of muscle midway through, as Simen Břrven's throbbing bass emerges and Baard Kolstad's drums begin to skitter, it never truly takes off. "Stuck" and "Flame" follow with what might best be described as "progressive pop," with their rich melodies and Solberg's serene vocals playing over athletic but understated rhythms.

LEPROUS finally show some friskiness with "Captive" and "Illuminate", both of which offer a frenetic tangle of jangly guitar and bob and weave tempos. But even here, the riffs are muted, and there is a curious element of restraint that keeps the band from really letting loose. Better is "Coma", which defies its title with its spasmodic riffs and drum clatter and rolls, and "Mirage" with its nimble KING CRIMSON-like spider-walk guitaring playing off a heaving bottom end that echoes MESHUGGAH and provides some legitimate oomph.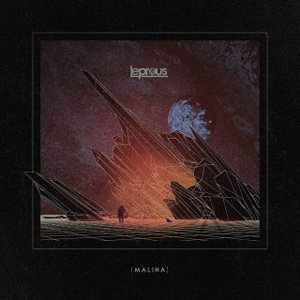 "The Weight Of Disaster" is the one song here that captures the full dynamic range of the band, with its resounding, ever-so-catchy chorus mixing and mingling with free-spirited jams, hushed verses, punchy hooks and a turbulent undercurrent. It provides the sort of angular ebb and flow that has long been a strong point for LEPROUS.
Elsewhere, though, the accent is on melancholia and relative sparseness, notably on the closing track "The Last Milestone" that finds Solberg warbling over a backing of violins and synths. It's an effectively stirring song, but sounds like something better suited to a solo album since the rest of the band's involvement is minimal at best. "Leashes" and the title track seem almost like vocal exercises for Solberg as well, although "Malina" takes a free-jazz jaunt for a stretch. Still the "every day moving slower" line from its chorus is uncomfortably spot-on.
Malina is by no means a bad album. Its songs are decent, and in some cases great, and more than ably played, although there seems to have been a concerted effort to tone things down, both from a performance and production standpoint - the guitars, most notably, lack much bite throughout. But Malina is a rather flat, even bland, outing overall by a band that has proven itself capable of more vigor and "zazz," for lack of a better term. So decent, but disappointing.
3.0 Out Of 5.0
Grab a copy of Malina in the KNAC.COM More Store right HERE.




Please log in to view RANTS

If you don't have a username, click here to create an account!