QUIET RIOT
Road Rage
Frontiers Records 2017




Review By Ruben Mosqueda

If you're reading this you know the QUIET RIOT history through [singer] Kevin Dubrow's tenure; there's no sense in going through the story of the classic line-up. When Kevin Dubrow died in 2007, one would assume that QUIET RIOT died with Dubrow since he was so synonymous with QUIET RIOT. The band had a previous attempt to press forward without Dubrow in '88 with less than favorable results.

Drummer Frankie Banali relaunched QUIET RIOT in 2010 after getting mama Dubrow's blessing. There was a sentiment that "Kevin would want the band to continue." Mama Dubrow's conversation with Banali was captured on camera, or exploited depending on how you view it, on the QR documentary Well Now You're Here There's No Way Back. At the end of the [2014] documentary the band hired then sacked singer Mark Huff who was known around So Cal for his portrayal of Sammy Hagar in [the VAN HALEN tribute act] 5150. He was replaced briefly by MONTROSE vocalist Keith St. John before Frankie Banali found Scott Vokoun, then former LOVE/HATE singer Jizzy Pearl followed by Seann Nicols; who was in the band less than a 'full-term' pregnancy before he too was dismissed. Before Nicols' unceremonious firing he managed to record Road Rage for a Spring '17 release.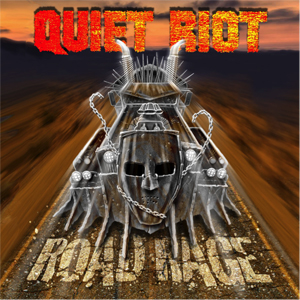 It was at this point that American Idol contestant James Durbin entered the picture. There's no question that Durbin can carry a tune. This couldn't be any more disastrous than previous post-Kevin Dubrow attempts, right? It was at this point that QUIET RIOT recut the vocals and rewrote lyrics for what was supposed to be Road Rage. There's no question the kid can sing, but for God sake give him some songs to work with! QUIET RIOT circa 2017 is no different than QUIET RIOT circa 1988 with [vocalist] Paul Shortino and [bassist] Sean McNabb--call it something else if you're going to continue recording new music.
Road Rage doesn't sound anything like the QUIET RIOT that we grew up with; it's contemporary rock. Songs like "Freak Flag" and "Can't Get Enough" are cringe worthy and they're the better songs of the lot. I can best describe Road Rage as the band playing in a nightclub scene of a 'B or C' movie. You know the band. They sound forced, contrived and there's nothing really moving here. As vain as Frankie Banali is you'd think he'd insure that the drums sounded better than they do on this record. I suppose once you've spent Frontiers Records' dough you just have to deliver something. I would still see this incarnation of the band live simply because 99% of the set will be classics and I'm curious of Durbin's interpretation of the classic material.
2.0 Out Of 5.0
Grab your copy of Road Rage in the KNAC.COM More Store right HERE.