10 YEARS Announce New Album (how to live) As Ghosts


By Larry Petro, News Monkey
Wednesday, August 16, 2017 @ 11:31 AM


| | | |
| --- | --- | --- |
| | | Out On October 27 |
10 YEARS returns with the new studio album (how to live) As Ghosts, and welcomes back band members Brian Vodinh (guitar/drums) and Matt Wantland (guitar). The band's sixth full-length studio album was produced by Grammy Award winning producer Nick Raskulinecz (ALICE IN CHAINS, FOO FIGHTERS, DEFTONES, KORN, MASTODON). Today, they present the lead single titled "Novacaine" which can be heard below. Singer Jesse Hasek offers, "Six albums and a hundred songs in, I wondered if I've already written my best stuff. But at some point, you start to get real adult problems. You see people go from such optimism in their 20s to having life just beat them down later. I think we all kind of get desensitized and numb to life on some level. That's what this song is about."

When guitarist/drummer Brian Vodinh and guitarist Matt Wantland returned to the Knoxville, Tennessee alt-metal/post-grunge band for their Mascot Records debut, (how to live) As Ghosts, they burst through their comfort zones to create something new. Something career-defining. Singer Jesse Hasek reflects, "It's funny. I named our last record From Birth To Burial (2015) because I thought it was our final record. It just didn't feel like 10 YEARS without Brian and Matt, and having them back is really a reunion of the core writing team. This new record actually feels like a real rebirth for the band."

While Vodinh handled drums and guitar on the new album, he's switching to just guitar for the live shows, moving Chad Huff from guitar to bass, while Kyle Mayer stays on drums. "We're bringing it back to the way it should be," says Vodinh, who left the band due to family commitments in 2013. "It feels great to be back with these guys and we're in such a good place musically and creatively."

That better place stems, in part, from a more collaborative writing process. "It used to be that just Jesse and I would write the full song, and the other guys would add a little spice to it. This time, we're starting the writing process as a full band. Sometimes it starts with a riff. Sometimes it starts with a vocal. Our formula is no formula, and it kind of works. And, we work together in a constructive and healthy environment now," explains Vodinh. The sixth collaborator was Grammy award-winning producer Nick Raskulinecz. "Nick made us step outside our comfort zone," explains Hasek. "It made for a different sounding record. The one thing we never wanted to do is recreate the same thing over and over. We have always been musicians that love to explore and venture into new horizons."

The result a dynamic and multi-dimensional 10 Years' album. Raskulinecz encouraged the band to strip away some of the vocal production they've grown accustomed to in order to reveal a more intimate side of Hasek. "Historically, we like to orchestrate a lot of vocal parts. We'll have harmonies and layers. This time around, Nick had us strip a lot of that away. There are a lot of moments where the only vocal is just Jesse, and not this big freaking epic thing. It makes Jesse more human. And I think the more human Jesse comes across, the more relatable his lyrics are," says Vodinh. Hasek offers, "In the past, I've written a lot of songs that were pretty ambiguous. But on this record, I'm comfortable being direct and talking about things that are important to me now. I'm older and find myself reflecting on the world more, especially after having traveled the globe. I've crossed paths with a lot of people, and perspectives shared have been enlightening for me as I look at The World, and see what's going on around me."

The title track, "(how to live) As Ghosts", is one such song. "After traveling and seeing all the political, social, and religious turmoil, it had me thinking about how many people are judging and preparing for death, but are actually missing life. And, instead of using spirituality for good, a lot of people use it to point fingers and judge. Instead of worrying where we end up in the end, we need to focus on the now and the humanity." "Burnout" is another observation on mankind. "It's about a person that's right there in the limelight, has every opportunity to see the greatest things in life that are right in front of them, but they are too inside themselves to see it," says Hasek. "Blood Red Sky" was originally from a solo EP Vodinh had recorded. "The song grabbed my ear the first time I heard it because it had such a different vibe," says Hasek, "but I had a different vocal idea for it so we changed it up. It's about the struggle of maintaining everyday life and how fast your existence just flashes before your eyes. But, it also says that we are surviving and will make it through — that we will always fight through."

(how to live) As Ghosts feels like a new start for the band. There is a brighter side to it that reflects the reality that individually and collectively they are all in a really happy, optimistic, and excited place about music and life. They share, "We're ready to see how the world embraces the new album and a rejuvenated 10 YEARS."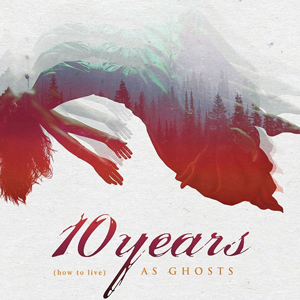 CONFIRMED APPEARANCES INCLUDE:
9/03 - Mt Pleasant, MI - Soaring Eagle, ~
9/20 - Peoria, IL - Crusens (10 Years headline) +
9/21 - Green Bay, WI - Green Bay Distillery WZOR Edgefest +
9/22 - Rockford, IL - District +
10/13 - Knoxville, TN - Mill & Mine, +
10/14 - Winchester, VA - Blue Fox Billiards <
10/15 - Morgantown, WV - Schmitt's <
10/17 - Pittsburgh, PA - Diesel *
10/19 - Lancaster, PA - Chameleon Club *
10/20 - Lynchburg, VA - Phase 2 *
10/21 - New York, NY - Highline Ballroom *
10/23 - Greensboro, NC - The Blind Tiger *
10/25 - Darlington, SC - Carolina Night Live *
10/26 - Atlanta, GA - Masquerade *
10/27 - Destin, FL - Club LA 99 Rock show w/ Pop Evil *
10/28 - Cape Coral, FL - Dixie Roadhouse - 93X show w/ Pop Evil *
10/29 - Orlando, FL - House of Blues *
10/31 - Baton Rouge, LA - Varsity Theatre *
11/03 - Cincinnati, OH - Bogart's *
11/04 - Sauget, IL - Pop's *
11/05 - Joliet, IL - The Forge *
11/07 - Racine, WI - Route 20 *
11/08 - Detroit, MI - St. Andrews Hall *
11/10 - Ft. Wayne, IN - Piere's *
11/11 - Indianapolis, IN - The Vogue *
* Co-Headline dates with RED
< Headline w/ OTHERWISE supporting
+ 10 YEARS headline
~ Supporting FIVE FINGER DEATH PUNCH




Please log in to view RANTS

If you don't have a username, click here to create an account!