New Book HELLRAISERS: A Complete Visual History Of Heavy Metal Mayhem Coming In October


By Larry Petro, News Monkey
Wednesday, August 16, 2017 @ 11:34 AM


| | | |
| --- | --- | --- |
| | | Out October 2 Via Race Point Publishing |
At long last, the world's most disreputable form of music gets the disreputable chronicle it deserves in HELLRAISERS: A COMPLETE VISUAL HISTORY OF HEAVY METAL MAYHEM (Race Point Publishing/ October 2, 2017 / US $35). Co-authored by Axl Rosenberg and Chris Krovatin of the hugely popular blog MetalSucks.net, HELLRAISERS is a visually dynamic, highly informative, wholly unacademic journey through the history of metal music. Told from a superfan's barely-sober point of view, HELLRAISERS covers it all, from SABBATH to SLAYER to SLIPKNOT to SUICIDE SILENCE, from thrash to glam to progressive technical blackened sludgecore, from devil horns to invisible oranges to corpse paint emojis.

Featuring cover art by acclaimed underground metal artist Mark Riddick, a foreword by TRIVIUM frontman and dreamiest dude in metal Matt Heafy, and exclusive interviews with members of CANNIBAL CORPSE, KILLSWITCH ENGAGE, THE OBSESSED, PERIPHERY, SUICIDE SILENCE, COAL CHAMBER, SIGH, LITURGY, and more, HELLRAISERS will entertain metal fans of all experience levels. For the noob, the book will answer such questions as "What's the difference between doom metal and death metal and black metal?", "Is POISON really considered a metal band?", and "What the #$@&%*! is 'djent'?!?". For the experienced hesher, the book will carry on their favorite time-honored metal tradition: Bitching about everyone else's opinions being wrong.

Complete with over 200 photos, genre-by-genre playlists, essays about such topics as metal mascots and drum triggers, a healthy dose of humor, and the ability to double as a doorstop, HELLRAISERS is the only book about the history of extreme music you'll ever need*. Look for it this October—just in time for the holidays! Makes a perfect gift for sullen black-clad children, misanthropic adults, or the other members of your Satanic cult. Hail!

Praise for HELLRAISERS

"Informative and funny. I laughed until my scrotum exploded."

-JR Hayes, PIG DESTROYER

"I like books with pictures and I like books about heavy metal and this book has both. People like to compartmentalize their genres but this book shows that everybody is influencing everybody constantly and begetting lunatic metal children with SABBATH legs, VAN HALEN arms, KISS torsos, CANNIBAL CORPSE faces and maybe even cartoon feet. This is also a great gift for your idiot friend who doesn't know anything about good music. There's nothing better than giving a gift and insulting somebody at once. That's just a good tip outside of this book."

-Brendon Small, METALOCALYPSE

"Hellraisers cuts to the core of Heavy Metal's history with a healthy dose of humor, the sincerity of a committed Jedi, and the familiarity of your closest metal brothers and sisters. Think of this book as the literary version of stealing your older brother/sister's records when you were a kid, only there is so much to learn contained herein that even the most well studied metal scholars will find truth in these pages. For myself, reading about the genre of music I helped pioneer in context of this vast history is overwhelming. Most music is created upon the foundation of a love for music that came before it and this book does an amazing job of illuminating this relationship. In a time of fake news, fake music, fake pop stars, the fake reality that is the Internet, Hellraisers proves to be a much needed and much welcomed addition to the written history of heavy metal."

- Mike Schleibaum, DARKEST HOUR

*At least until we write the sequel.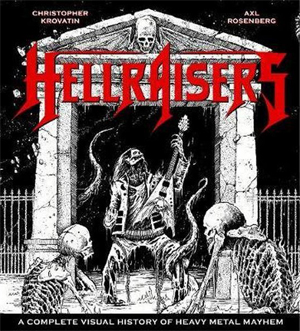 Axl Rosenberg is the pseudonym of Matthew Goldenberg, co-founder and co-editor-in-chief of the popular heavy metal blog metalsucks.net. He is also a novelist and screenwriter. He lives in New York City with his dog, Sacha, and his neuroses.
Christopher Krovatin is a YA and middle grade author best known for his novel Heavy Metal & You. He's also a heavy metal journalist who has written for Revolver Magazine, MetalSucks, Rolling Stone, Invisible Oranges, and Noisey to name a few. He lives in New York City with his girlfriend, records, and Halloween decorations.
Mattew Kiichi Heafy is the vocalist and lead guitarist of the world-famous metal band TRIVIUM, which he joined in 1999 at the age of 13. TRIVIUM has toured alongside bands including IRON MAIDEN, METALLICA, and MACHINE HEAD. He lives in Orlando, Florida, with his wife Ashley. Matt can read sheet music, but only when playing the saxophone.
HELLRAISERS: A Complete Visual History Of Heavy Metal Mayhem
By Axl Rosenberg and Christopher Krovatin
Foreword By Matthew Kiichi Heafy
On-Sale Date: October 2, 2017
$35 US · $46 CAN · 228 pages · Hardcover
ISBN: 9781631064302
Race Point Publishing, an imprint of The Quarto Group




Please log in to view RANTS

If you don't have a username, click here to create an account!