Southern California rock 'n' roll band FIREBALL MINISTRY will release their 5th album, Remember The Story, on October 6th via Cleopatra Records. Today, the band has unveiled the record's artwork and tracklisting. Pre-order the album now HERE.

Remember The Story, the band's 1st album in nearly seven years, delivers their tried and true signature stomp and fuzzy swing with an even broader scope and deeper emotional range. The album mines the depths of loss, pain, and confusion, exorcising demons with the spirited uplift this kind of music best delivers.

"Remember The Story is about moving forward while staying connected to your past. With this album we've reached a new stage of crystallization and prowess in our riffage." – Emily J Burton

"This is a very personal record to me and was written from down deep. It's also an honor to be playing alongside Emily (Burton) and John (Oreshnick) for the last 20 years. Having Scott (Reeder) with us along for the ride has made our greatest music to date in my humble opinion." – James A Rota

The upcoming record was produced/mixed by Paul Fig, the engineer behind important records from ALICE IN CHAINS and GHOST. SABBATH soaked rhythms, PRIEST worshipping melodies, and no-nonsense THIN LIZZY mayhem collide in the Hollywood, California band, a group that has humbly but confidently flown the flag for rock authenticity since the hard-partying year of 1999.

Remember The Story's cover artwork was created by Caitlin Mattisson and conveys the album's theme of death and renewal. Speaking about the art, Mattisson says, "the vulture represents renewal and transformation and has connections to many mythologies and cultures, from being descended from Griffins in Greek Mythology to the scientific (Latin) name of Turkey Vulture translating to Golden Purifier, which ties in to Jim's theme about a 2nd chance at life. Elements inspired by Hildgard of Bingen have been worked into the border shapes, as well as 2 blown out candles on the front. The book on the front is a FIREBALL MINISTRY hymnal shooting light. On the back of the album the candles are lit again and the vulture is flying away towards a new moon, new beginning."

Watch The Lyric Video For "Back On Earth" Below.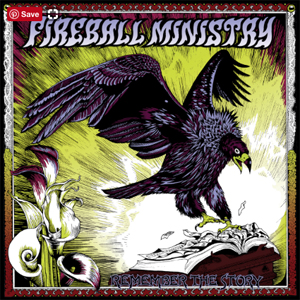 FIREBALL MINISTRY will be performing with FOO FIGHTERS, QUEENS OF THE STONE AGE and more at the Cal Jam 17 Festival on October 7th at Glen Helen Amphitheater and Festival Grounds in San Bernardino, CA. Tickets are available HERE.
Remember The Story Tracklist:
"End Of Our Truth"
"Everything You Wanted"
"Back On Earth"
"The Answer"
"Dying To Win"
"Stop Talking"
"Weaver's Dawn"
"Remember The Story"
"All For Naught"
"I Don't Believe A Word"