DEEP PURPLE, ALICE COOPER, THE EDGAR WINTER BAND In Los Angeles, CA With Photos!


By Junkman, On-Air Personality
Wednesday, August 23, 2017 @ 1:13 PM


| | | |
| --- | --- | --- |
| | | August 13, 2017 At Greek Theatre Los Angeles, CA |
Review By Shawn Perry
Photos By Junkman
On paper, DEEP PURPLE, ALICE COOPER and EDGAR WINTER sounds like a match made in rock and roll heaven, a dream team comprising three of the 1970's most omnipotent road warriors still parading across and conquering the world's stages. And, of course, each has a rich, uniquely wondrous backstory of its own.
For DEEP PURPLE, a band that's steadily traversed the planet for the last 25 years without major disruption, the 19-city summer tour with Cooper and Winter could very well be their last.
With two members (singer Ian Gillan and bassist Roger Glover) in their early 70s, two more (drummer and sole original member Ian Paice and keyboardist Don Airey) joining the septuagenarian club next year, and their youngest (guitarist Steve Morse) suffering from arthritis, it only makes sense to call it a day nearly 50 years after it all began.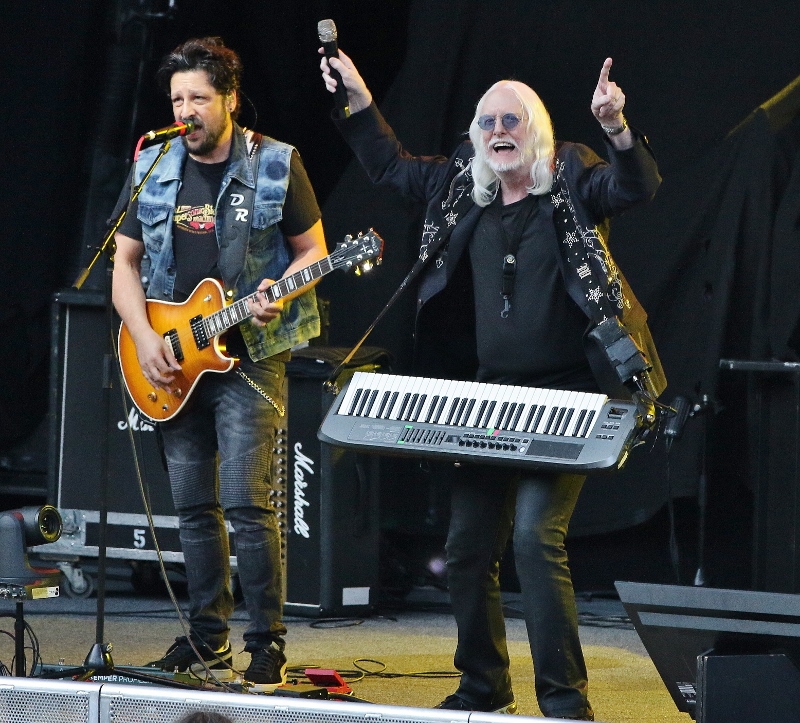 Fortunately, Alice Cooper, who also turns 70 next year, holds court in the department of youth, surrounding himself with a sprightly crew of musicians and ghoulish characters. Throw in a glossy, hgih-production stage show spilling over with precision choreography and wacky props, and it's almost as if Cooper's just getting started. As for Edgar Winter, who turned 70 in 2016 — well, he's simply timeless.
In fact, it was up to Winter to get the party started at the Greek. Coming up just as the sun was checking out, the singing multi-instrumental wasted little time treating the assembled to a rapid-fire montage of hits and favorites, bolstered by exquisite musicianship and steadfast energy. Guitarist Doug Rappopart, bassist Koko Powell, and drummer Jason Carpenter supported Winter, and each stepped up their game as the band leader seemlessly juggled his microphone, saxophone, keyboards and timbales.
The five-song set, bookended by "Free Ride" and "Frankenstein" (both from 1972's They Only Come Out At Night) , had Winter engaging in a bit of scat-and-mouse with each of the players in the middle of "Tobacco Road". Afterwards, he gave a shout-out to brother Johnny, who died in 2014, and went right into "Rock And Roll, Hoochie Coo", originally recorded by the blues guitarist in 1970, and later re-recorded and released as a single by its writer Rick Derringer. Before finishing off with "Frankenstein" Winter reminded everyone he was the first guy "in musical history" to put a strap on a keyboard in an effort to provide mobility for an otherwise stationary instrument. This would be the first of many history lessons of the night.
The excitement intensified once provoquer Alice Cooper and his five-piece band strutted out with an eye-popping, hair-raising extravaganza of theatrical madness rife with one classic rock nugget after another. Unlike KISS and other practitioners of shock rock who followed in his wake, Cooper has the chops to tingle the ears as well as the eyes.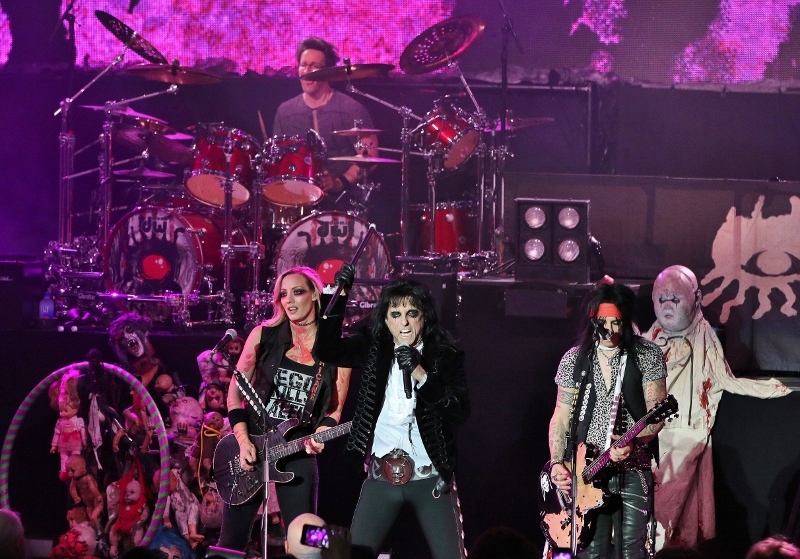 Over the course of 16 songs, he slotted in early 70s perennials like "No More Mr. Nice Guy", "Under My Wheels" and "Billion Dollar Babies", alongside latter-day chest-thumpers "Feed My Frankenstein" (during which Cooper turned into Frankenstein) and "Poison".
"Paranoiac Personality", from Cooper's 2017 album Paranormal, fit right in with the rest of the family. Others like "Cold Ethyl" and "Only Women Bleed", both from 1975's epic Welcome To My Nightmare, jostle the macabre without compromising the melody. Most striking was how Cooper turned the spotlight on his band, giving guitarist Nita Strauss a few moments to herself to dazzle the crowd with a flurry of hammer-ons, pull-offs and fearsome fingerwork. Drummer Glen Sobel also took a swaggering solo around the track, displaying unbridled finesse and acrobatic stick work.
In between costume changes, prodded by zombie nurse Calico Cooper (Alice's daughter), the singer stalked the stage, wielding a sword, a rag doll, a cane, a crutch, a severed head and various other accoutrements of mayhem to keep the flock entranced. He encored with "School's Out", featuring a snippet of PINK FLOYD's "Another Brick In The Wall". It's likely the audience would have gladly stayed on for another hour of Alice Cooper and gone home full, fat and satisfied.
He certainly raised the stakes for DEEP PURPLE, who closed the night out with a 12-song set. "Highway Star", "Fireball" and "Strange Kind Of Woman" were rolled out in quick succession, and hardcore PURPLE fans rejoiced with mercurial abandonment.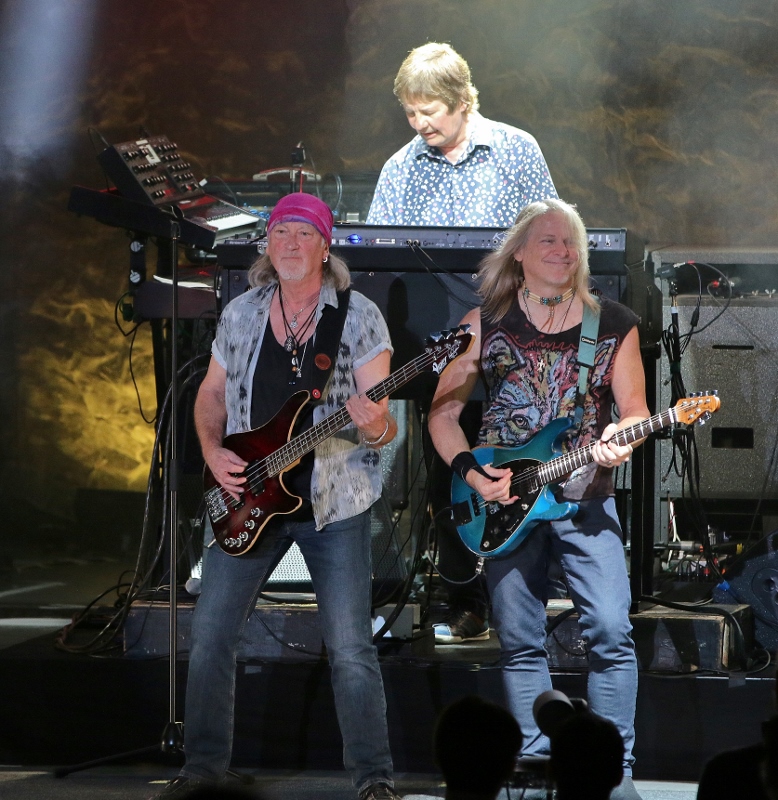 Truth be told, the band held their own, despite the sluggish deliveries. Ian Gillan kept his vocal range in check on newer songs like "Uncommon Man" and "The Surprising", while minimizing the unreachable yelps on "Lazy" and "Space Truckin'". What the singer lacks in his once-mighty screams, he more than makes up for with zeal and wit.
It was really the keyboard antics of Don Airey that lifted PURPLE's set above and beyond. His mastery of classical, jazz and prog during his solo spot segued nicely into "Perfect Strangers". Steve Morse, working through the pain, and Roger Glover churned out the grooves without losing the momentum. And drummer Ian Paice, despite suffering a mini stroke in 2016 that debilitated his playing, was able to keep up the pace without fault.
"Smoke On The Water" ended the main set before the band returned for a two-song encore of "Time For Bedlam", from the band's 2017 album InFinite, and "Hush". It was a rather fitting finale to end the show with PURPLE's first bona fide hit from 1968. Still, as the crowd exited the Greek, one couldn't help but think that DEEP PURPLE's best days are behind them, and that the Long Goodbye Tour is an appropriate way for the Rock and Roll Hall of Famers to bow out gracefully. The rest of us should only be so lucky.
Check out a few more photos from the show!
All Photos By Junkman




Please log in to view RANTS

If you don't have a username, click here to create an account!