PARADISE LOST Medusa


By Peter Atkinson, Contributor
Thursday, September 14, 2017 @ 1:40 PM


| | | |
| --- | --- | --- |
| | | |
PARADISE LOST
Medusa
Nuclear Blast Records




England's PARADISE LOST brought its long career full circle with 2015's The Plague Within, an album that touched upon just about every aspect of the band's ever-evolving sound, from the death metal and doom thunder of its early days to the gothic grace and pomp and arena-sized anthemic crunch that followed. All that was really absent was the turn-of-the-century keyboard/electronic-tinges of the Host/Believe In Nothing period, which most people probably didn't miss anyway.

Indeed, it was the return of the pronounced death/doom elements that drew the most attention, and for good reason. The band had been hinting at heavier, more abrasive fare for several albums. But it finally went all in on Plague Within – at least on a number of songs, like the punishing "Terminal" and "Flesh From Bone" and the funereal "Beneath Broken Earth", marked by the heaving riffs of old and frontman Nick Holmes' dour growl. And it has proven to be more than just a passing fancy or nostalgic whim.

Medusa, PARADISE LOST's 15th full-length, slows things to a crawl and revels in doom and gloom as never before. It's almost like an entire album's worth of "Beneath Broken Earth"'s — well, just about. "Blood And Chaos", with its swaggering grooves, is the lone track that maintains even a mid-tempo pace the whole way. "From The Gallows" and album closer "Until The Grave" also offer something of an ebb and flow, with new drummer Waltteri Väyrynen's shuffling, almost jazzy undercurrent cutting through the dirginess.

Much of the rest, however, is sludge and slog that, in no small measure, recalls Forest Of Equilibrium-era CATHEDRAL. Medusa shows its hand from the outset, with "Fearless Sky", the longest tune, I believe, of the band's career and perhaps the grimmest on the album, which is saying something given the likes of "No Passage For The Dead" or "The Longest Winter" that come later.

The aching, methodical riffs of Gregor Mackintosh and Aaron Aedy lurch along for 8:31 under Holmes' mournful, scornful vocals, which alternate at times from gruff to clean. "Fearless Sky" is the very antithesis of high-octane opening track convention, but certainly not unprecedented for PARADISE LOST, which kicked off Plague Within with the similarly morose "No Hope In Sight".

"Gods Of Ancient" accentuates the gothic grandeur with its soaring guitar flourishes but still boasts a brontasaurian lumber and rumble, as do "The Longest Winter" and the piano-tinged title track, which lay on the melancholia nice and thick, even as Holmes' singing remains mostly clean. "No Passage For The Dead" is more sinister with Holmes in full rasp and accompanied by the eerie harmonizing of Mackintosh's wife, Heather.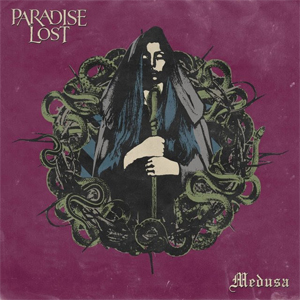 On initial spins, Medusa has something of a leaden feel, given its creeping pace and the drawn-out riffing that rings every ounce out of seemingly each note. Granted PARADISE LOST has never been much of a barn-burning act, but Medusa plods even by its usual standards, especially after the comparative variety of Plague Within and the fact that overt doominess has not figured prominently in the band's repertoire for two decades.
But give it a little time, and subtleties start to emerge that show the album has more depth than it might seem. Väyrynen's agile, yet understated drumming ensures that slow as much of the material may be, it's far from ponderous. Replacing legitimate legend Adrian (AT THE GATES/THE HAUNTED/THE LURKING FEAR, ex-CRADLE OF FILTH) Erlandsson both here and in Mackintosh's side band VALLENFYRE, the young Finn really makes his mark and gives Medusa enough life to keep it from merely droning along. The elegant, almost delicate guitar harmonies and textures from Mackintosh and Aedy rise above the thunder to help in this regard as well.
Still, the tone here is uniformly glum, which is really nothing new for PARADISE LOST. But with the doomier presentation, it can feel a bit smothering. And while Medusa certainly is not lacking in heaviness, some more "blood and chaos" — to borrow the title of its most robust song — would have been welcome.
3.5 Out Of 5.0
Pick up your copy of Medusa in the KNAC.COM More Store right HERE.




Please log in to view RANTS

If you don't have a username, click here to create an account!