Kid Rock
Cocky


By Frank Meyer, Contributing Editor
Friday, November 30, 2001 @ 2:30 PM


| | | |
| --- | --- | --- |
| | | (Lava/Atlantic) |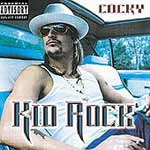 Alright, I am very aware that most of the KNAC.COM considers Kid Rock to be one of two artists they absolutely despise above all others, Fred Durst of Limp Bizkit being the other top contender. I am also very aware that saying anything remotely positive about him will generate a shitstorm of scathing comments from the ranters, who will undoubtedly launch an all-out attack on me and claim KNAC.COM is selling out by even acknowledging this album exists, least of all writing anything favorable about it.

But you know what? I refuse to be bullied by the close-minded few who only want a certain type of rock to be covered here at Pure Rock central. I refuse to believe that an entire genre sucks (in this case rap-rock) just because most of the force-fed MTV crap sucks. Look, if we all went by what MTV told us, we'd think that Alien Ant Farm was the greatest thing since sliced bread and that Metallica was at their best around Load…and we all know that ain't true. So I preface this review by simply asking you nay-sayers to chill out for a second, have a fairly open mind and accept the fact that maybe, just maybe, there is something of worth in this game we call modern, hip hop influenced metal.

Ranters, let the hatred begin to swell….now. Here we go....

Kid Rock's first album was a 1990 rap album that sounded closer to the Fat Boys that the Beastie Boys but featured Ozzy samples and metal guitar riffs. It didn't set the world on fire but it was a pretty cool left of center rap attack. His sophomore album, Polyfuse Method, was an underappreciated genius hybrid of Beastie's Check Your Head, tons of hard rock samples and acid trip effects, and some genuinely inspired, if pretty comical, lyrical moments. Early Mornin' Stoned Pimp was a harder edged, more rockin' affair that found Rock embracing the sound of a live band and teaming with fellow Motor City underground kingpins the Hollowing Diablos and Twisted Brown Trucker, now his full-time backing band. He also learned to play guitar, bass, drums, keys along the way, in addition to already being a master at the turntable. The Kid had real talent, he just needed to showcase it on the right album -- 1999's Devil Without A Cause was that album.

On Devil Rock finally hit his stride and found his audience. He tooled his white trash, trailer park pimp-come-country rocker image down to a science and crossed over with ease to the mainstream MTV crowd, becoming a genuine superstar. The album was the right sound at the right time and had smash written all over it. It also happened to be a damn good record full of soon-to-be-classic anthems in the burgeoning genre. However, that's when things got a little if-y. What followed was a slew of mediocre soundtrack songs that just screamed "filler" and a Best Of collection of revamped versions of some of his early fan favorites. History of Rock in itself wasn't such a bad idea, it was the new songs that really started showing his flaws. Rapping over a recent Metallica riff about being an "American Badass" as your big follow up to your multi-platinum smash was a pretty weak move and the other new tunes on the album weren't much better. To someone who'd been following his long rise to fame and the aftermath fallout it looked like he was already running out of ideas and getting a little to, shall we say, "cocky." Needless to say, I wasn't convinced his next album of studio was necessarily gonna be a real scorcher. Everything sure seemed to be pointing to a quick downfall…..

But you know what? Cocky is a pretty goddamn strong album that should shut critics up for a while and prove to anyone that gives a damn that Kid Rock is a major talent, albeit one with a fair share of missteps. Cocky is basically the same formula as Devil but with a bit more country ballads and a bit less outright hip hop. Most of it is just plain old hard rock. While Rock raps on almost every track that he's not crooning, there is inly one real "rap" song here, the old school sounding bonus cut with Snoop Dogg, "WCSR." The rest is kick ass hip hop metal with lots of rock references and plenty of hick twang. "Trucker Anthem" gets thing off to a big ol' "Bawitdaba"-like start, with its monster guitar riffs and explosive raps. The first single, "Forever," is actually one of the more generic cuts on the album, though it comes off better on album than on MTV. "Lay It On Me" carries on in the Unkle Kracker (Rock DJ and prodigy) tradition of country sweetness backed with a funky beat. The title track mixes some disco funk with powerhouse guitars to maximum effect, while "What I Learned On The Road" and "You Never Met A Motherfucker Quiet Like Me" both find the Kid in balls out hard rock mode. As far as the heavy stuff goes, by far the best cut is the straight ahead kick ass rocker "I'm A Dog," a tune that could easily fit a Crue album if Vince could rap a little bit. This tune has everything Rock is good at, huge monster guitar riff, thumping bass, lyrics about being a bad mofo, and a great hooky chorus. I dare any hard rock fan not to bang his head for this one. "Drunk In The Morning" is another standout, with Rock sounding frighteningly like Steven Tyler on the second half of the tune. Pretty cool.

The biggest difference between Cocky and Devil is that Devil only has one power ballad and ballads fill up at least 1/3 of this effort. All of them are pretty good but it gets a little silly after a while. I mean, we all know he grew up on hank Williams, but let's face it, he ain't Hank. He does, however, have a damn good signing voice and knows how to pen a good tune, so at least he doesn't embarrass himself on anything. Sure the duet with Sheryl Crow is a bit schmaltzy, but it's a ballsy move and for that alone he deserves some credit. Durst couldn't pull it off, Everlast can't sing this well, and Saliva wouldn't even know where to find a Johnny Cash record, least of all cop some licks off it.

The biggest detraction on this album is the lyrics, which run the gamut from hilarious and convincing Run DMC-style bragging to lame rhymes about getting "more ass than Mark McGrath." At times his chest thumping couplets add exactly the right flavor to the pummeling, attitudical music, but there are many other times when you wish he's actually write a real lyric instead of just referencing to Foghat or capping on Matchbox 20. On the other hand, if you listen carefully to Disturbed's "Down With The Sickness" you'll notice that for much of the verses Dave's really just rapping "All the people of the west side," which might as well be followed by "throw your hands up in the air," and they don't get called rap. So what the fuck.

All in all, as much as I hate to admit it (especially here, to you guys), Cocky is a solid, muscular effort from a guy who probably deserves a little more slack than many of you are willing to cut him. But hey, he's going home to his mansion to sleep with Pam Anderson, so who really has the last laugh. American bad ass, indeed…

…and let the shitstorm begin….now!

***1/2






Please log in to view RANTS

If you don't have a username, click here to create an account!






UNLEASH THE ARCHERS, STRIKER, HELION PRIME In Houston, TX W/Photos!

CLUTCH, SEVENDUST In Houston, TX

KING KOBRA Sweden Rock Live

DREAM CHILD Until Death Do We Meet Again

SCORPIONS, QUEENSRYCHE In Tampa, FL With Photos!

HUMBLE PIE Live At The Ottawa CityFolk Festival

BEHEMOTH Album Listening Party In Los Angeles For I Loved You At Your Darkest

THE DEAD DAISIES, HOOKERS 'N BLOW In Ottawa, Canada With Photos!

DRAGONLORD Dominion

STONE BROKEN Ain't Always Easy

BRANT BJORK Mankind Woman

KORPIKLAANI Kulkija

BRAINSTORM Midnight Ghost

SLEAZY WAY OUT, INSUFFICIENT FUNDS In Ottawa, Canada

DEEP PURPLE, JUDAS PRIEST In Jacksonville, FL W/Photos!

HELLOWEEN In Worcester, MA With Photos!

RED TIGER Evolution

ALTER BRIDGE Live At The Royal Albert Hall Featuring The Parrallax Orchestra

CLUTCH Book Of Bad Decisions

ANGRA In Winter Park, FL With Photos!

TALES FROM THE PORN H.M.M.V.

CARRY THE STORM i/E

PIG DESTROYER Head Cage

SAXON Strong Arm Of The Law Reissue

THE DEAD DAISIES In Houston, TX Photo Gallery

ALICE IN CHAINS, BUSH, THE CULT, STONE TEMPLE PILOTS In Ridgefield, WA W/Photos!

SUICIDAL TENDENCIES STill Cyco Punk After All These Years

OPERATION:MINDCRIME, TILL DEATH DO US PART In Portland, OR With Photos!

TNT XIII

DC4 Atomic Highway

CAL JAM '18 POP UP In Los Angeles With Photos!

SLAYER, LAMB OF GOD, ANNTHRAX, TESTAMENT And NAPALM DEATH In Ridgefield, WA With Photos!

JIZZY PEARL OF LOVE/HATE All You Need Is Soul

NIGHT DEMON Live Darkness

RAVENSCROFT Rebel

NASHVILLE PUSSY Pleased To Eat You

QUIET RIOT In Houston Photo Gallery

WARRANT, STEELHEART In Houston Photo Gallery