Primadonnaz & Pretty Boy Floyd Live in Philly


By Tokemaster General, Contributor
Thursday, November 20, 2003 @ 3:53 PM


| | | |
| --- | --- | --- |
| | | Primadonnaz and PBF Live at Th |
REVIEW BY: Bay Breez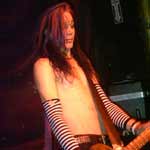 "Well Worth the Wait" The Primadonnaz, Philly's answer to what Rock 'n Roll is about was back in action tonight opening up for probably one of the biggest influences… Pretty Boy Floyd. What a night this was set up to be. A glam slam extravaganza in the city of brotherly love… Something you don't see too often in Philly anymore: Old school rock 'n roll, with makeup, hairspray, glitter and a packed house to go along with it. After 14 years of waiting for those Leather Boyz to finally made it into the town where they recorded their classic MCA debut release 14 years prior, band members have come and gone, but the music is still the same. Primadonnaz hit the stage, and opened with "Models and Movie Stars" and "She Don't Fall," which has the crowd just loving every second of the show. Lead Vocalist Mikey Primadonna plugs their new CD and plays the lead off track from the CD, which also includes a video for this song, "Black 'n Blue." "Teenage Lover" and "Pure" which is another song off the new cd were up next, of which "Pure" is the Primadonnaz venture into the land of the ballad. Hey all good glam * hair bands need a ballad, and this tune was pulled off live, sounding just like the disc.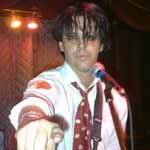 The band played a totally new song also tonight: "Crucifix," which was classic Primadonnaz style. Next up was "Superstar" and "I Touch Myself." That's right the Divynls classic, which is also on their new CD. Lastly the band ended with "King of the Drag Queens." The more the band played, the louder the crowd was getting, winning the crowd over more and more with each verse and chord, the Primadonnaz helped put the rock back in Philly this night. I've seen this band about 5 – 6 times in the last year, and I can honestly say these guys each show have shown improvement, in every aspect of their shows, from new songs to new stage moves to new clothes, or hell, even higher hair. This band has earned my respect and everyone should give them a chance to earn your respect also.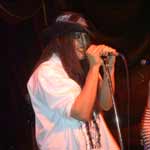 Speaking of respect, I have been waiting 14 years to show my respect to this next band: Pretty Boy Floyd. When Leather Boys came out back in 1989, I was blown away -- they were everything I wanted in a band. Glammed to the max, with music to back it up. Music that had balls but also had marketability to be played on the radio and MTV. You remember when MTV played videos don't you? Ok maybe not. The band has gone through many band member changes through the years, they have released a few more CDs along the way, but lead singer and only original member Steve Summers just keeps screaming along without missing a beat. The band opened with "Your Momma Won't Know" and into "Rock 'n Roll Outlaws." The packed house was even more on their feet to welcome Pretty Boy to Philly, with their hands in the air and singing along with all the classics. The title track from that legendary debut was up next, "Leather Boyz with Electric Toyz" and a Motley Crue cover from that debut also, "Toast of the Town," which they started off with "Looks that Kill" for a few chords to try to throw everyone off, but nope sorry, we all knew what was coming.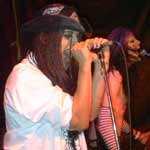 Next the band slowed it down with just Steve and guitarist Chad playing "Wild Angels" and led to drummer Dish and bassist Lesli rejoining the band onstage, especially after a crowd member bought them a round of shots, they launched into their classic "I Wanna Be with You," which is played quite often now on VH1 Classic's Metal Mania. "48 Hours" was up next, and the only song they played which wasn't off Leather Boyz, but off their 5 song EP from a few years back, "Shut Up" was next. Then lastly the Steve thanked Philly for coming out on a Sunday night and rocking out and having a good time, and they ended their set with "Set the Night on Fire." Well finally after 14 years of waiting to see one of my all time favorite bands, there might not be no Krash or Vinnie Chas or Kari Kane… but there is Chad, Dish, Lesli and of course Steve, and they did not disappoint at all and hell this whole night was a kick ass night of Cock Rock Shock Pop!!! (Photos by BayBreez)
---

Send your live reviews to submissions@knac.com




Please log in to view RANTS

If you don't have a username, click here to create an account!