APPICE Sinister


By Ruben Mosqueda, Contibutor
Friday, October 27, 2017 @ 11:33 AM


| | | |
| --- | --- | --- |
| | | |
APPICE
Sinister
SPV/Steamhammer 2017




If you follow hard rock and metal you're fully aware of the contributions of Carmine Appice, who's known for his work with VANILLA FUDGE, CACTUS, BECK BOGART and APPICE, ROD STEWART, KING KOBRA and BLUE MURDER. Not to be outdone, Vinnie Appice has worked with DIO, BLACK SABBATH/HEAVEN AND HELL, and KILL DEVIL HILL. Carmine Appice and younger brother Vinny Appice have been performing their 'Drum Wars' tour over the course of the past several years. Their brotherly competitive nature even spawned a Drum Wars DVD.

In recent years The Brothers Appice have threatened to go into the studio and record some music together. This brings us to Sinister, the fruits of the labor; they've brought some familiar faces along for the ride. Among the guests on Sinister are; bassists Tony Franklin [THE FIRM, BLUE MURDER], Phil Soussan [OZZY OSBOURNE] and Johnny Rod [W.A.S.P., KING KOBRA], guitarists Craig Goldy [GUIFFRIA, DIO], Bumblefoot [SONS OF APOLLO, ART OF ANARCHY, GUNS N' ROSES], Mick Sweda [BULLETBOYS, KING KOBRA], David Michael Phillips [KING KOBRA] Erik Turner [WARRANT] and Joel Hoekstra [WHITESNAKE, NIGHT RANGER]. The singers on the record include; Paul Shortino [KING KOBRA, ROUGH CUTT], Robin McAuley [MCAULEY SCHENKER GROUP, SURVIVOR], Chas West [JASON BONHAM'S LED ZEPPELIN EXPERIENCE], Scotty Bruce and Jim Crean.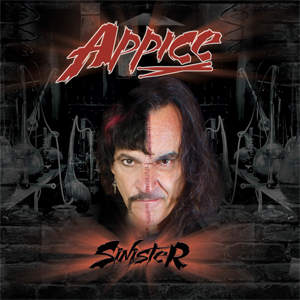 Sinister has a contemporary hard rock sound with some old school hard rock and metal thrown in for good measure. There is a fair amount of cheesiness to Sinister, probably a tad too much; the album cover isn't going to help sell copies, the titled track is kinda 'meh', the drum solo track "Drum Wars" loses a little something without the visuals of the Brothers Appice. "Sabbath Mash" is totally unnecessary as neither of these guys performed on the original recordings of "Iron Man", "War Pigs" or "Paranoid" which are covered in this medley. The upside is the cover of "Killing Floor", the cover of [BLUE MURDER's] "Riot" and "In The Night". I'm fully convinced that if there was more of that on this album it would have definitely hit the mark. Instead, the Brothers Appice leave you with the musical equivalent of 'blue balls' because they didn't get the job done. At this point I'm more interested in what the name of this project is? Is it how Carmine pronounces it? APPICE [A-peace]? Or is it how Vinny pronounces it? APPICE [Apacee]?
2.0 Out Of 5.0




Please log in to view RANTS

If you don't have a username, click here to create an account!