DIMEBAG DARRELL's Dimevision Vol. 2: Roll With It Or Get Rolled Over DVD/CD Video Clip Released


By Larry Petro, News Monkey
Monday, October 30, 2017 @ 6:53 AM


| | | |
| --- | --- | --- |
| | | Collection Out November 24th |
Metal Blade Records recently announced the follow up to 2006's poignant Dimebag Darrell video memorial set, Dimevision Vol 1: That's The Fun I Have, dubbed Dimevision Vol 2: Roll With It Or Get Rolled Over - another true celebration of Dimebag and how he lived his life. The DVD/CD set - which will include more raw footage, true gems and classic moments - will hit retailers on November 24th. The set will also include five previously unreleased demos, picked from a vast catalog Dimebag accrued since longtime girlfriend Rita Haney gave him his first 4-track in 1984. Dimebag's personally-written lyrics, dates and notes on those tracks will also be included.

Fans of Dimebag Darrell, PANTERA, and DAMAGEPLAN who have had the opportunity to watch Dimevision Vol 1: That's The Fun I Have know it is a funny, touching memorial. Dimevision Vol 2: Roll With It Or Get Rolled Over continues this tradition, and today, Metal Blade, Rita Haney and Daryl "Bobby Tongs" Arnberger are pleased to share one of the funniest clips from the set. Watch Dime take part in an "interesting" CPAP machine fitting in the clip below.

Haney comments: "This particular trailer's focus is on one of the items available from Dimevision 2, along with many other props from past home videos. We want to offer up a piece of these magical volumes so that in the future, with the help of his fans, we'll be able to bring more DVD/CD packages to everyone out there that love Dime as much as we do."

In regards to the CPAP footage, Haney reminisces: "I had just rolled outta bed and the doc fitting him was about an hour early for his appointment. Dime and ST were still up partying, so of course things never go as planned in Dime's world! One thing people need to realize is that when you're getting fitted for one of these machines, it's imperative that you not speak during the process so they can ramp the proper amount of air through those things, so you have to keep your mouth closed. But as you can see from this segment in full, that's a damn near impossible feat for him at the moment. It's also impossible to be angry at Dime when he made you laugh all the time!"

Pre-orders for Dimevision Vol 2: Roll With It Or Get Rolled Over are now available via Metal Blade at: http://www.metalblade.com/dimevision. A PledgeMusic campaign has also been launched to support the release of the set, also acting as a pre-order. The PledgeMusic campaign includes an assortment of rare items to buy, including props and costumes that belonged to Dimebag and that you can see in his home videos/Dimevision volumes, rare stage clothing, and other merchandise. Visit the PledgeMusic page HERE.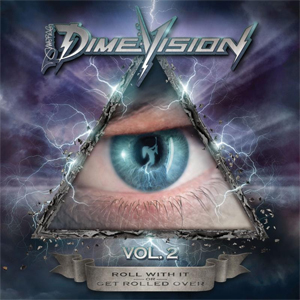 Going into making Dimevision Vol 2: Roll With It Or Get Rolled Over, Rita Haney worked in collaboration with Daryl "Bobby Tongs" Arnberger, who was not only one of Dimebag's closest friends both on and off the road, but also worked as an official videographer for PANTERA, DAMAGEPLAN and a plethora of A-list musicians, from SLIPKNOT to DOLLY PARTON, along with film editor Rob Fenn. After cataloguing hundreds of tapes, they chose 43 segments to create Dimevision Vol. 2.
"He had a unique way of seeing things, and he always lived with a video camera," says Haney. "No matter where we went he was always capturing what was going on, and myself and others around him were filming a lot too. In putting out these videos I just want people to see the way he was, 24/7. What you saw on stage and backstage, that was how he lived."
Haney adds, "There were some really touching, deep, heavy and emotional moments in the first one, where he's talking about himself to the camera while in the shower. Filming himself like that was something he did a lot, and you'd have no clue until you're looking through the tapes and come across them, and when you do the goosebumps crawl all over you. People that love and know Darrell are going to be touched by what he has to say, because it's him telling you for the first time."
For more information, visit the Metal Blade Records landing page HERE.




Please log in to view RANTS

If you don't have a username, click here to create an account!