Review By Daniel Licitra
Toronto, Montreal, and Atlanta, Georgia were sold out in advance, so you may want to purchase tickets early.
VIP Meet and Greet tickets are only sold up until one week prior to the event. If you want the Meet and Greet don't hesitate to buy them or you'll be shutout (like me, unfortunately).
Once you hear "Thunderstruck" by AC/DC playing over the sound system you'll know ARCH ENEMY is coming on next.
This was my first time seeing ARCH ENEMY with Alissa White-Gluz on vocals. She seemed a natural fit replacing Angela Gossow. ARCH ENEMY are touring in support of their latest release Will To Power and their setlist featured four new tracks.
The House of Blues was packed tighter than a sardine can. It had to have sold out by the time ARCH ENEMY came on stage. I didn't have the greatest vantage point to take pictures unfortunately.
If you've been to an ARCH ENEMY show before you know what to expect. Not a lot of talk in between songs; Melodic Death Metal straight from Sweden with a Canadian and and American thrown into the mix. The new songs sounded great live. They delivered one and a half hours of 'Pure Fucking Metal', as it says on the back of one of my older ARCH ENEMY concert shirts.
There are a few older songs I would've liked to have heard them play live such as "Pilgrim", "Beast Of Man", "Silver Wing", and "Angelclaw" but I was happy with the show and setlist overall.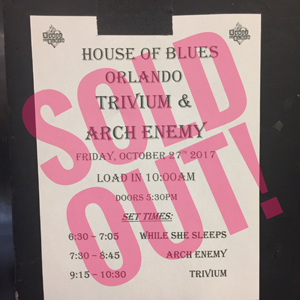 One of the best Melodic Death Metal bands touring today, I highly recommend anyone that likes ARCH ENEMY to see them live on this tour. I drove three and a half hours from South Florida to Orlando to see them and it was well worth the trip.
Setlist
"The World Is Yours"
"Ravenous"
"Stolen Life"
"War Eternal"
"Blood In The Water"
"You Will Know My Name"
"The Race"
"The Eagle Flies Alone"
"As The Pages Burn"
"Burning Angel"
"No Gods, No Masters"
"Dead Bury Their Dead"
"We Will Rise"
"Avalanche"
"Snowbound"
Guitar Solo Jeff Loomis and Mike Amott
"Nemesis"
"Fields Of Desolation"