WJCU 88.7 FM, Auburn Records, The Exchange and Iron Ingo Stührenberg present the ninth annual Cleveland Metal Holiday Food Drive, set to take place December 2 at the Beachland Ballroom and Tavern in Cleveland, Ohio. Five decades of hard rock and heavy metal are represented on this year's billing, with 70s legends GRANICUS being the oldest and 21-year old thrashers RADIATRIX the youngest.

The billing is as follows:
NIGHT DEMON
BREAKER (original lineup reunion)
SHOK PARIS
RESISTANCE (from Los Angeles)
LADY BEAST (from Pittsburgh)
OLATHIA
GLUTTONS
GRANICUS (w/original vocalist Woody Leffel)
RADIATRIX
There will also be special guest appearances by outlaw burlesque group THE RED HOT HEATHENS, Playboy model Daniella Dior and comedians Cyndi Rice, Brad Bishop and John Hensler. Germany's Iron Ingo Stührenberg and Olathia's Chris Emig will MC.

Doors open at 4:00 p.m. Show starts at 5:00 p.m. Two stages. Admission is free.

Fans attending the concert are encouraged to bring non-perishable food and/or cash donations for the Greater Cleveland Food Bank and Friends Of The Cleveland Kennel animal rescue organization for dogs and cats. Last year's food drive concert drew over 700 people and generated 6,700 lbs. in food and $5,800 in cash donations. Heavy metal fans are the most generous when it comes to supporting good causes. Donation totals keep increasing every year.

Ventura, California headliners NIGHT DEMON will be recording a live album. The band will be performing a special 90-minute set for a forthcoming double vinyl + CD release entitled Live Darkness, due out in early 2018 via SPV/Steamhammer in Europe and Century Media in North America. The live recording will be engineered by Tony Alberts from Spectrum Sound. Mixing will take place at Mercinary Studios in Cleveland with Jason Vanek engineering.

"NIGHT DEMON is proud to return to the city who put us on the U.S. map of metal," said NIGHT DEMON frontman Jarvis Leatherby. "The fans have been begging for a live album, and we are finally here to deliver that. It's a true honor to be recording our first ever concert album entitled Live Darkness in front of the Cleveland metal faithful. We have some great surprises in store. The setlist is amazing. It's definitely going to be a true Cleveland show!"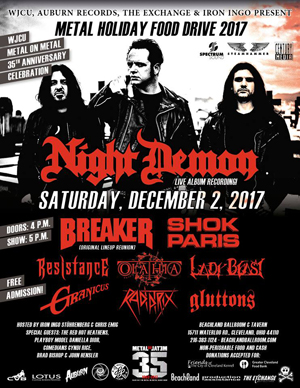 This year's event will also celebrate the 35th Anniversary of Bill Peters' WJCU Metal On Metal radio show. Peters is the founder and organizer of the holiday food drive. A limited edition commemorative anniversary t-shirt designed by James Bulloch (RINGWORM, GLUTTONS) will be available for sale at the show with all proceeds donated to the food bank and animal shelter.
"It's hard to believe it's been 35 years," said Peters. "Good lord, that's a long time! Who does anything for 35 years anymore? I started when I was seven, by the way (laughs). I'm just a heavy metal fan like anybody else who was fortunate enough to host a radio show. I've always loved turning people on to new music. The show is a labor of love for me."
Metal On Metal can be heard every Friday night from 6:30 p.m. to 9:30 p.m. EST at 88.7 FM in the Cleveland area or streamed worldwide at wjcu.org.
"BREAKER is thrilled to be playing again with our original lineup for the first time in 30 years to help Bill celebrate the anniversary of his Metal On Metal radio show," said BREAKER drummer Mark Klein. "The Cleveland Metal scene wouldn't have the worldwide recognition and respect it does without Bill's unshakable support and enthusiasm over the years. We owe a lot to him. We look forward to seeing all of our friends old and new as we pay tribute to Bill and help with his annual Food Drive. Metal On Metal forever!"
Visit beachlandballroom.com for more information.
A preshow party hosted by Iron Ingo will take place on December 1 from 7 to 11 p.m. at the Maple Grove Tavern in Maple Heights. IRON MAIDEN tribute EDWARD BE THY NAME featuring bassist Tim Frederick (WRETCH, DESTRUCTOR, VANDALLUS) will perform, plus all five original members of BREAKER will be on hand to meet with friends and fans. Admission is free. 21 and over.