BUTCHER BABIES Lilith


By Chris "Chili" Pirri, So Cal Contributor
Wednesday, November 29, 2017 @ 1:06 PM


| | | |
| --- | --- | --- |
| | | |
BUTCHER BABIES
Lilith
Century Media




When the BUTCHER BABIES first started out they were perceived as a flash in the pan. Perhaps a gimmick to sell records, please a label, and head back to the recess of hell. Plenty of these Metalheads probably just glanced at Carla Harvey and Heidi Shepherd and went back to their stereos and played the same ol' run of the mill bands. My guess is that they never learned the phrase "Don't judge a book by its cover". Perhaps in this case "Don't judge a band by their façade".

Lilith is the band's third studio album and their best to date. With each album they have progressed musically and lyrically. You can hear the difference right from the get go on the first track "Burn The Straw Man". This song just demonstrates how aggressive and fierce this band can get, with a heavy guitar present and a chorus that will have you growling along. The next two songs on the album, "Lilith" and "Headspin" should be playing on your local radio stations. The title track is very catchy and alternates between some growling and singing. This brings out the creepiness of the song which is about what someone would do to maintain their elegant beauty.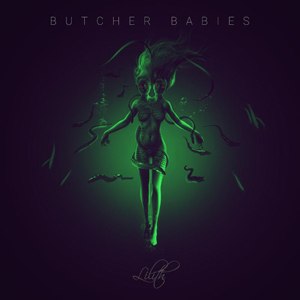 "Headspin" is probably the most addicting song on the album. The chorus is just begging you to sing along. They have been playing an acoustic set of this song on Facebook live at various interviews. This is how the song should have been recorded. It just brings out more of a feeling and sexuality to it. "Underground" and "Overrated", which is their final song on this album is by far my favorite. The riffs provided are quite different then all the other tracks and is just the perfect song to close the album out with. I could even see them closing their sets on tour with this song. A combination of fun and aggressiveness which is what this band is all about.
If you are a fan of the BUTCHER BABIES then you should already own this. If you don't know who they are then I suggest it's time you do. This is an album that can get you through your drive time home or to work and have you feeling good about the day.
3.8 Out Of 5.0




Please log in to view RANTS

If you don't have a username, click here to create an account!






KRISIUN Scourge of the Enthroned

JUNGLE ROT Jungle Rot

BRUCE DICKINSON Scream For Me Sarajevo

ANTHRAX, TESTAMENT In Providence, RI

SAXON Wheels Of Steel Reissue

DIO DISCIPLES In New Bedford, MA

YNGWIE MALMSTEEN In Houston Photo Gallery

KIX Fuse 30 Reblown

OTEP Kult 45

HATCHET Dying To Exist

KIP WINGER In New Bedford, MA

STARS ALIGN TOUR Featuring JEFF BECK, PAUL RODGERS And ANN WILSON In Irvine, CA With Photos!

JINJER In Akron, OH With Photos!

FOREIGNER, WHITESNAKE In Houston Photo Gallery

FOO FIGHTERS, GRETA VAN FLEET At The Ottawa Bluesfest

ARMORED SAINT, ACT OF DEFIANCE In Montreal, Canada

FASTER PUSSYCAT In Portland, OR

ARMORED SAINT, ACT OF DEFIANCE In Allston, MA

KNAC.COM Reviews The VINNIE PAUL CELEBRATION OF LIFE Event In Dallas, Texas

DEVILDRIVER Outlaws 'Til The End Vol. 1

DEVIN TOWNSEND PROJECT Ocean Machine: Live At The Ancient Roman Theatre Plovdiv

OPERATION: MINDCRIME In Houston, TX With Photos!

MONUMENT Hellhound

THE IRON MAIDENS In New Bedford, MA With Photos!

TAD MOROSE Chapter X

KATAKLYSM Meditations

DIO DISCIPLES In Houston, TX With Photos!

IMMORTAL Northern Chaos Gods

SALTY DOG Lost Treasure

THE NIGHT FLIGHT ORCHESTRA Sometimes The World Ain't Enough

HALCYON WAY Bloody But Unbowed

MADBALL For The Cause

GRUESOME Twisted Prayers