BUTCHER BABIES Lilith


By Chris "Chili" Pirri, So Cal Contributor
Wednesday, November 29, 2017 @ 1:06 PM


| | | |
| --- | --- | --- |
| | | |
BUTCHER BABIES
Lilith
Century Media




When the BUTCHER BABIES first started out they were perceived as a flash in the pan. Perhaps a gimmick to sell records, please a label, and head back to the recess of hell. Plenty of these Metalheads probably just glanced at Carla Harvey and Heidi Shepherd and went back to their stereos and played the same ol' run of the mill bands. My guess is that they never learned the phrase "Don't judge a book by its cover". Perhaps in this case "Don't judge a band by their façade".

Lilith is the band's third studio album and their best to date. With each album they have progressed musically and lyrically. You can hear the difference right from the get go on the first track "Burn The Straw Man". This song just demonstrates how aggressive and fierce this band can get, with a heavy guitar present and a chorus that will have you growling along. The next two songs on the album, "Lilith" and "Headspin" should be playing on your local radio stations. The title track is very catchy and alternates between some growling and singing. This brings out the creepiness of the song which is about what someone would do to maintain their elegant beauty.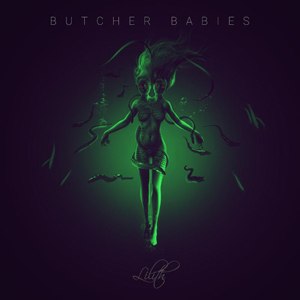 "Headspin" is probably the most addicting song on the album. The chorus is just begging you to sing along. They have been playing an acoustic set of this song on Facebook live at various interviews. This is how the song should have been recorded. It just brings out more of a feeling and sexuality to it. "Underground" and "Overrated", which is their final song on this album is by far my favorite. The riffs provided are quite different then all the other tracks and is just the perfect song to close the album out with. I could even see them closing their sets on tour with this song. A combination of fun and aggressiveness which is what this band is all about.
If you are a fan of the BUTCHER BABIES then you should already own this. If you don't know who they are then I suggest it's time you do. This is an album that can get you through your drive time home or to work and have you feeling good about the day.
3.8 Out Of 5.0




Please log in to view RANTS

If you don't have a username, click here to create an account!





2018 WELCOME TO ROCKVILLE Photo Gallery 2

2018 WELCOME TO ROCKVILLE Photo Gallery 1

2018 FORT ROCK Photo Gallery 2

2018 FORT ROCK Photo Gallery 1

OVERKILL Live In Overhausen

THE IRON MAIDENS, Two Shows In Ottawa, Canada

VELVET VIPER In Dortmund, Germany With Photos!

LORDS OF BLACK Icons Of The New Days

AS THE CROW FLIES In Portland, OR With Photos!

AT THE GATES To Drink From The Night Itself

BURN THE PRIEST Legion: XX

SHADOWKEEP Shadowkeep

THE DEAD DAISIES Burn It Down

SAMHAIN TRIBUTE We All Want Our Time In Hell

2018 LAS RAGEOUS Photo Gallery

SONS OF APOLLO In Anaheim, CA With Photos!

TENGGER CAVALRY Cian Bi

DOKKEN Return To The East Live 2016

JUDAS PRIEST, SAXON, BLACK STAR RIDERS In Dallas, TX With Photos!

SONS OF APOLLO In Portland, OR With Photos!

NIGHTWISH In Dallas With Photos!

A NIGHT OF METAL In Ottawa, Canada

DIMMU BORGIR Eonian

ROSS THE BOSS By Blood Sworn

NOTHING MORE In Montclaire, NJ With Photos!

LEATHER II

RYAN ROXIE Imagine Your Reality