NAPALM DEATH Announce Coded Smears And More Uncommon Slurs Compilation Release


By Larry Petro, News Monkey
Friday, December 8, 2017 @ 12:59 AM


| | | |
| --- | --- | --- |
| | | Special Decibel Magazine With Flexi Disc Out Now |
UK's grindcore pioneers NAPALM DEATH are happy to announce the release of a special 2CD, 2LP and Digital Download compilation entitled Coded Smears And More Uncommon Slurs for March 2018 via CENTURY MEDIA RECORDS.

This special release will include a total of 31 songs in a playing time of over 90 minutes compiling rarities and exclusive earworms spanning 2004-2016 from the whirling gene pool of noise that is NAPALM DEATH. The release's cover artwork, created by longtime visual partner Frode Sylthe, can be seen below and further track listing details will be revealed soon.

NAPALM DEATH bassist Shane Embury recently took the time to check in with a status report while currently on the road in Spain:

"Today we start our 13 date tour of the North Peninsula! It's been a busy, busy year as ever, but great to wind it all up here with some of our craziest and most passionate fans.

We can't believe how much we have achieved in support of the Apex Predator - Easy Meat album over the past couple of years. It's very inspiring for me and something I was very conscious of as we compiled the tracks for the upcoming compilation album of rarities and covers which encompass Coded Smears And More Uncommon Slurs. I hope that everyone will enjoy what we have put together?! There are some hidden gems for sure on this double album release and it was a lot of fun going through the songs.

The new year will be bringing more shows and some more new songs recorded in the studio towards album 16, so it's systems go! As some of my best buddies say: Grindcore is for life, kids...not just for Christmas!"

In other news, Decibel Magazine has just released a special issue dedicated exclusively to NAPALM DEATH. Not only is this limited edition NAPALM DEATH issue packed with 100% all-new, all-NAPALM content, including a Hall of Fame induction of their acclaimed The Code Is Red ... Long Live The Code album, The Top 50 NAPALM DEATH songs, interviews with producers, ex-members and a ranking of every album from worst to best from none other than Shane Embury, each issue also includes a flexi disc of the never-before heard NAPALM DEATH song "Nurse The Hunger".

NAPALM DEATH's latest and much acclaimed 15th album release Apex Predator - Easy Meat managed to enter the sales charts in several countries across the world upon release, with the following highest positions: Germany: #36, Switzerland: #64, France: #69, Greece: #60, Belgium (Flemish): #103, Belgium (Wallonia): #111, UK: #120, UK Rock Chart: #15, US Top 200: #113, US New Artist Top 50: #2.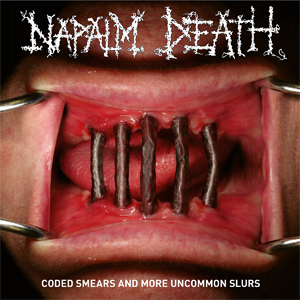 NAPALM DEATH TOUR DATES
12/5 Valencia, ES - Sala Moon
12/6 Valladolid, ES - Porta Caeli
12/7 Vitoria, ES - Jimmy Jazz
12/8 Oveido, ES - Sir Laurents
12/9 Coruna, ES - Playa Club
12/10 Porto, PT - Hard Club
12/11 Lisboa, PT - RCA Club
12/12 Sevilla, ES - Sala X
12/13 Murcia, ES - Garage
12/14 Madrid, ES - Mon Live / Antigua Penelope
12/15 Zaragoza, ES - Lopez
12/16 Barcelona, ES - Razzmatazz 2
12/17 Mallorca, ES - Es Gremi
2/28 Cluj-Napoca, RO - Form Space
3/1 Budapest, HU - Durer Kert
3/31 Gothenburg, SE - Belsepub
4/3 Hamburg, DE - Knust
4/5 Drachten, NL - Iduna
4/6 Berlin, DE - SO36
4/7 Katowice, PO - Metalmania Festival
5/1 Oslo, NO - Inferno Metal Festival
5/4 London, UK - Desertfest
7/12-14 Torgau, DE - Endless Summer
8/10-12 Kortrijk, BE - Alcatraz Festival
8/17-19 St. Nolff, FR - Motorcultor Festival




Please log in to view RANTS

If you don't have a username, click here to create an account!