ATROPHY Live In Ottawa, Canada With Photos!


By Andrew Depedro, Ottawa Corespondent
Sunday, December 10, 2017 @ 3:02 PM


| | | |
| --- | --- | --- |
| | | At Cafe Dekcuf November 12, 2017 |
All Photos By Andrew DePedro
One of the burgeoning and promising bands from the Arizona halcyon days of 80's thrash may have ended up as a premature casualty of war back in the day, but on one night at the famed Cafe Dekcuf in O-Town, they put on a show that was a memorable event for all.
Needles to say, not a bad feat considering that the show was actually the day after Remembrance Day.
Regrettably, at first, my power nap did cause me to miss a bit of the set, with OMINOUS ECLIPSE and half of EXO-VEDATE's sets falling victim to my forgetfulness in setting my alarm clock. OMINOUS ECLIPSE, I'm positive that your set was awesome, and EXO-VEDATE, I've run out of platitudes and accolades after what's been my fourth time seeing and reviewing you guys in concert. I'll just leave everyone the band links at this point and will discuss the other bands I did manage to see in their entirety that night.
https://www.facebook.com/ominous.eclipse/
https://www.facebook.com/ExoVedate/
Outside of Geoff Tate's sleeping patterns, the name INFRARED should be a familiar name somewhat for local fans as they had been tapped to take their brand of power thrash to heights of stardom alongside their local peers such as ANNIHILATOR and EXCITER back in the mid-80's. Then, suddenly, as the band themselves had put it, "life happened and members took different paths" and they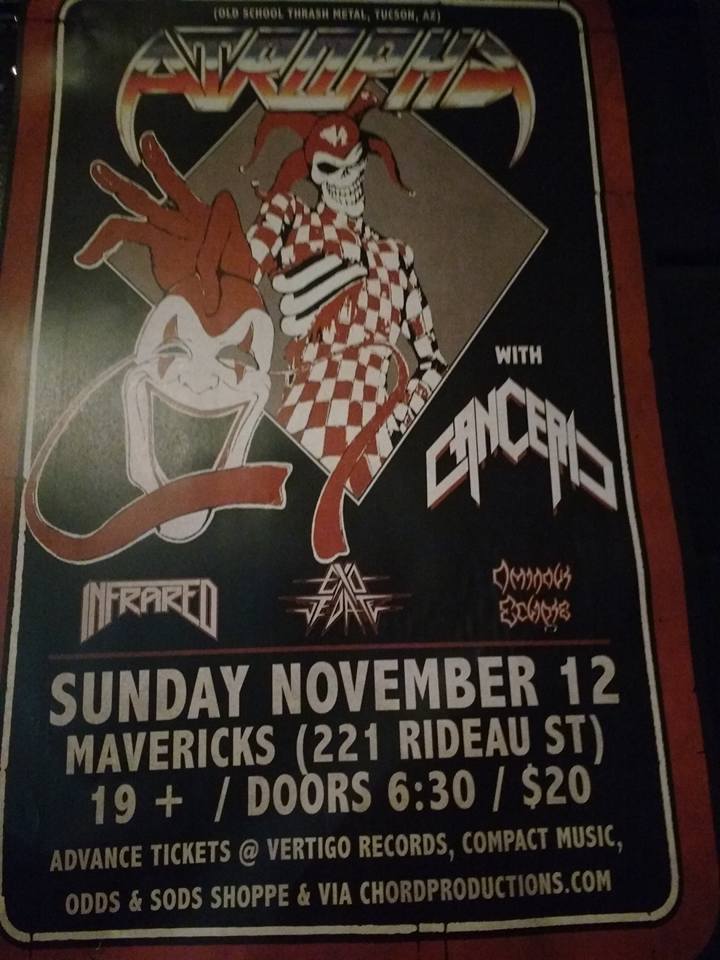 folded after a four-year run in '89. It would explain why the band members looked at least 15 years older than most of the other local groups on the bill, but when they kicked off their set with their blistering instrumental "Inframental" followed by "My Good Will", you wouldn't have known that they'd been absent from the stage for so long. Frontman/guitarist Armin Kamal certainly sounds untamed and fierce when he's chanting out the chorus to "All In Favor" or when he's delivering the goods on the band's best-known songs such as "Some Kinda Disease", "T.O.C." and "Thought Caught". True, they're more revamped and likely easier-sounding for the benefit of the band since these songs have been kept in the dark for close to three decades, but INFRARED, having returned to the stage three years ago, managed to make those songs sound just as strong and authentic now as they had intended to be back then. Even moreso, those same demos finally found a home in the form of INFRARED's debut album released *gulp* last year, titled No Peace. And the stage was the best place to hear those songs for the first time for several generations of new fans. With more live performances (give or take a few days of family time though I'm sure that the band members' kids must be in their late teens by now) in the near future, maybe Infrared's dreams of stardom might be in their sights after all. At least they know how to spell MEGADETH's name properly even after decades of daddy brain.....
https://www.facebook.com/infraredmetal/
http://infraredmetal.ca/
CANCERIC are the next band to follow up as the Montreal-based thrash/death quintet open their set with the raging number "Doubtful Conviction" and the crowd gets rowdy. The young band play mostly cuts from their debut EP Annihilated Into Hellfire, with choice cuts such as "Cemetery Of The Living" and "Religious War" getting the best reception. They also include a fiery rendition of DEATH's "Pull The Plug" which, for some reason, my friend James from LYCANTHRO had interpreted as being a DEF LEPPARD cover that the band were about to play as it was being announced. Blame the often thick-sounding Quebec accent of giant-like heavily-patched frontman Matt Bouchard for the miscommunication, though he did lead a chant of "Pour Some Sugar On Me" for James' trouble (and public humiliation) before channeling Chuck Schuldiner afterwards. Closing with "Prayers To Nothing" and "Confusion", CANCERIC notch up a sick performance for the night - and as it turns out, both Matt and James' bands have played together in the past and the whole DEATH/DEF LEPPARD misinterpretation bit was always half-rehearsed on past tours. Who says that death metal bands have no sense of humor? But don't expect the next album to be titled Armageddon It To Hellfire though.....
https://www.facebook.com/CANCERICTHRASH
https://canceric.bandcamp.com/
They may have only amassed two studio albums in their short career back in the 80's but it was enough for headliners ATROPHY to get their name across to the new generations of metal fans. In fact, isn't there even the slightest hint of irony over the fact that the band with the literal definition of limited mobility as their band name have the most vast discography out of all of the bands on this bill regardless of the fact that they still only have two studio albums to their name? Still, it doesn't diminish their quality as 1988's Socialized Hate and 1990's Violent By Nature are some of the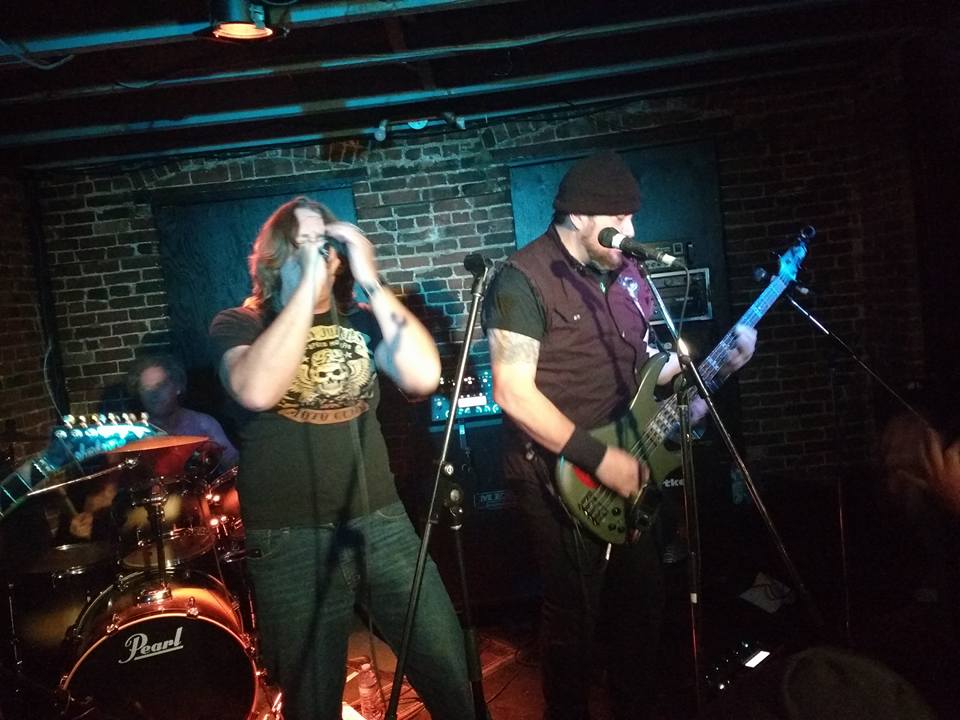 more underrated albums of the soundtrack to the troubled era of the Reagan presidency in the US - one marked by a losing and vicious war on drugs, TV evangelism and economic avarice which the band covered succinctly in lyric form and reinforced with a delivery of fast-played riffs and backed by a solid wall of earthshaking percussion and bass. And while the lineup's changed over the years, the latest incarnation of Brian Zimmerman (vocals), Casper Garrett and Bobby Stern (guitars), James Gulotta (bass) and Tim Kelly (drums) are now extending their comeback performance of 2014 to the masses outside of their home base of Tuscon, Arizona.
Their set opened with "Urban Decay" as Casper and Chris resumed their dual shredding duties on the number and frontman Brian delivered a killer thrash metal vocal workout to the delight of the crowd. His stage banter was occasionally brief, mostly thanking Christina and Black Widow Promotions for putting the show together and encouraging the crowd to launch a pit, but otherwise, Brian put on a stellar stage performance as him and the rest of the band demolished through their catalogue, as tracks such as "Chemical Dependency", "Product Of The Past", "Killing Machine" and "Slipped Through The Tracks" made as much of a lyrical and sonic poignant statement in today's political climate just as they did three decades ago. And the music was also just as tight and well-executed, with the odd broken guitar string not hindering Casper's incendiary soloing on "Killing Machine". Even lesser-known ATROPHY tracks such as the bizarrely-titled "Puppies And Friends" (isn't that the name of one of Diana DeVille's photo albums on Instagram?) and the closing number "Beer Bong", while showing off ATROPHY's lighter side, still deliver the devastating assault that their music is noted for.
All in all, after close to three decades of inactivity, it was cool to see these thrash legends get a chance to flex their muscles and endure the full marathon that they've set themselves up for.
Thanks again to Christina Kasper and Black Widow Promotions for helping to whip the fine folks in ATROPHY into shape on this tour stop!
https://www.facebook.com/atrophyofficial
Setlist:
"Urban Decay"
"In Their Eyes"
"Preacher Preacher"
"Right To Die"
"Chemical Dependency"
"Socialized Hate"
"Rest In Pieces"
"Product Of The Past"
"Violent By Nature"
"Killing Machine"
"Puppies And Friends"
"Slipped Through The Cracks"
"Beer Bong"
Check out a few more photos from the show!
All Photos By Andrew DePedro




Please log in to view RANTS

If you don't have a username, click here to create an account!