BEYOND THE BLACK, KOBRA AND THE LOTUS, BEAST IN BLACK In Cologne, Germany With Photos!


By Daniel Höhr, European Correspondent
Monday, December 11, 2017 @ 1:08 PM


| | | |
| --- | --- | --- |
| | | At Essigfabrik, December 7 |
All Photos By Daniel Hohr
It was one of those cold and rainy German December nights when you can't be arsed with doing anything and just want to stay at home and watch TV. At least that's how I felt on my way to the Essigfabrik (that would be "vinegar factory" in English and that's exactly what the building used to be many moons ago), located in the fairly ugly harbour area of Deutz, a district of Cologne situated on the right bank of the Rhine River. Quite a drab place, to be honest, but in spite of the cold weather and the rain, enough people showed up for BEYOND THE BLACK and KOBRA AND THE LOTUS on Thursday night to sufficiently fill the venue, which holds well over 1,000 people. It wasn't sold out but there certainly weren't many tickets left. German rockers generally don't give a toss about the weather when they're looking forward to a decent heavy metal show – and that's exactly what they were doing on December 7 in Cologne's Essigfabrik.
Thanks to the bad weather conditions and the popular Christmas markets in the city centre of Cologne, there was a lot of traffic on the motorways around the city, so I was running late. Then there was also a bit of a delay at the entrance caused by minor problems with the press accreditations and photo passes and we had to wait outside the venue. Eventually everything was sorted out and when a colleague from a German metal outlet and I finally got out of the torrential rain and into the venue, the international Helsinki-based five-piece of BEAST IN BLACK were already in the middle of their set and were warming up the crowd. Singer Yannis Papadopoulos, bassman Mate Molnar, drummer Sami Hänninen, and guitarists Kasperi Heikkinen and Anton Kabanen are currently promoting their debut album Berserker in Germany and will be touring Europe well into 2018. Their performance of their classic, kind of JUDAS PRIEST-style metal was a real treat and went down really well with the crowd, who could have done with an encore or two.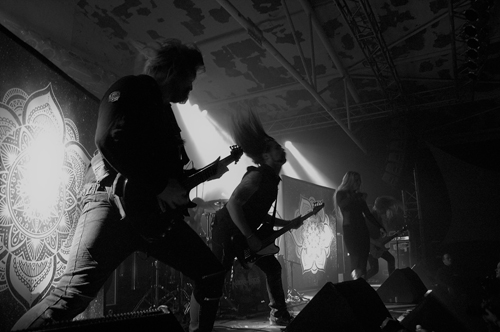 After the changeover the time had come for two bands fronted by exceptional female singers. I had seen the Canadian four-piece-plus-guest-guitarist KOBRA AND THE LOTUS for the first time opening for Steve Harris' BRITISH LION at the Luxor in Cologne some months before and was literally blown away by their performance, so I had to make sure to catch them again. KATL returned to Europe in early November and have been on the road since to promote their outstanding 2017 release Prevail I. Singer Kobra Paige, guitarist Jasio Kulakowski, bassist Bred Kennedy and drummer Marcus Lee are joined by the Dutch guitar player Timo Somers from DELAIN as guest guitarist on the current leg of their European tour. The Canadians started their set with the first track of their latest release, "Gotham", which once more proved to be the perfect opener as the audience caught fire straightaway. KATL do have quite a following over here – for good reason. They are a superb live act, performing with energy, precision, dedication and a lot of heart blood. Timo Somers fit perfectly into the band and if you hadn't known he'd been playing with Jasio Kulakowski, you would have thought they'd been long-standing partners in crime. With a rhythm section as tight as a duck's arse, stellar guitar work as well as Kobra Paige's expressive vocals, sometimes powerful and straight in the face, sometimes soft and fragile, KATL rocked through their forty-minute set, which included highlights such as the neck breaker "Hell On Earth", the power ballad "Light Me Up" (which, according to Kobra, is meant to raise awareness of mental health issues), the single "You Don't Know" and furiously concluded with "50 Shades Of Evil". And if it had been down to the assembled KATL fans, including this KNAC.COM contributor, the set could have been much longer. However, I got the chance to have a chat with Kobra after the show and she told me KATL would be back in Germany with a new album (Prevail II) in 2018. Definitely something to look forward to and it would be great to see them at the top of the bill.
Setlist:
"Gotham"
"Trigger Pulse"
"Specimen X"
"Light Me Up"
"Hell On Earth"
"You Don't Know"
"Victim"
"Hold On"
"50 Shades Of Evil"
For German symphonic metallers BEYOND THE BLACK, the Essigfabrik show on December 7 was the kick-off to their Lost In Forever Tour 2017. Incidentally, the Mannheim-based six-piece started last year's tour at the same venue, so the show on Thursday night was a bit like coming home. Founded in Mannheim, Germany in 2014, the then line-up around singer Jennifer Haben, namely Christopher Hummels (guitar/vocals), Nils Lesser (guitar), Erwin Schmidt (bass), Tobias Derer (drums) and Michael Hauser (keys)played their debut show at the 2014 Wacken Open Air. After the release of their highly acclaimed first two albums, Songs Of Love And Death in 2015 and Lost In Forever in 2016, Jennifer Haben parted with the rest of band and the members of the present line-up were recruited. In January 2017, a new version of Lost In Forever, the so-called tour edition, which included four new tracks, was released. Stylistically, the band can be best compared to WITHIN TEMPTATION or NIGHTWISH.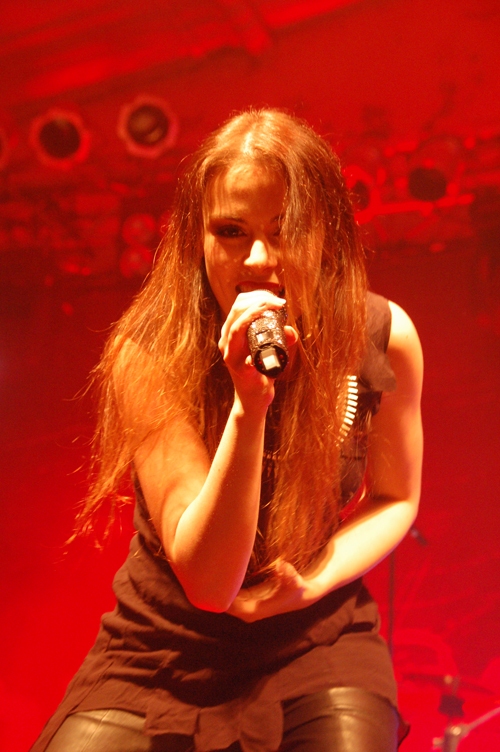 That frontwoman Jennifer Haben is not only an outstanding singer but has enormous stage presence and charisma became apparent the very moment BEYOND THE BLACK entered the stage at about 9:40 pm and opened their set with "Lost In Forever", the title track of their latest album. It didn't take Jennifer and her band long to set their fans on fire.
After the third song, we photographers had to hand in their cameras to the security, so we were escorted out of the venue and brought outside by a security guard to deposit our equipment in a box at the entrance. It was still raining bucketloads outside but inside the atmosphere was boiling. When I got back in, I decided to watch the rest of the show from the back of the hall, where there were quite a few people who Jennifer reached easily with her authentic and charismatic attitude. Her band, the second incarnation of BEYOND THE BLACK, were obviously enjoying themselves as much as their fans who were partying and singing along throughout the set. The top-class musicians delivered an exciting and diversified performance. Chris Hermsdörfer's guitar work, for example, ranged from heavy riffing to mindless shredding to more nuanced and sensitive acoustic guitar playing. He also delivered the occasional grunting vocals, something no symphonic metal band seems to be able to do without. Together with Tobi Lodes, his sparring partner on the six-string on the other side of the stage and keyboardist Jonas Roßner, he was also in charge of the harmony vocals, which were always spot on and blended nicely with Jennifer Haben's strong and expressive voice. Bass player Stefan Herkenhoff and drummer Kai Tschierschky lay the tight rhythmical basis and gave the songs the necessary groove and ass kick. Jonas Roßner turned out to be more than just a decent lead singer when he and Jenny were performing "Rage Before The Storm", the official 2014 Wacken Open Air Festival anthem – what a stunning vocal duet.
In the middle of the set, BEYOND THE BLACK shifted down a gear and performed a balladesque mini-acoustic set, so to speak, consisting of "Love Me Forever" and "Pearl In The Dirt" with either Jennifer or Jonas on piano and Chris on acoustic guitar. On "Halo Of The Dark", Jennifer and Jonas played piano four-hands before they notched it up a bit and returned to bona fide symphonic metal virtues – ultra-melodic hooks, elaborate yet pleasant chord progressions, driving beats and orchestral keyboard parts. Jennifer's interactions with the audience created almost a family environment at the venue. The band's authentic and entirely unpretentious attitute together with a top-notch musical performance, great songs and an excellent sound made the BEYOND THE BLACK show awesome. The reaction of the fans after the last song of the regular set, "Written In Blood", was accordingly, so the band came back for two encores, "In The Shadows" and "Running To The Edge". Eventually, when the approximately 800 to 900 fans were filing out of the venue, even the rain had stopped.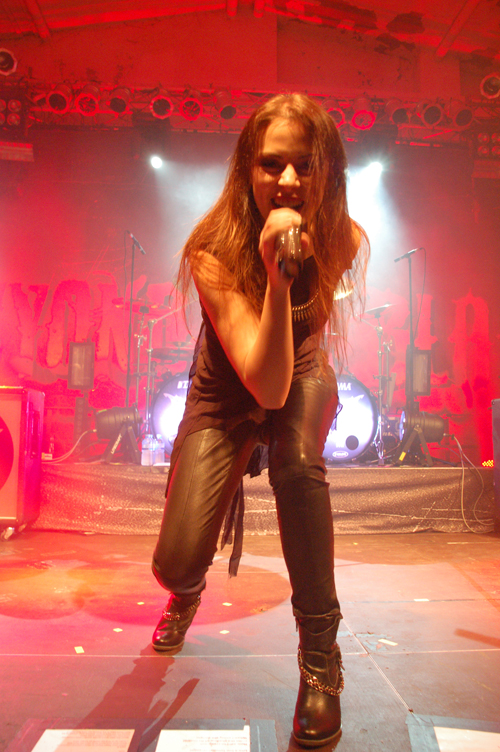 Bottom line: A superb evening with great bands and torrential rain defeated by the gods of heavy metal. What else can you ask for?
Setlist:
"Lost In Forever"
"Beyond The Mirror"
"Songs Of Love And Death"
"Burning In Flames"
"Unbroken"
"Rage Before The Storm"
"Hallelujah"
"Love Me Forever"
"Pearl In A World Of Dirt"
"Halo Of The Dark"
"Drowning In Darkness"
"The Other Side"
"Forget My Name"
"When Angels Fall"
"Shine And Shade"
"Written In Blood"
Encores:
"In The Shadows"
"Running To The Edge"
Check out some more photos from the show!
All Photos By Daniel Hohr




Please log in to view RANTS

If you don't have a username, click here to create an account!





WARRIOR SOUL Rock 'N Roll Disease

WHITESNAKE Flesh & Blood

CHEAP TRICK In Houston Photo Gallery

MICHAEL SCHENKER FEST In Worcester, MA

SLAYER, LAMB OF GOD, AMON AMARTH & CANNIBAL CORPSE In Columbia, MD

SUNN0))) Life Metal

Head Bangin' Radio Book

VENOM INC. In Ottawa, Canada

VIXEN In New Bedford, MA

ARCH/MATHEOS Winter Ethereal

A NEW REVENGE Enemies & Lovers

RINGWORM "Death Becomes My Voice"

AMON AMARTH Berserker

SOTO Origami

OVERKILL, DEATH ANGEL, MOTHERSHIP In Cleveland, OH With Photos!

POSSESSED Revelations Of Oblivion

STEEL PROPHET The God Machine

THE DAMNED THINGS High Crimes

CRADLE OF FILTH In Dallas, TX

ANTHEM Nucleus

DIAMOND HEAD The Coffin Train

MIKE TRAMP Stray From The Flock

HALESTORM In Salt Lake City, UT With Photos!

ALLEGAEON Apoptosis

FALLUJAH Undying Light

JOHN 5, JARED JAMES NICHOLS In Anaheim, CA With Photos!

L.A. GUNS In New Bedford, MA

...AND JUSTICE FOR ART – Stories About Heavy Metal Album Covers – Volume 2

THE END MACHINE In Los Angeles Photo Gallery