TARJA From Spirits And Ghosts (Score For A Dark Christmas)


By Daniel Höhr, European Correspondent
Monday, December 11, 2017 @ 1:11 PM


| | | |
| --- | --- | --- |
| | | |
TARJA
From Spirits And Ghosts (Score For A Dark Christmas)
earMusic, 2017




Brace yourselves, boys and girls, it's the Christmas season, which means the inevitable "Christmas albums" are being released, where traditional Christmas songs and carols get a new sonic make-up to appeal to fans of whatever genre there is. In the present case, the classically trained soprano and former NIGHTWISH frontwoman Tarja Turunen delights us with a darker approach to eleven classic songs plus one new original song, called "Together", which is the second track on the album.

The first thing you need to know about this release is that if you're expecting a metal album, you'll be in for a surprise – the music on this album is bona fide film score music. Produced by Tarja herself, the Emmy Award winning film score composer Jim Dooley and Tim Palmer, who has worked with a variety of artists such as PEARL JAM, U2, DAVID BOWIE, Chinese pianist Lang Lang and THE CURE, Tarja's Christmas album is quite a substantial orchestral piece of work.

The opener is an eerie and brooding version of "O Come, O Come Emmanuel" and the contrast between the words in the chorus "rejoice, rejoice, Emmanuel shall come to thee, O Israel" and the mood of the arrangement couldn't be any greater, thus setting the tone for the entire album. It is like the soundtrack of a dark movie about Christmas. In Tarja's own words: "On this album, I explored the other side of Christmas — the Christmas of the lonely people and the missing ones, the Christmas for those that do not find joy in the blinking lights and the jingle bells." Indeed, for many lonely and people out there Christmas is anything but a feast of joy. As if to highlight the connection between Christmas and death, Tarja includes "Pie Jesu" on this album. The Latin words of this song have in fact nothing to do with Christmas but are taken from the Catholic Mass for the dead. Eerie.

The songs live on the huge sounding orchestra arrangements and Tarja's mellow soprano voice, whose timbre is bound to touch you and send many a shiver down your spine. Needless to say, the album sounds huge, bombastic in places and occasionally crosses the fine line between good taste and kitsch, which is in a way part and parcel of that kind of music. Whether, for example, the solo cello on "Amazing Grace" belongs to the former or the latter, I can't say but we're all perfectly entitled to an extra amount of cheesiness during the holiday season, so suffice it to say that it is beautifully played. The song itself evolves into an enormous crescendo and has a Celtic feeling about it. Kitsch? Maybe. I guess my favorite track is the subsequent "O Tannenbaum", partly because Tarja sings it in my native language, which she masters perfectly – little surprise, though, because she studied at Karlsruhe University of Music in Germany. The other reason why I like this version is the use of a celesta, an obvious allusion to the "Dance Of The Sugarplum Fairy" from Tchaikovsky's Nutcracker. Nice.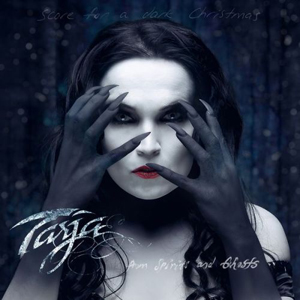 As it is the case with all twelve tracks on this CD, the atmosphere of the concluding track "We Wish You A Merry Christmas" couldn't be any further from merriness – slow, brooding, with fragile vocals, this song, like the entire album, leaves you with a queasy feeling. And that is, of course, the very point of it.
To be honest, I don't really know what to make out of this album. The concept of presenting the darker side of Christmas is interesting and, musically, it definitely works out. Tarja's singing is, needless to say, magnificent. Her "classical" projects give her the opportunity to showcase more of her vocal abilities than she is able to in the admittedly limited context of metal projects. And as a classical musician who loves metal, I always appreciate the sound of an orchestra or artists who feel at home in both camps, which are closer to each other than many people think. And yet Tarja's classical sounding Score For A Dark Christmas is too bombastic, too bittersweet, too clichéd for my liking. At the end of the day, it comes down to personal preferences. I am sure Tarja fans will love it and it will surely appeal to a broad range of music fans.
3.0 Out Of 5.0




Please log in to view RANTS

If you don't have a username, click here to create an account!