Annual BASH FEST Events Announced, Coincide With NAMM


By Larry Petro, News Monkey
Thursday, January 18, 2018 @ 4:26 PM


| | | |
| --- | --- | --- |
| | | At The Yost In Santa Ana, January 24th, 25th and 26th |
Tichy/Sutton Productions kicks off the 5th annual Bash Fest at newly renovated The Yost in Santa Ana, CA on January 24th, 25th and 26th, 2018. For three nights, some of music's most prolific artists have been confirmed to pay tribute to their heroes for a legendary weekend of music and madness.

Producers Brian Tichy and Joe Sutton have been creating unique celebration concerts for the past several years, and have now combined them into one weekend of All-Star mayhem to coincide with NAMM, the largest music convention in the US on January 24, 25 & 26, 2018.

For the first time in Bash Fest history, Wednesday, January 24th, 2018 kicks off with All-Star jam night Soundcheck Live. Soundcheck Live is a monthly Hollywood jam series that features some of LA's most notable touring and session players and marquee musical talent.

"The Resident Band" will be comprised of the following players:
Steve Ferlazzo – (RSO, Avril Lavigne, Soundcheck Live founder)
Glen Sobel – (Alice Cooper)
Steve Fekete – (Gwen Stefani, Avril Lavigne, Vertical Horizon)
Carl Restivo – (Tom Morello, Satellite Party)
Derek Frank – (Shania Twain)
JUST ANNOUNCED:
Richie Sambora (Bon Jovi, RSO)
Orianthi (Michael Jackson, Alice Cooper, RSO)
Frank Hannon (Tesla / The Frank Hannon Band)
Pete Griffin (Steve Vai / Tony MacAlpine)
John Bisaha (The Babys / Rock Vault)
Teddy ZigZag (Guns N' Roses / Alice Cooper / The Boxmasters)
Doug Rappoport (Edgar Winter)
Courtney Cox (Iron Maidens / Starbreakers)
Jamie Wollam (Tears for Fears)
Gregg Cash (Josh Todd & The Conflict)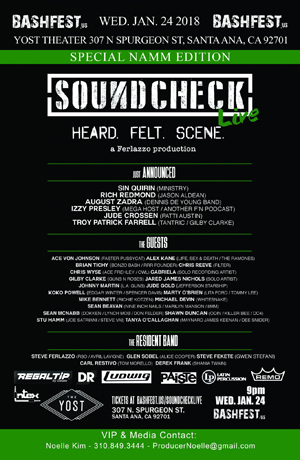 Final Lineup:
Ace Von Johnson (Faster Pussycat)
Alex Kane (Life, Sex & Death, The Ramones, Sass Jordan)
August Zadra (Dennis De Young)
Brian Tichy (Bonzo Bash, RRR Founder)
Chris Reeve (Filter)
Chris Wyse (Ace Frehley / Owl)
Damon Fox (Bigelf / The Cult)
Gabriela (Solo Recording Artist)
Gilby Clarke (Guns N Roses)
Izzy Presley (Megahost / Another F'N Podcast)
Jared James Nichols (Solo Artist)
Johnny Martin (L.A. Guns)
Jude Crossen (Patti Austin)
Jude Gold (Jefferson Starship)
Koko Powell (Edgar Winter / Spencer Davis)
Leah Martin-Brown (Evol Walks)
Mark Mackay (Solo Artist)
Michael Bradford (RSO / Kid Rock / Dave Stewart)
Mike Bennett (Richie Kotzen)
Michael Devin (Whitesnake)
Nita Strauss (Alice Cooper)
Rich Redmond (Jason Aldean)
Sam Bam Koltun (Knee High Fox/ Evol Walks)
Sean Beavan (Nine Inch Nails / Marilyn Manson / 8mm)
Sean McNabb (Dokken / Lynch Mob / Don Felder)
Shawn Duncan (Odin / Killer Bee / DC4)
Sin Quirin (Ministry)
Stephen McSwain (McSwain Guitars)
Stu Hamm (Joe Satriani / Steve Vai)
Tanya O'Callaghan (Maynard James Keenan / Dee Snider)
Troy Patrick Farrell (Tantric / Gilby Clarke)
Soundcheck Live Show starts promptly at 8pm.

FOR TICKETS and Official Website: http://www.bashfest.us/soundchecklive
If purchasing tickets at the door, be sure to mention SOUNDCHECK LIVE. For VIP table packages, as well as two and three day passes, please inquire by email: soundchecklivehollywood@gmail.com

LINKS:
Instagram: https://www.instagram.com/soundcheckliveofficial/
Facebook: https://www.facebook.com/Soundcheckliveofficial/
Twitter: https://twitter.com/SCLiveOfficial

Thursday, January 25th, 2018

The second night of Bash Fest features always sold-out, Bonzo Bash. This is the first of these shows the Tichy/Sutton team produced, with the first one taking place September 25th, 2010, on the 30th anniversary of Bonham's passing. This concept was created by Tichy to celebrate the drummer most consider the greatest in rock n' roll: John Henry Bonham. They have since taken the show to not only Russia but both US coasts, with BashFest 2018 sure to be the mightiest one yet. The show highlights the industry's top drummers playing their favorite LED ZEPPELIN tunes. Each drummer will be accompanied by house band THE MOBY DICKS.

Player line-up to date:

DRUM LORDS:
Fabio Alessandrini (Annihilator)
Jason Bittner (Overkill/Shadows Fall)
Anthony Baker (Chubby Checker)
Michael Cartellone (Lynyrd Skynyrd/Damn Yankees)
Scott Churilla (Reverend Horton Heat)
Jimmy D'Anda (performing with his new band, "Lies Deceit & Treachery" featuring Lonnie Vencent & Jimmy DeGrasso (RATT/Alice Cooper/Megadeth)
Mick Sweda)
Chris "The Razor" Frazier (Foreigner)
John Hummel (Matt O'Ree Band)
Brandon Kachel (Barbarian Overlords)
Jeff Kathan (Paul Rogers)
Ray Luzier (Korn/KXM)
Khurt Maier (Salty Dog)
Dave "Chili" Moreno (Puddle of Mudd)
Alexey Plobete (Teen Drum Wonder)
Gregg Potter (Buddy Rich Band)
Aquiles Priester (Tony MacAlpine/Hangar)
Scott Reeder (Fu Manchu)
Glen Sobel (Alice Cooper)
Matt Starr (Mr. Big/Ace Frehley)
Mike Terrana (Rage/Yngwie Malmsteen)
Brian Tichy (Bonzo Bash founder)
Phil Varone (Jake E. Lee's Red Dragon Cartel/formerly Saigon Kick/Skid Row)
Karl Wilcox (Diamond Head)
SPECIAL GUESTS:
Robbie Crane (Black Star Riders)
James Lomenzo (John Fogerty/Megadeth/David Lee Roth)
THREE FOREIGNERS:
Jeff Pilson (Bass)
Bruce Watson (Guitar)
Michael Bluestein (Keys)
HOSTED BY:
Brian Tichy
Drum legend, Carmine Appice
Joe Sutton
THE MOBY DICKS House Band:
Chas West (Resurrection Kings/Bonham) Vocals
Doug Aldrich (Dead Daisies/Whitesnake/Dio/Revolution Saints) Guitar
Phil Soussan (Last In Line/Ozzy Osbourne/Billy Idol) Bass
Steve Ferlazzo (RSO/Soundcheck Live founder) Keys
Brian Tichy (Bonzo Bash founder) – Drums/Guitar
LINKS:
Official Website: http://www.bashfest.us
Bonzo Bash FB Page: https://www.facebook.com/BashFestUS/
Twitter: https://twitter.com/BonzoBash

Friday, January 26, 2018

Rounding off the weekend will be the 3rd and final show of Bash Fest taking place on Friday, January 26th, 2018 with Randy Rhoads Remembered, a celebration of the brilliant and original Ozzy Osbourne guitarist Randy Rhoads. Tichy and Sutton created this event in 2013 after agreeing Randy Rhoads surely deserved recognition for his musical impact. They are both huge fans of Rhoads', and Tichy himself played with Ozzy Osbourne. Randy's brother Kelle Rhoads performs and his sister Kathy Rhoads D'Argenzio shares her stories making this a very touching and personal experience for all involved.

Final Lineup: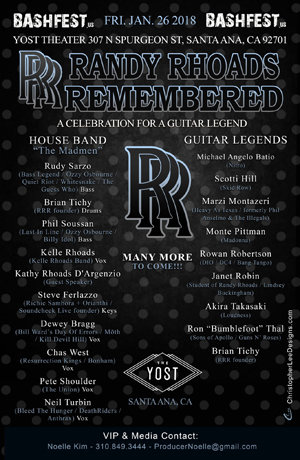 GUITAR LORDS:
Doug Aldrich (The Dead Daisies/formerly Whitesnake/DIO/Revolution Saints)
Marcelo Barbosa (Angra)
Michael Angelo Batio (Nitro)
Chris Broderick (Act of Defiance)
Jimmy Burkard (Billy Idol)
Kiko Loureiro (Megadeth)
Marzi Montazeri (Heavy As Texas/Exhorder)
Mike Orlando (Stereo Satellite/Adrenaline Mob)
Monte Pittman (Madonna)
Akira Takasaki (Loudness)
Rowan Robertson (DIO/DC4/Bang Tango)
Janet Robin (Lindsey Buckingham/Student of Randy Rhoads)
Brian Tichy (RRR founder)
Mark Zavon (Kill Devil Hill)
Christian Brady (Hell Yeah)
Roy Z (Dickinson/Halford/Tribe of Gypsies)
House Band "The Madmen"
Rudy Sarzo (Bass Legend/Ozzy Osbourne/Quiet Riot/Whitesnake/The Guess Who) Bass
Brian Tichy (RRR founder) Drums
Phil Soussan (Last In Line/Ozzy Osbourne/Billy Idol) Bass
Kelle Rhoads (Kelle Rhoads Band) Vox
Kathy Rhoads (Guest Speaker)
Steve Ferlazzo (RSO/Soundcheck Live founder) Keys
Dewey Bragg (Bill Ward's Day Of Errors/Möth/Kill Devil Hill) Vox
Chas West (Resurrection Kings/Bonham) Vox
Neil Turbin (Bleed The Hunger/DeathRiders/Anthrax) Vox




Please log in to view RANTS

If you don't have a username, click here to create an account!