RANDOM EYES Grieve No More


By Daniel Höhr, European Correspondent
Monday, January 22, 2018 @ 11:25 AM


| | | |
| --- | --- | --- |
| | | |
RANDOM EYES
Grieve No More
Rock'N'Growl Records, 2018


In a time and an age of seemingly overwhelming negativity, a good dash of positive attitude is always appreciated, especially if it comes in the form of loud rock music. And this is exactly what the Finnish metal project RANDOM EYES are aiming for on Grieve No More, their fourth studio album, which was released through Rock'N'Growl Records on 19 January. The album was recorded by PANORAMA and ex-ADAGIO singer Christian Palin and guitarist Markus Grimald together with a band of studio musicians, who did a hell of a great job, by the way.

The album opens with an intro called "Trail Of Tears", obviously the less-than-joyful starting point of the album, extremely riffy and the perfect lead-in to the following nine tracks. The first of which, "Myopathy", pretty much defines the tone of the album: extremely riffy rhythm parts that are spiced up with a generous pinch of progressive metal, unbridled energy, stunning and fairly modern lead guitar work, and, the most important element, Christian Palin's vocals, which do not only reveal a stunning vocal range and but also a broad range of different styles of singing from growls to appealingly melodic hook lines. And those are mainly featured in the chorus of each song and make it difficult not to touch the repeat button. The title track, "Grieve No More", hits you in the face with a guitar chord and soon develops into a kick-ass uptempo number in true power metal fashion without losing its rough rock 'n' roll attitude. "Fate Loves The Fearless", with its anthemic chorus is actually quite a complex number and is definitely worth listening to multiple times. There is so much happening in this song – and this is also true for the entire album – that you will always discover something you haven't noticed before. "2 Worlds Collide" will invariably make turn up the volume and sing along to its chorus – this number is certainly one of the highlights on Grieve No More melody-wise. "Damnation" is also a complex composition making use of all kinds of stylistic elements that are ingeniously combined to a powerful metal track which culminates in a stunning chorus and breathtaking lead guitar parts. The next track, "Do What Thou Wilt", a quotation that seems to run through the intellectual history of man from Augustine of Hippo to Aleister Crowley, provides balladesque but not in the slightest less energy-driven moments. While this number is more alternative metal in nature, the ensuing "Never Too Late" brings back the tempo and – listen to the chorus – grooves like hell. The mid-tempo rocker "Scar" features a nice melodic lead guitar hook in the intro and yet another catchy chorus that will make you want to shout along. This song is so multi-layered in its composition that you may want to get back to it again and again while turning the volume up a notch each time. The spectacular grand finale of this album is aptly entitled "The Final Quest" and begins with "Can I Play With Madness"-style a capella harmony vocals and soon turns out to be a true heavy metal anthem.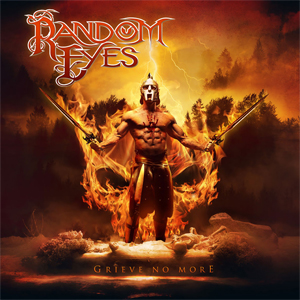 Admittely, it took me a while to get a grip on this album. The complexity of the songs, the sometimes daring harmonic structure, especially in some of the lead guitar parts and the progressive rhythmical structures make this CD one that doesn't reveal its qualities straight away but the music will grow on you. In some places, however, I thought it was all a bit too much and occasionally the musicians tend to overegg the pudding. Having said that, the vocal lines, particularly in the choruses always provide something enormously catchy. Thus, the album alternates between musical sophistication and stadium-compatible shout-along hook lines. Guitar aficionados are well advised to give this album a proper and thorough listen because the release bursts with awesome playing. The sound of the album is rough and straight in your face – exactly the way it should be.
The info about RANDOM EYES' Grieve No More album says that the group is "most definitely a live band with strong charisma and pure energy on the stage." The charisma and energy most certainly come across on the album. Until you get a chance to see RANDOM EYES live, the CD will give you more than an idea of the band's qualities. Check it out.
4.0 Out Of 5.0




Please log in to view RANTS

If you don't have a username, click here to create an account!






ICARUS WITCH Goodbye Cruel World

TARJA, STRATOVARIUS, SERPENTYNE In Cologne, Germany

CLUTCH, SEVENDUST, TYLER BRYANT & THE SHAKEDOWN In Portland, OR With Photos!

ACCEPT In Houston, TX With Photos!

U.D.O. Steelfactory

SKULL FIST Way Of The Road

SOULFLY Ritual

ANTHRAX State of Euphoria 30th Anniversary Deluxe Edition

FIFTH ANGEL The Third Secret

STEVE GRIMMETT'S GRIM REAPER In New Bedford, MA

ANAAL NATHRAKH A New Kind of Horror

PRIMAL FEAR Apocalypse

BEHEMOTH I Loved You At Your Darkest

DORO Forever Warriors, Forever United

SLASH FEATURING MYLES KENNEDY AND THE CONSPIRATORS In Houston, TX Photo Gallery

BILLY MORRIS AND THE SUNSET STRIP Holdin' All The Aces

VINCE NEIL In Houston, TX Photo Gallery

DEE SNIDER For The Love Of Metal

UNLEASH THE ARCHERS, STRIKER, HELION PRIME In Houston, TX W/Photos!

CLUTCH, SEVENDUST In Houston, TX

KING KOBRA Sweden Rock Live

DREAM CHILD Until Death Do We Meet Again

SCORPIONS, QUEENSRYCHE In Tampa, FL With Photos!

HUMBLE PIE Live At The Ottawa CityFolk Festival

BEHEMOTH Album Listening Party In Los Angeles For I Loved You At Your Darkest

THE DEAD DAISIES, HOOKERS 'N BLOW In Ottawa, Canada With Photos!

DRAGONLORD Dominion

STONE BROKEN Ain't Always Easy

BRANT BJORK Mankind Woman

KORPIKLAANI Kulkija

BRAINSTORM Midnight Ghost

SLEAZY WAY OUT, INSUFFICIENT FUNDS In Ottawa, Canada

DEEP PURPLE, JUDAS PRIEST In Jacksonville, FL W/Photos!

HELLOWEEN In Worcester, MA With Photos!

RED TIGER Evolution

ALTER BRIDGE Live At The Royal Albert Hall Featuring The Parrallax Orchestra

CLUTCH Book Of Bad Decisions

ANGRA In Winter Park, FL With Photos!

TALES FROM THE PORN H.M.M.V.

CARRY THE STORM i/E

PIG DESTROYER Head Cage

SAXON Strong Arm Of The Law Reissue

THE DEAD DAISIES In Houston, TX Photo Gallery

ALICE IN CHAINS, BUSH, THE CULT, STONE TEMPLE PILOTS In Ridgefield, WA W/Photos!

SUICIDAL TENDENCIES STill Cyco Punk After All These Years

OPERATION:MINDCRIME, TILL DEATH DO US PART In Portland, OR With Photos!

TNT XIII

DC4 Atomic Highway

CAL JAM '18 POP UP In Los Angeles With Photos!

SLAYER, LAMB OF GOD, ANNTHRAX, TESTAMENT And NAPALM DEATH In Ridgefield, WA With Photos!

JIZZY PEARL OF LOVE/HATE All You Need Is Soul

NIGHT DEMON Live Darkness

RAVENSCROFT Rebel

NASHVILLE PUSSY Pleased To Eat You

QUIET RIOT In Houston Photo Gallery

WARRANT, STEELHEART In Houston Photo Gallery