MAYHEM formed in Oslo, Norway in 1984. Attila considers the De Mysteriis Dom Sathanas album, the bandís debut LP, to be the most special that the band has done of their vast discography. Indeed it is an extremely important and identifying album for MAYHEM. Since its release in May 1994, it has been widely acknowledged as one of the most influential and essential black metal albums of all time. The album was seven years in the making, due to disastrous circumstances.

Original vocalist, Per Yngve Ohlin, aka Dead began composing lyrics for the album in 1987 with guitarist Oystein Aarseth, aka Euronymous writing guitar riffs. Hellhammer and Necrobutcher also wrote some riffs. Snorre Ruch aka Blackthorn claims to have written some lyrics and riffs and Varg Vikernes aka Count Grishnackh claims to have contributed to some of the riffs.

Upon Deadís suicide via a gunshot to his head in 1991, tensions were running high in regards to song credits. In 1993 Vikernes was charged and sentenced to 21 years in prison for the stabbing murder of Euronymous with Ruch receiving 8 years prison as an accomplice. As an odd detail, a photo taken by Euronymous of Deadís suicide was later used on a bootleg live album cover for Dawn Of The Black Hearts. When De Mysteriis Dom Sathanas was released, Attila performed vocals. The guitar recordings of Euronymous were kept along with the bass recordings of Vikernes being kept and Hellhammer on drums. The lyrics are Deadís suicidal contemplations, glaringly evident on the "Life Eternal" track, and philosophical ponderings on ancient paganism and satanism.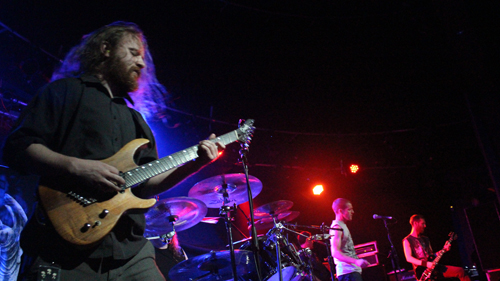 The venue for tonightís concert is Max Watts, which was at capacity of several hundred heads. The first opening act was Tasmanian post-black/death metal band DEPARTE, formed in Hobart in 2012, previously known as ORANNIS in 2011. Their debut album, Failure, Subside, was released by the Season of Mist label in Oct 2016 with Sam Dishington - vocals/guitar, Jarrod Sorbian - bass/backing vocals, Michael Rankine - drums and Mitch Golding - guitar.
I really enjoyed this band, if they continue to put out this quality of music they will be a staple of the genre. Their sound is stirring and atmospheric, almost in a gothic sense, as if you were transported by the band to their sacred Tasmanian forests of ancient lineage. Smooth, melodic vocals with edgy, nightmarish guitar are then transposed to a beast of a strong, low vocal register alongside energetic riffs and machine gun rolling drums.
Next up was another Tasmanian black metal band, RUINS, formed in Hobart in 2000. They released an EP in 2004 and five albums since. The latest album, Undercurrent, was released by the Direct Productions label in Oct 2016 with Alex Pope - vocals/guitar, Dave Haley - drums, Joe Haley - guitar and Kai Summers - bass.
The inspiration from the world heritage listed Tasmanian wilderness on native artists cannot be overstated. Tasmania has some of the deepest and longest caves in Australia, some of the oldest rocks therein being 1,100 million years old. RUINS seem to have emerged straight from one of these prehistoric caves with brutish heavy riffs and Palaeolithic vocals.
The final opening band was Swiss two-piece extreme metal band, BOLZER, formed in Zurich in 2008. They released three EPs in 2012, 2013 and 2014. Their debut album, Hero, was released by the Iron Bonehead Productions label in Nov 2016 with Okoi Therry Jones aka KzR- vocals/ten string guitara and Fabian Wyrsch aka HzR - drums.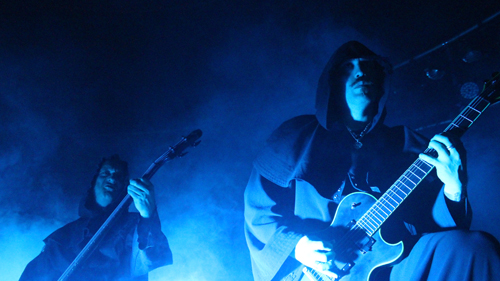 This band is paganism rather than satanism, harnessing the power & mysticism of nature with their runic sound. Okoiís ten string guitar has an all encompassing surround sound accompanied by Fabianís dynamic drums. The only problem I found was that because Okoi is the only guitarist, he has to work so hard to keep that unique instrument at peak performance that he keeps pulling his mouth away from the mic to play and his vocal performance suffers, which is a shame because he has warlock vocals. Interesting tidbit, Okoiís father, Paul Ubana Jones, is also a successful musician.
Time for the main act, MAYHEM. The mood shifts with gloomy lighting and ominous church bells slowly chiming. This launches the band straight into the frenetic "Funeral Fog". The concert is like a ceremony. MAYHEM are wearing decrepit monkís robes and corpse paint. There is dark imagery and upside down crosses. Attila has an altar with a skull and candles.
Screaming out in a demonic cry, Attilla spurts forth with "Freezing Moon" in MAYHEMís raw, complex instrumental sound. Before launching into "Cursed In Eternity", Attila turns his back to the audience facing his alter and seems to perform a satanic prayer, finished by a pained howling. He is then impelled to torment us about when our time is come. There are some moments of strange clarity on lead guitar then a barely audible growl from Attila followed by an uneasy echoing shout.
A warning for any future attendees of MAYHEM concerts, do not attempt to stage dive. You will be escorted from the venue by security. The stage is Attilaís domain during this intense ritual of a show, at least for this album. When one fan ascended the stage and halted before diving, Attila dealt him a swift, forceful blow to the back sending him to a grim crash down into the steel barrier.
Attila returns to his altar for "Pagan Fears" which has some eerie riffs evocative of a coven. Now arrives the foretelling track "Life Eternal". Thereís a despondent aura with bleak keyboard affects, then youíre smacked in the face with a sick melody and cursed vocals whilst Attila kisses the skull on the altar which may represent Dead. Howling wind leads us into "From The Dark Past". Itís very drum heavy at first with forceful riffs. Returning to pray at his altar, Attila assumes a vampiric persona for "Buried By Time And Dust".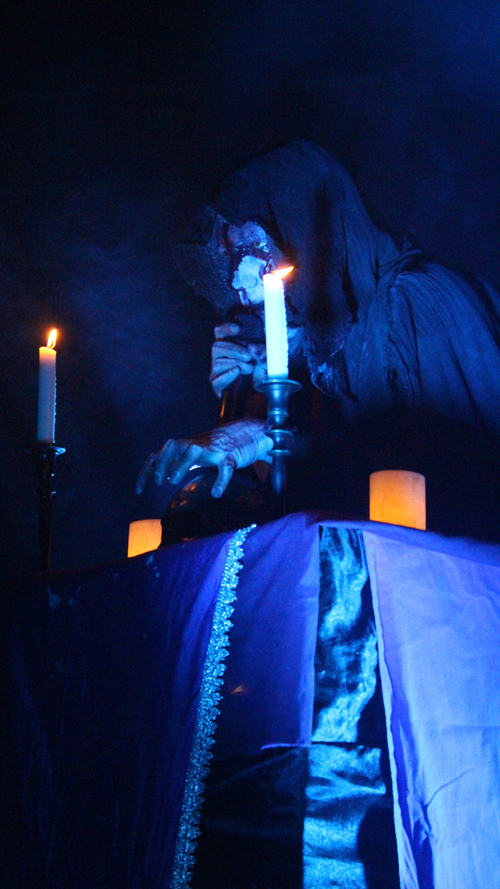 The finale begins with a lonely sounding piano. "De Mysteriis Dom Sathanas" (translated from Latin as Ďthe mystery of the lord sataní) has Attila attired in a scarlet clergy chasuble waving an incense censer. In a clear, Gregorian style chant, he recites Latin phrases speaking of rites of worship and invocations of evil spirits, the season to die and sacrifice. The altar is brought forth and Attila extinguishes the two candles with his hands symbolizing the two lives of those whose last work was this album, Dead and Euronymous.
Set List
"Funeral Fog"
"Freezing Moon"
"Cursed In Eternity"
"Pagan Fears"
"Life Eternal"
"From The Dark Past"
"Buried By Time And Dust"
"De Mysteriis Dom Sathanas"
The sound was brilliant, it went right through me and Attilaís vocals were crisp. The band was tight with wicked drums.

Check out some more photos from the show!
Photos By David Sinclair-Smith