"Everyone carries a Shadow and the less it is embodied, the blacker it is!"
~ Carl Jung

After releasing the title of the upcoming KAMELOT masterpiece and very first shows of the The Shadow Tour in the Netherlands, Norway and the UK, it's time to take the next step in support of The Shadow Theory!

KAMELOT's founder Thomas Youngblood states:

"The Shadow Theory album is a psychological journey through the complexity of the Human Mind. We are subjected to stimuli constantly through media, technology, social experiments and AI. Can we still be social creatures in the near future? The Shadow Theory is an album that is mixing many worlds, giving the listener an Escape within our own realities. This album was written and recorded over the entire year and we are really proud of the song elements and diversity on The Shadow Theory."

Now a first and exciting album teaser has been released, get your ears and eyes on it below.

The Shadow Theory was produced by acclaimed music producer Sascha Paeth and mastered by Jacob Hansen. A massive piece of work that will more than please critics and fans alike. Guests on the album include Lauren Hart (ONCE HUMAN), Jennifer Haben (BEYOND THE BLACK) and Sascha Paeth. The amazing cover and artwork was created by Stefan Heilemann.

The full The Shadow Theory track listing reads as follows:
"The Mission"
"Phantom Divine (Shadow Empire)"
"RavenLight"
"Amnesiac"
"Burns To Embrace"
"In Twilight Hours"
"Kevlar Skin"
"Static"
"MindFall Remedy"
"Stories Unheard"
"Vespertine (My Crimson Bride)"
"The Proud and The Broken"
"Ministrium (Shadow Key)"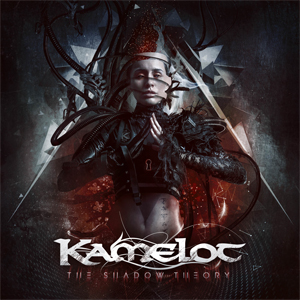 A 2-CD edition is available with the digipak version and the following additional track listing:
"Phantom Divine (Shadow Empire)" (Instrumental version)
"RavenLight" (Instrumental version)
"Amnesiac" (Instrumental version)
"Burns To Embrace" (Instrumental version)
"Kevlar Skin" (Instrumental version)
"The Proud And The Broken" (Instrumental version)
"The Last Day Of Sunlight" (bonus)
The Shadow Theory will be available in the following formats:
LTD DELUXE WOODEN BOX incl.

CD Digipack
Flag
Tri K Logo pendant
Tri K Key
Signed autograph card
Tri K Logo patch

2CD EARBOOK
2CD Digipack
CD Jewelcase
2LP Gatefold
Editions:
LTD Red - NPR D2C mail-order shop (EU)
LTD Gold - NPR D2C mail-order shop (EU/USA)
LTD Neon Pink - Universal
LTD White - ADA/ Sony CAN
Black (for all outlets)
Pre-Order your copy now via Napalm Records: kamelot.napalmrecords.com