EISLEY/GOLDY Blood Guts And Games


By Andrew Depedro, Ottawa Corespondent
Tuesday, February 6, 2018 @ 8:58 AM


| | | |
| --- | --- | --- |
| | | |
EISLEY/GOLDY
Blood Guts And Games
Frontiers Music SRL




Any fan of melodic AOR who can tell their major pentatonic fifth scales from chord tone soloing will recall the brief moment when GIUFFRIA ruled the genre back in the early 80's. They had success with the pleasant aria-like hit "Call To Your Heart", they had future DIO/ROUGH CUTT axeman Craig Goldy in their ranks, and frontman David Glen Eisley was deemed a dead ringer to Steve Perry when he'd hit that solid chorus. In fact, a North American tour with JOURNEY would have not only been a no-brainer for each band's management to arrange when GIUFFRIA's debut album broke big in 1984, but the band probably would have continued on well beyond two albums afterwards. Instead, they ended up on DEEP PURPLE's Perfect Strangers tour and got lots of critical acclaim - and scorn from Ritchie Blackmore, who was known to have cut the band's stage time by half and forbade Goldy from soloing, amongst other rather famous PTSD-induced Blackmore dick moves. The follow-up album Silk & Steel wasn't quite the smash album GIUFFRIA was hoping for and their label agreed, dumping them by late '86 with the band folding shortly afterwards. Eisley kept active in music, having formed four other bands, released three solo albums and even made an appearance on Spongebob Squarepants on the "Band Geeks" episode singing "Sweet Victory". His most recent project was guesting on Bob Kulick's Skeletons In The Closet as vocalist on three of its songs before this opportunity came up - and it was Craig Goldy who reportedly made the push to get Eisley back in the studio.

From the man himself in a 2014 interview: "My dear friend of many years, guitar virtuoso Craig Goldy, made a surprise visit up to my house, knocked on the door and simply stated, 'Enough of this, my friend… Time for you to get up off your ass and come back to work!' He was so adamant, I relented and agreed to join him on a small stage in the San Diego area. It all seemed to go well and the next thing I knew a year later, we were in Nottingham, England playing together again in front of a crowd."

And now you know the rest of the story which has kept Eisley's to-do list growing steadily since then.

Blood Guts And Games is exactly the modern-sounding AOR album that it makes itself out to be. Its choruses are grandiose and vast, its lyrical content sometimes brooding and morose when lamenting on yearning ("The Heart Is A Lonely Hunter" and "I Don't Belong Here Anymore") and deceit ("Lies I Can Live With"); otherwise, the songs also focus on hope ("Love Of The Game") and reconciliation ("Believe In One Another"). Rounding out the rest of the collaboration on this album would be pretty much the rest of the original GIUFFRIA lineup that isn't Giuffria himself: Bassist Chuck Wright (who plays on a few tracks) and drummer Alan Krigger (who's featured in the video for "The Heart Is A Lonely Hunter"). Another drummer, Ron Wisko (FOREIGNER, THE STORM, CHER, DAVID LEE ROTH among other artists) sits in on the rest of the songs and neatly balances out the album.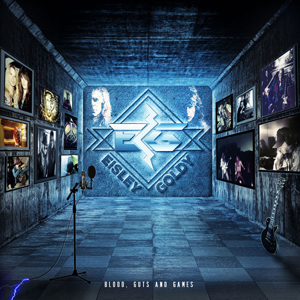 That said, as well-crafted as this album is, I'd forgotten that, as great of a singer Eisley is, he writes some very lengthy tunes particularly between the 5 to 7 minute mark. And it's common throughout this entire album. "No More Prayers In The Night" alone clocks in at over 8 minutes. Don't get me wrong here; Eisley still has the dynamic range in his voice even after all of these years, but sometimes, he gives a song everything he's got almost too early. Again, going back to "No Prayers In The Night" and even "Lies I Can Live With" where it sounds like he's almost struggling to double the octave range in the middle. He eventually gets back his stride on "Soul Of Madness", but by the end of the album he must've been hitting the mint tea and cucumber flavored water by the gallon once the producer said "Cut and take five!". We all applaud your tenacity, David, but pace yourself. Incidentally, why is the ninth song titled "Track Thirteen" when there are only ten songs on the whole album? I want to say "limited studio time" considering how long the songs are. There's probably some sort of hidden Easter egg with the answer hidden in the song, but I still wouldn't be surprised if the reason behind the odd song title was really limited studio time.
Beyond those minor hurdles, EISLEY/GOLDY bring their A game along with much blood and guts on Blood Guts And Games. Hopefully good karma lands them a slot on DEEP PURPLE's upcoming tour if nothing else and they're allowed to play with the house lights off during their set this time around. That's almost sweet victory in itself.
4.0 Out Of 5.0




Please log in to view RANTS

If you don't have a username, click here to create an account!