Judas Priest Exclusive: Headin' Out To The Highway Once Again…


By Bryan Reesman, Contributor
Friday, January 18, 2002 @ 6:30 AM


| | | |
| --- | --- | --- |
| | | Glenn Tipton And Ripper Owens |
The Metal Gods are back!

Although British metal legends Judas Priest postponed their fall tour of North America with Anthrax due to the WTC attacks in September 2001, they have returned to these shores to deliver the goods on their worldwide Demolition tour, which started January 17th at the House Of Blues in Las Vegas. It has been over three years since American headbangers witnessed the band in action, and this time there may be some surprises in store.

During this exclusive KNAC.COM interview with Priest frontman Ripper Owens and guitarist Glenn Tipton at the Atlantic Records office in Manhattan, correspondent Bryan Reesman gets the scoop on the new set list, discusses the controversy behind Demolition, and finds the duo in a lighthearted mood.

KNAC.COM: You guys look happy and relaxed.
Glenn Tipton: We're in good shape. We're putting in good performances and getting along so well.

KNAC.COM: Which is interesting, because the media perception is "What have they been doing for four years?"
Ripper Owens: Well, you know, they don't really care what's going on with the people. They just want an album out. They don't understand that people actually have personal lives outside of the band. There's a lot going on. We signed a new deal with Atlantic. As I'm reading rumors about me, I'm signing my name on the Atlantic contract.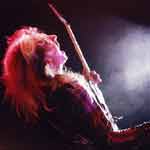 KNAC.COM: Have all the reunion rumors gotten annoying?
RO: To tell the truth, they've actually stopped. When you are gone awhile, there are all the rumors. Once you come back, the media [is just] repeating the rumors they heard in the past. At least it's settled down on the webpage, because I tell you, they come up with some dandies, man.

KNAC.COM: "Ripper fathered my love child!"
RO: It's amazing! "Ripper is in drug rehab." Or that we recorded the album, but it wasn't any good, Atlantic didn't want it, so we had to go back and re-record it.

KNAC.COM: What are some of the funniest things you've read?
RO: I've been seen all over at biker conventions. I've been seen…

KNAC.COM: With Pantera.
RO: The funniest one was that I was going to be the singer for Pantera. I've seen 'em a few times – our show, then they played my hometown, and I went to the concert and drank with them backstage. That was OzzFest. That's the last time I saw 'em, but in the meantime, I became their singer. I was thinking: "I wonder what Phil's thinking right now?" Great guys, big Priest fans, but to read that...

KNAC.COM: Priest actually has been getting a lot of publicity in other ways recently. I heard that Absolut Vodka is using the British Steel cover for an ad?
GT: Yeah.

KNAC.COM: Are they going to use the actual album in the ad or design an ad after the cover?
GT: I have no idea. They're going to use it in some way, shape, or form.

KNAC.COM: Will you guys get any money out of that?
GT: Nothing to speak of, but it's a lot of exposure really, so that's the good thing about it.
RO: We get free vodka. None of us drink it, but we get free vodka. [to Glenn] You do! You like cranberry and vodka.
GT: Oh, yeah.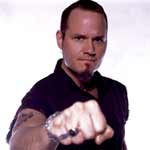 [Glenn shuffles his feet while pretending to shiver.]
RO [looks at him and laughs]: What was that again? [Glenn repeats it.]

KNAC.COM: That's Glenn's freezing dance.
RO: That was good.
GT: It's a Cossack [dance].

KNAC.COM: I doubt we'll be seeing anything like that on a DVD.
RO: We have a stage move that we've choreographed well. It's like a Riverdance thing that Glenn and I do across the stage.

KNAC.COM: Will you be putting any backstage footage on the upcoming live DVD?
GT: Oh yeah, there's a lot of stuff.
RO: That's the main thing. Live footage is great, but [with] this band, you've never seen enough of [what goes on] backstage. [jokes] I hope there's a lot of me. I tried to get as much footage of myself in there as I could.

KNAC.COM: You're also very private people and have always been like that. It's interesting that, while Behind The Music got into some of the backstage goings-on with Priest, there were many issues that they didn't examine. Did they try to delve into personal issues during the interviews?
GT: I think they tired to, but for me personally, there are areas I won't go into. I'll never go into my private life, my family. I won't discuss those in-depth. That's just the way I am. I don't really want to do that. I'll never go into any confrontations that we've had with Rob or his management. I don't think it's important, so I avoid those things. But I'll talk about anything else, you know.


"We've only really just cracked the surface on this tour. If we keep learning new songs, playing different songs every night, it's just going to be a really good surprise for everybody. They won't know what to expect." – Glenn Tipton

RO: As will I. They wanted to come into my hometown and do stuff. I figured that would have taken away from the three minutes I was on it. I wanted all three minutes I could be on there.

KNAC.COM: Fans want to know everything, but sometimes there is a limit.
RO: This DVD is showing us backstage and on the bus, so they can see us jet-lagged and flying across the country.

KNAC.COM: And hung over.
RO: No, it's far from hung over. [We were] coming from Australia to Japan through Hong Kong to London. I think hung over might have felt a little better actually, because we'd be standing there talking to the camera, then we'd just all fall asleep at once, then get back up.

KNAC.COM: So you're narcoleptics now! It's interesting to note that, while many people might think classic bands like Priest and Anthrax are past their commercial peak, you guys will have played 97 concerts over the course of a year. Which is a lot!
GT: That's right, yeah.
RO: That's what you have to do, isn't it?

KNAC.COM: But you can do it.
RO: That's the thing, and these are good venues. We'll throw other some smaller venues in just because it's nice, on the way to somewhere, to play to [more] people. They're great venues. In America, we're doing Roseland, Universal Ampitheatre, House Of Blues…

KNAC.COM: You're playing Disney! That's an odd match.
GT: I think it's pretty appropriate for Judas Priest, isn't it? [whistles and sings] "When you wish upon a staaaar."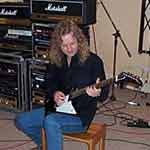 RO: The thing I didn't like about the last show is every time I bent down, the fucking ears kept getting snagged on my coat, you know? [laughs] He [Glenn] was dressed as Snow White. Oh wait, that was the bus driver's wife. She was Snow White.

KNAC.COM: I didn't realize it was Disney until someone mentioned it on the Web.
RO: But you know what? It's a metal place, man.

KNAC.COM: Florida is.
RO: It's a great venue, it's outstanding. I was there on vacation. I walked past it [HOB]. It was just jammin'.

KNAC.COM: You filmed a concert last December at Brixton Academy in England.
GT: We played two-and-a-half hours there.

KNAC.COM: Normally you do 100 to 110 minutes.
RO: It was a special holiday show.

KNAC.COM: I heard you played "Turbo Lover."
GT: You're right! We also played "Running Wild."
RO: "Desert Plains."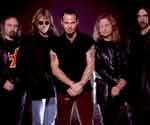 KNAC.COM: This is the stuff I've been waiting for! I remember at the start of the Jugulatortour, I asked you [Glenn]: "Are you going to play 'Exciter'?" You said, "I'm sure we'll do [it] this year." But you never did!
RO: It's just hard to get all the songs in there. Here was a prime example. We did two-and-a-half hours [at Brixton], still weren't going to make everybody happy, and that's a long time to play. We're not on tour doing two shows, a day off, a show, a day off. On this American tour, we've got four in a row, a day off, five in a row, a day off, four in a row. It's hard to get out there and do that. We're going to collapse. We could play four hours and wouldn't [be able to] do everything.

KNAC.COM: It was cool when you brought back "Rapid Fire" on the last tour. I don't think you had ever played that live before. Are there any songs you'd love to play?
GT: I think "Exciter" would be a good one to bring back. "Dreamer Deceiver" maybe.

KNAC.COM: Somebody called out for it from the back at Roseland last time. And Ripper has the range to do all that stuff.
RO: So does Glenn. You should hear him!
GT [laughs]: He's aware of my vocals.
RO: I love it, but it's just an impossible task. We keep switching things up and changing things around. When you have this many records and that many good songs to choose from, it's impossible. Because when you take something off, people say: "You didn't do it. That's my favorite song."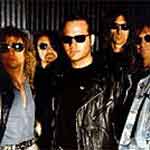 KNAC.COM: Dare I say it, though, but I've heard "Breaking The Law" and "Living After Midnight" so many times that I'd rather hear other songs.
RO [surprised]: You?

KNAC.COM: Certain fans just don't look beyond the hits. I've heard enough of certain songs over the years. Some of us would love to hear other songs, like "Subterfuge" off of the new album or "Cathedral Spires."
GT: I agree. The funny thing is, doing Brixton for two-and-a-half hours, we realized that there's so much potential for us to go back to songs like "Cathedral Spires," "Exciter," "Jawbreaker." We've only really just cracked the surface on this tour, and I think if we keep learning new songs, playing different songs every night, if we can get to that point, it's just going to be a really good surprise for everybody. They won't know what to expect.

KNAC.COM: Are there any nights where you say: "You know, I just don't want to do 'Living After Midnight' tonight."
GT: I say it every night until we strike it up.
RO: Then we love it. That's exactly it. I tell you what the big thing is now. We're going to have a different set list than we did on the Meltdown tour in '98. Obviously we're going to have at least three off the new record. "Feed On Me"…
GT: "Machine Man."
RO: "Hell Is Home," "One On One," "Lost And Found." I think the definites are going to be "One On One" and "Hell Is Home."


KNAC.COM: Are there any nights where you say: "You know, I just don't want to do 'Living After Midnight' tonight."

GLENN: I say it every night until we strike it up.

GT: Well, you say that "Subterfuge" would be a good song as well. I actually did an edited version which I sent over [to the label].

KNAC.COM: That's a song that they should have used as a single because it's very modern.
GT: Yeah.
RO: I think "One On One" is a big one, too. Hopefully we'll come back to America after this European tour [in March] and be able to do songs like "Exciter." This time, hopefully, we'll have songs like "Running Wild" and "Desert Plains."

KNAC.COM: Will those be on this leg of the tour?
RO: "Desert Plains" should definitely be in.

KNAC.COM: "Running Wild" is short and snappy.
RO: And the more we play it, the crowd's going to know it. It went over really well in London. It sounds great. We have "Heading Out To the Highway" and "United" in there.

KNAC.COM: Is "Turbo Lover" going to make it on this tour?
GT: We'll have to see.
RO: I think it'll go over in America. I think it'll be a good song here.
GT: It was good when we played it at Brixton.
RO: Our goal now is to come back again. So when we come back, we're coming to mix it up. We don't want to blow our wad in one tour. We really want people to want more. That's the main thing. You don't want to do a four-hour concert… I wouldn't have a voice, would I?

KNAC.COM: I think you would faint in the middle. Whenever you scream for a minute at the end of "Victim Of Changes," I wait for you to keel over.
RO: So do I.

KNAC.COM: What's up with this shiny jacket you've been wearing, Ripper? What is that made of?
GT: It's made of a new metal that's only just been invented by NASA. It's a lightweight titanium alloy. It's the strongest material ever manufactured.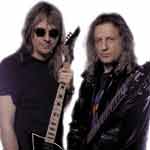 RO: I didn't want to say this, but you remember when the spaceship/so-called weather balloon fell [at Roswell]…?

KNAC.COM: Is it bulletproof then?
GT: No, we won't say that, because then people will be shooting at us. It's not bulletproof! [laughs]
RO: What's weird is when I wear that jacket next to Glenn, he's tan by the end of the song, and the plants all around me have grown to enormous proportions.

KNAC.COM: You played at huge European festivals last summer. That must have been a kick for you, Ripper, because they've been the biggest ones with Priest so far.
RO: I've had quite a bit… I did a show with one of my old bands in front of about 62 people. [laughter] It was a wonderful experience.
GT: They were great summer shows. Really good atmosphere, a lot of people.
RO: [We played in] Greece. Olympic Stadium. I think 15,000 or 16,000 people were there. [jokes] I think I could stretch it to about 30,000.
GT: We did great shows in South America.



"Our goal now is to come back again. So when we come back, we're coming to mix it up. We don't want to blow our wad in one tour. We really want people to want more." – Ripper Owens

KNAC.COM: You guys have released the second single from Demolition, the ballad "Lost And Found."
GT: We just shot a really good video for that. We haven't seen it, but we're told it's good. Just like a handheld, Blair Witch thing.
RO: It is good. It's a perfect song. People wanted to hear more melody after the Jugulatoralbum, and we've given to them and shoved it down their throats.

KNAC.COM: Now they can't complain!
RO: There's plenty of melody there.

KNAC.COM: How have people reacted to "Metal Messiah"?
GT: Very good. You know, there's always mixed feelings… Someone said to me that [with] Demolition, there's no middle ground. People love it or they don't like it at all. But the people that don't like it, in my opinion, sheepishly come back and say "I like it now." And it surprises me. I can understand doing that with Jugulator, because that was definitely an extreme album, but to me, Demolition is a classic Priest album. It's got light and shade. The only exceptions – maybe "Subterfuge," maybe "Metal Messiah" are a little bit modern…

KNAC.COM: And "Feed On Me."
GT: I think "Feed On Me" is still very acceptable for what people expect from Priest. The rest of the album is classic Priest but very 2002 as well. It's a genuine album from the heart. It's an album that we didn't contrive. It evolved naturally, and it comes across to me as one of the best Priest albums for a long time. When you see us play "Hell Is Home" live, it's going to give you shivers. Or "One On One." They're already converted into great Priest live songs.

KNAC.COM: Glenn, you had a bunch of songs for your first solo album that never got released. Is there going to be a second solo album?
GT: Possibly. I would never say I'm going to do another solo album, because my first love and first priority will always be Judas Priest.

KNAC.COM: But the first album was good!
GT: Yeah. The reason for doing that solo album is that I didn't know we were going to find Ripper when I first started it. One of the main reasons to do a solo album is to work with other people, just for a change. [laughs, pats Ripper on shoulder] Not that there's anything wrong with this guy! I love him!
RO: The funny thing now is, when he does the next solo album, I'm going to be there singing backgrounds.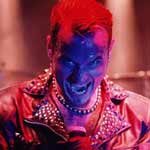 GT: But you'll never know it's him singing.
RO [laughs]

KNAC.COM: I'm still trying to find that Samantha Fox song you played on, Glenn.
GT: Oh, yeah.

KNAC.COM: Wasn't it called "Spirit Of America"?
GT: Yeah. It's a good song actually. The other reason for doing a solo album, the main reason for me, is that I'm fairly prolific, and there's only a certain amount of songs that Priest can do. The rest aren't appropriate. So it gives you another outlet for those songs. They won't be that far removed from Priest, because that's the way I am, but they are different enough. I just enjoyed the project. It was great. It was a little bit of a change. It was refreshing. My first love and priority will always be Judas Priest.

KNAC.COM: I'd still love to hear the unreleased tracks with John Entwistle and Cozy Powell.
GT: God rest Cozy's soul. John is a fantastic bass player, better than people realize.

KNAC.COM: Will the Japanese bonus track from Demolition, "What's My Name," surface over here? That was the first Priest song to feature Ripper's lyrics.
GT: It definitely will emerge over here. It's a good track, you know. We didn't have a lot of time prior to the album. We live 4,000 miles apart. Working together, we started to get to know each other as writers. Towards the end of the album, we were coming up with things like "What's My Name," and Tim wrote a lot of lyrics. You'll see Ripper emerge and have a lot more input on the next album undoubtedly.

KNAC.COM: People have been wondering why he hasn't been writing for Priest.
GT: He felt there was a working formula there. It's only our second album together. He felt he just wanted to get to know us, and as this album went on, we did get to know each other.

KNAC.COM: And how do you feel about that?
RO: It wasn't like they wheeled me in and propped me up, said, "sing this," then wheeled me off at the end of the day. I still was able to have a say in the studio, to take what Glenn had done and put myself into it. So I could come up with ideas and sing in some different registers. It is still what Glenn had written, but I was able to take that and do it myself. This time I was given some room.
GT: You can see he's finding his way around the album this time, as opposed to Jugulator, which was one of the fiercest albums we've ever done. On this album, he's found his own way, he's gone down his own path, he's a lot more comfortable. I wouldn't say he's more confident, because he was confident from the word go, but he's settled more. The most amazing thing about him is that I do hear areas of his voice that are unique, and [while] I go in there and extract 'em, he's the man who's got them. Whatever path he goes down, [even when] he'll go off on a tangent himself, it's still Judas Priest. That's the thing that amazes me most.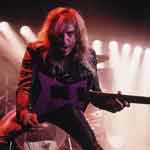 KNAC.COM: Are you writing any songs on the road?
GT: I might do it on this tour. I've been thinking about it. I never have before.
RO: It's really hard. There's just such a hectic schedule. You're so exhausted. When you finally have a day off, it's after four or five in a row. And you're usually in the bus traveling, so you want to sleep a little bit. But we're going to try. Usually at sound check, if we get there in time to do one, we usually try to go over some old classic tracks to see what we can try to eventually to put into the set list.

KNAC.COM: It's going to be a busy tour. Now is there anything your fans would be surprised to learn about you?
GT [deadpan]: They'd be surprised to know I'm a woman.
RO: And I'm a man.
GT: I managed to conceal that for thirty years.
RO: I've been in dressing rooms, and I was curious. He was changing, and I was like "Dude? What's up?"

KNAC.COM: What's the funniest thing that's happened on this tour?
RO: I [recently] jumped off the stage to get down to the people to give them high fives, and when I turned back around, the stage was two feet above my head, and I couldn't get back up.
GT: And as he was trying to get back up, we were stomping on his feet.

KNAC.COM: Ripper, what do your parents think of what you're doing?
RO: They've been supportive of me. It's a really good thing.

KNAC.COM: Isn't it bizarre that you're the rebel rocker and your parents are like "Cool."
RO: When I was growing up, my dad listened to Alice Cooper and Bachman-Turner Overdrive, so he listened to some cool stuff. He worked, and works, in a factory, and he told me: "Do whatever you want. Believe in what you do, and go do it. And if you fail, don't talk to me." [chuckles] So I said, "Okay, Dad, I will be a musician." And I lived there until I was 26 years old! [laughs]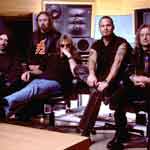 GT: Somebody said to me: "What's the best advice you never took?" And I said: "Get a job."

KNAC.COM: As far as 2002, what can people expect from Priest?
GT: We'll finish touring and just go full circle again. I'm already excited about the next album. We're on a roll. We're playing well. We're playing better than ever, to be honest. The whole vibe's really positive at the moment, so we're going to take advantage of that and play Priest music to everybody and forge ahead.

KNAC.COM: The band has been around for 30 years. What is Glenn Tipton's recipe for success?
GT: Evolve.
RO: Viagra.
GT: Viagra, yeah. You can be a big hero.

KNAC.COM contributor Bryan Reesman can be accessed at http://www.bryanreesman.com/latest.html.

Judas Priest North American tour dates 2002:

1/17/02 Las Vegas, NV House Of Blues
1/18/02 Universal City, CA Universal Amphitheatre
1/19/02 San Francisco, CA The Warfield
1/23/02 Denver, CO Paramount Theatre
1/25/02 Dallas, TX Deep Ellum Live
1/26/02 McAllen, TX Villa Real Conv. Ctr.
1/27/02 Houston, TX Aerial Theatre at Bayou Palace
1/29/02 New Orleans, LA House Of Blues
1/30/02 Jacksonville, FL Edge 2000
2/1/02 Lake Buena Vista, FL House Of Blues
2/2/02 St. Petersburg, FL Jannus Landing
2/3/02 Boynton Beach, FL Orbit
2/4/02 Atlanta, GA DeKalb Atlanta Center
2/6/02 Fort Wayne, IN Piere's
2/7/02 Chicago, IL Riviera Theatre
2/8/02 Milwaukee, WI Eagles Ballroom
2/9/02 Cleveland, OH Agora Theatre
2/10/02 Columbus, OH Newport Music Hall
2/12/02 Toronto, ON The Docks
2/14/02 Boston, MA Orpheum Theatre
2/15/02 New York, NY Roseland
2/16/02 Philadelphia, PA Electric Factory
2/17/02 Washington, DC Nation
2/19/02 Auburn Hills, MI Palace Of Auburn Hills





Please log in to view RANTS

If you don't have a username, click here to create an account!