Hollywood based shock rockers SALEMS LOTT will release their new earth shattering full length album Mask Of Morality on April 6, 2018 via their own independent label Red Moon Records.

With their previous 3 song EP released as part one of their new two-part album series, Mask Of Morality, the band delved into socially-conscious themes on individualism, values, morality and current politics.

SALEMS LOTT guitarist Jett Black has checked in with the following comment:

About Mask Of Morality / 1st 3 singles from Part 1

"Mask Of Morality is an interesting record. If you were following us a few months back you would know that Part 1 was released digitally and supported by 2 strong music videos which you can check out on YouTube. It was our way of giving out a few anticipation tracks for the full record and that's why you'll notice Part 1 only had 3 tracks.

The full record combines Part 1 (3 tracks) with the remaining 7 tracks to make a total of 10 tracks. In addition, the first 3 'instant gratification tracks' are a careful selection intended to introduce the listener into the world, sound and philosophy of Mask Of Morality. Just like any piece of art that has any worth, Mask Of Morality challenges the trendy mindset of our current society. It's a record that challenges the dogmatic righteousness of modern morality which attempts to force you into thinking, speaking and acting in a particular 'good' way and enforces these ideals through mob mentality retribution. It's also a harsh dose of reality that tells you that you are responsible for your destiny and to take responsibility and action into fixing your life rather than wallowing in a self-pity victim mentality and blaming outside sources.

Tl / DR - Mask Of Morality is the story of the individual vs the bloodthirsty mob. I know what you're thinking, "*roll's eyes", "Cringe", [insert passive aggressive, unimpressed, 'heard it all before' quote here]. However, if you're paying attention to society in a non-tranquilized way; you'll see the fight for the great individual vs the resentful mob is a very real and current battle."

About "Shattered To Pieces":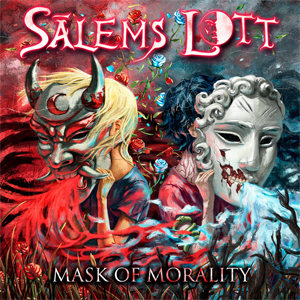 ""Shattered To Pieces" is an interesting song and will be the soonest to come out with a video. It's a very different approach from what our fans may be used to hearing from us. But our followers have a diverse enough outlook on music that they will appreciate how different and strong this song is. It's more exposed, with soft piano parts and tells the tragic tale of someone close to both Monroe and I who's dealing with a truly frightening illness. It presents an interesting discussion and observation on dealing with hardship, physical/mental illness and enduring grief. I enjoy how it takes two separate narratives: Those dealing with the responsibilities, courage and suffering of managing an ill person as well as the state of mind of the person afflicted by the illness. It's a very relatable song as most people have had to deal with the sudden loss of those who are close to them."
SALEMS LOTT - Mask Of Morality track list:
"Enigma"
"When Heaven Come Down"
"You Cant Hide From The Beast Inside"
"Higher Anguish"
"Royal Desperado"
"Fatal Attraction"
"Shattered To Pieces"
"Thin Ice"
"Mother Of Chains"
"Alexandria's Genesis"