FRANK HANNON From One Place...To Another, Vol. 1


By Andrew Depedro, Ottawa Corespondent
Tuesday, February 20, 2018 @ 1:25 PM


| | | |
| --- | --- | --- |
| | | |
FRANK HANNON
From One Place...To Another, Vol. 1
RedHawk Records




You've heard the Southern rock-inspired riffs and solos from Mechanical Resonance and onwards, marveled at that twin-neck Gibson SG that distinguished TESLA's sound from many of their other 80's hard rock contemporaries, and also wondered how many shares he'd invested in Bluenotes because of his fondness for flannel shirts. Indeed, there's no mistaking the musical aura of Frank Hannon and how he's been a key architect in the honing of the bluesy rock sound that's helped rock TESLA to the top. All those signs (signs, everywhere, signs) have signaled the musical direction that Frank has taken outside of his regular day job and birthed a solo career of sorts. It had all started with 2005's Guitarz From Marz which he'd released through his website, but with the fledgling fanbase wanting more of his rustic 70's inspired riffs, Hannon, while delicately balancing his recording/touring time with TESLA, went the hard copy studio album route and founded his own label titled RedHawk, releasing three more albums in between - 2010's Gypsy Highway, 2012's Six String Soldiers and 2014's World Peace (as the FRANK HANNON BAND). His latest album From One Place...To Another, Vol 1 is not only a first in Hannon's solo career for being an album entirely comprised of covers, but it also marks the first of a trilogy of similar albums to be released within the year. And it's all done with lots of help from his friends, making this album one of the most fun-sounding jam sessions ever recorded in the studio.

Opening number "Blue Sky", being a rendition of THE ALLMAN BROTHERS classic, particularly holds a soft spot in Hannon's heart; his father-in-law, Dickey Betts, sang on the original and encouraged him to sing on the cover. Hannon's voice gels nicely with Betts' melodic playing and gives the song a fresh take. "Call Me The Breeze", featuring Paul Jackson of BLACKBERRY SMOKE, borrows enough from both the JJ Cale and LYNYRD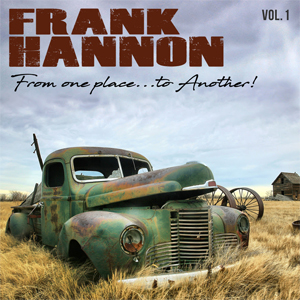 SKYNYRD versions to make it sound earnest yet distinctive. One of my particular favorites from the album follow suit with a vibrant rendition of "Jim Dandy To The Rescue" with some help by Tommy Curiale & Alyson Kimball of Johnny Winters' touring band, Alyson's chant of "Go Jim Dandy, go!" complimenting the boogiefied BLACK OAK ARKANSAS number nicely. Another cover of Rick Nelson's "Garden Party" featuring the late 50's crooner's infamous twin sons Matthew and Gunnar, is both amazing for its breezy acoustic vibe and for finally making the Nelson twins listenable for a change - not to mention that this song is as lyrically biting and sharp as "Hotel California" with its references to certain historical moments to musical pop culture. The most recent number on the album is a solemn yet rocking cover of Michael Tolcher's "Sunrise In Texas", rife with attitude and the musical contributions of the members of BLACKBERRY SMOKE.
By the album's climax, Frank Hannon might be changing the overall good time vibe of From One Place to a more darker and reserved environment as his renditions of "Under The Milky Way" by Australian cult faves THE CHURCH and QUEEN's "You're My Best Friend" finally ground the album nicely. But it's why the album received the title it's got and as far as Frank Hannon is concerned, it's taken him to places previously uncharted and driven him to propel both his vocal and musical talents to greater lengths. And for as long as he's got enough gas in the tank, Hannon's motor will be running on all cylinders regardless of which of his own vehicles he'll be spinning in for the foreseeable future.
5.0 Out Of 5.0
http://frankhannon.com/
https://www.facebook.com/FrankHannonofficial




Please log in to view RANTS

If you don't have a username, click here to create an account!





SLAUGHTER, LYNCH MOB In Houston Photo Gallery

METALLICA At Slane Castle, Ireland

THE RODS Brotherhood Of Metal

JANET GARDNER Your Place In The Sun

BARONESS Gold & Grey

THE HOLLYWOOD VAMPIRES Rise

HATE Auric Gates Of Veles

SLAYER, LAMB OF GOD, AMON AMARTH, CANNIBAL CORPSE In Ottawa, Canada

MAJESTIC DOWNFALL, HELEVORN, NORILSK In Ottawa, Canada

L.A. GUNS The Devil You Know

D-A-D A Prayer For the Loud

ALICE IN CHAINS In Dublin, Ireland

DEATH ANGEL Humanicide

DORO, METAL CHURCH In New Bedford, MA

THE END MACHINE The End Machine

FLESHGOD APOCALYPSE Veleno

WARRIOR SOUL Rock 'N Roll Disease

WHITESNAKE Flesh & Blood

CHEAP TRICK In Houston Photo Gallery

MICHAEL SCHENKER FEST In Worcester, MA

SLAYER, LAMB OF GOD, AMON AMARTH & CANNIBAL CORPSE In Columbia, MD

SUNN0))) Life Metal

Head Bangin' Radio Book

VENOM INC. In Ottawa, Canada

VIXEN In New Bedford, MA

ARCH/MATHEOS Winter Ethereal

A NEW REVENGE Enemies & Lovers

RINGWORM "Death Becomes My Voice"

AMON AMARTH Berserker