ANVIL Pounding The Pavement


By Andrew Depedro, Ottawa Corespondent
Friday, February 23, 2018 @ 11:03 AM


| | | |
| --- | --- | --- |
| | | |
ANVIL
Pounding The Pavement
SPV/Steamhammer




There's something to be said about ANVIL's consistency when it comes to releasing albums since their resurgence in popularity a little over a decade ago through their documentary Anvil! The Story Of Anvil. Often they can be properly balanced out with their hectic touring schedule, as was the case with their previous two albums Anvil Is Anvil and Hope In Hell; otherwise, as seen with This Is Thirteen, released literally during the filming of their movie, you're looking at a band with too much on their proverbial plate simply rushing to release an album for the sake of keeping their name as current as they possibly can. With every listen of their new album Pounding The Pavement, it's hard to tell where ANVIL are at in this stage of their career at first. The classic pairing magic of frontman/guitarist Steve 'Lips' Kudlow and drummer Robb Reiner can still sell out venues internationally based on the strength of their exhaustive live performances, and their hard-luck yet emboldened work aesthetic will continue to click with both big name fans ranging from Slash to METALLICA to Ozzy Osbourne for years to come. Now, with their more of their elder contemporaries taking their final bow from the stage, ANVIL are in a larger proverbial playing field that's working even more to their advantage for the first time in their 40-year career.

That said, Pounding The Pavement isn't absent of its faults, which need to be called out right now. Let's start with how unbelievably throwaway the lyrics to "Rock That Shit" are. I get that Lips and Robbo come from the 50's generation and all, but if you're expecting something of a rebellious streak to appear in that song, you'll never find it in inane lyrics such as "Nothing will stop/Not even a cop/Gotta stay on top/Let's go to the hop", which is far from "breaking new ground" as the song boasts. "Nanook Of The North" (named after the 1920's documentary) has a powerful message of modern day colonialism affecting Canada's Inuit communities - complete with a traditional throat-singing intro - but it could maybe benefit with a better title in this day and age of Secret Path by late TRAGICALLY HIP frontman Gord Downie. And the strongest-sounding tracks on the whole album in the form of "Black Smoke" and "World Of Tomorrow" should be trading places with "Do What I Want" and "Smash Your Face" on the tracklist.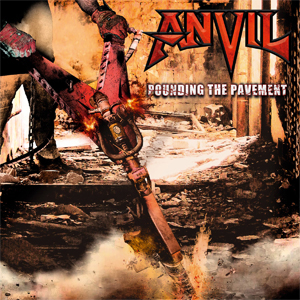 Onto its positive aspects, the title track makes for one of ANVIL's heaviest instrumentals and definitely stays true to itself thanks to Robbo's thunderous drum work. "Ego" and "Let It Go" are lyrically sharp and astute while the opener "Bitch In The Box" may have some wavering politically incorrect overtones at first, the song makes more sense midway through when it's evident that it's a light-hearted and goofy number about using one's GPS system while driving. Because you'd never know how much you can relate to how sometimes a GPS system can be unreliable until you've heard "Bitch In The Box". Elsewhere, the chemistry between Lips, Robbo and bassist Chris Robertson is quite possibly the most free-flowing and real that ANVIL have sounded in years thanks to the production work of Jörg Uken, owner of the Soundlodge studios in Rhauderfehn in the northwest of Germany where the album was recorded. Lips' playing is reaching levels of his fast riffing period on this album not seen since the early 80's while Robbo's incorporation of more swing-style jazz beats has continued to give ANVIL's music more of a solid groove.
And it's a solid comfortable groove that ANVIL have been able to proudly claim to have fought four decades to finally achieve in their career hence the title. The code of the road may not always call for unforeseen potholes, but for ANVIL, it's worth the long ride.
4.0 Out Of 5.0
https://www.facebook.com/anvilmetal




Please log in to view RANTS

If you don't have a username, click here to create an account!






QUEENSRYCHE, FATES WARNING In Worcester, MA

Y&T In New Bedford, MA With Photos!

EXPERIENCE HENDRIX In Clearwater, FL With Photos!

OVERKILL, DESTRUCTION, FLOTSAM & JETSAM In Munich, Germany

TORA TORA Bastards of Beale

THE ELYSIAN FIELDS New World Misanthropia

IRON SAVIOR Kill Or Get Killed

BEAST IN BLACK From Hell With Love

CANNIBAL CORPSE, MORBID ANGEL In Santa Ana, CA With Photos!

NOTHING MORE, OF MICE & MEN In Los Angeles With Photos!

DREAM THEATER Distance Over Time

NIGHT RANGER In Houston, TX With Photos!

Y&T, GILBY CLARKE In Houston, TX With Photos!

LAST IN LINE In Houston, TX With Photos!

AENIMUS Dreamcatcher

CHILDREN OF BODOM Hexed

ASTRONOID Astronoid

RHAPSODY OF FIRE The Eighth Mountain

MALEVOLENT CREATION The 13th Beast

SILVERTUNG (But, At What Cost??!)

KILLER BEE Remember The Times

OVERKILL The Wings of War

SWALLOW THE SUN When A Shadow Is Forced Into The Light

LAST IN LINE II

HERMAN FRANK Fight The Fear

DARKEST HOUR, UNEARTH, TRIPLE MURDER In Ottawa, Canada

AMON AMARTH The Pursuit Of Vikings - 25 Years In The Eye Of The Storm DVD

STEEL PANTHER In Portland, OR With Photos!

AMARANTHE Helix

SOILWORK Verkligheten