ANVIL Pounding The Pavement


By Andrew Depedro, Ottawa Corespondent
Friday, February 23, 2018 @ 11:03 AM


| | | |
| --- | --- | --- |
| | | |
ANVIL
Pounding The Pavement
SPV/Steamhammer




There's something to be said about ANVIL's consistency when it comes to releasing albums since their resurgence in popularity a little over a decade ago through their documentary Anvil! The Story Of Anvil. Often they can be properly balanced out with their hectic touring schedule, as was the case with their previous two albums Anvil Is Anvil and Hope In Hell; otherwise, as seen with This Is Thirteen, released literally during the filming of their movie, you're looking at a band with too much on their proverbial plate simply rushing to release an album for the sake of keeping their name as current as they possibly can. With every listen of their new album Pounding The Pavement, it's hard to tell where ANVIL are at in this stage of their career at first. The classic pairing magic of frontman/guitarist Steve 'Lips' Kudlow and drummer Robb Reiner can still sell out venues internationally based on the strength of their exhaustive live performances, and their hard-luck yet emboldened work aesthetic will continue to click with both big name fans ranging from Slash to METALLICA to Ozzy Osbourne for years to come. Now, with their more of their elder contemporaries taking their final bow from the stage, ANVIL are in a larger proverbial playing field that's working even more to their advantage for the first time in their 40-year career.

That said, Pounding The Pavement isn't absent of its faults, which need to be called out right now. Let's start with how unbelievably throwaway the lyrics to "Rock That Shit" are. I get that Lips and Robbo come from the 50's generation and all, but if you're expecting something of a rebellious streak to appear in that song, you'll never find it in inane lyrics such as "Nothing will stop/Not even a cop/Gotta stay on top/Let's go to the hop", which is far from "breaking new ground" as the song boasts. "Nanook Of The North" (named after the 1920's documentary) has a powerful message of modern day colonialism affecting Canada's Inuit communities - complete with a traditional throat-singing intro - but it could maybe benefit with a better title in this day and age of Secret Path by late TRAGICALLY HIP frontman Gord Downie. And the strongest-sounding tracks on the whole album in the form of "Black Smoke" and "World Of Tomorrow" should be trading places with "Do What I Want" and "Smash Your Face" on the tracklist.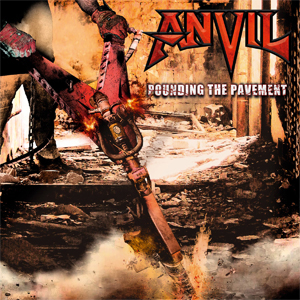 Onto its positive aspects, the title track makes for one of ANVIL's heaviest instrumentals and definitely stays true to itself thanks to Robbo's thunderous drum work. "Ego" and "Let It Go" are lyrically sharp and astute while the opener "Bitch In The Box" may have some wavering politically incorrect overtones at first, the song makes more sense midway through when it's evident that it's a light-hearted and goofy number about using one's GPS system while driving. Because you'd never know how much you can relate to how sometimes a GPS system can be unreliable until you've heard "Bitch In The Box". Elsewhere, the chemistry between Lips, Robbo and bassist Chris Robertson is quite possibly the most free-flowing and real that ANVIL have sounded in years thanks to the production work of Jörg Uken, owner of the Soundlodge studios in Rhauderfehn in the northwest of Germany where the album was recorded. Lips' playing is reaching levels of his fast riffing period on this album not seen since the early 80's while Robbo's incorporation of more swing-style jazz beats has continued to give ANVIL's music more of a solid groove.
And it's a solid comfortable groove that ANVIL have been able to proudly claim to have fought four decades to finally achieve in their career hence the title. The code of the road may not always call for unforeseen potholes, but for ANVIL, it's worth the long ride.
4.0 Out Of 5.0
https://www.facebook.com/anvilmetal




Please log in to view RANTS

If you don't have a username, click here to create an account!






ALICE COOPER In Houston Photo Gallery

ICARUS WITCH Goodbye Cruel World

TARJA, STRATOVARIUS, SERPENTYNE In Cologne, Germany

CLUTCH, SEVENDUST, TYLER BRYANT & THE SHAKEDOWN In Portland, OR With Photos!

ACCEPT In Houston, TX With Photos!

U.D.O. Steelfactory

SKULL FIST Way Of The Road

SOULFLY Ritual

ANTHRAX State of Euphoria 30th Anniversary Deluxe Edition

FIFTH ANGEL The Third Secret

STEVE GRIMMETT'S GRIM REAPER In New Bedford, MA

ANAAL NATHRAKH A New Kind of Horror

PRIMAL FEAR Apocalypse

BEHEMOTH I Loved You At Your Darkest

DORO Forever Warriors, Forever United

SLASH FEATURING MYLES KENNEDY AND THE CONSPIRATORS In Houston, TX Photo Gallery

BILLY MORRIS AND THE SUNSET STRIP Holdin' All The Aces

VINCE NEIL In Houston, TX Photo Gallery

DEE SNIDER For The Love Of Metal

UNLEASH THE ARCHERS, STRIKER, HELION PRIME In Houston, TX W/Photos!

CLUTCH, SEVENDUST In Houston, TX

KING KOBRA Sweden Rock Live

DREAM CHILD Until Death Do We Meet Again

SCORPIONS, QUEENSRYCHE In Tampa, FL With Photos!

HUMBLE PIE Live At The Ottawa CityFolk Festival

BEHEMOTH Album Listening Party In Los Angeles For I Loved You At Your Darkest

THE DEAD DAISIES, HOOKERS 'N BLOW In Ottawa, Canada With Photos!

DRAGONLORD Dominion

STONE BROKEN Ain't Always Easy

BRANT BJORK Mankind Woman

KORPIKLAANI Kulkija

BRAINSTORM Midnight Ghost

SLEAZY WAY OUT, INSUFFICIENT FUNDS In Ottawa, Canada

DEEP PURPLE, JUDAS PRIEST In Jacksonville, FL W/Photos!

HELLOWEEN In Worcester, MA With Photos!

RED TIGER Evolution

ALTER BRIDGE Live At The Royal Albert Hall Featuring The Parrallax Orchestra

CLUTCH Book Of Bad Decisions

ANGRA In Winter Park, FL With Photos!

TALES FROM THE PORN H.M.M.V.

CARRY THE STORM i/E

PIG DESTROYER Head Cage

SAXON Strong Arm Of The Law Reissue

THE DEAD DAISIES In Houston, TX Photo Gallery

ALICE IN CHAINS, BUSH, THE CULT, STONE TEMPLE PILOTS In Ridgefield, WA W/Photos!

SUICIDAL TENDENCIES STill Cyco Punk After All These Years

OPERATION:MINDCRIME, TILL DEATH DO US PART In Portland, OR With Photos!

TNT XIII

DC4 Atomic Highway

CAL JAM '18 POP UP In Los Angeles With Photos!

SLAYER, LAMB OF GOD, ANNTHRAX, TESTAMENT And NAPALM DEATH In Ridgefield, WA With Photos!

JIZZY PEARL OF LOVE/HATE All You Need Is Soul

NIGHT DEMON Live Darkness

RAVENSCROFT Rebel

NASHVILLE PUSSY Pleased To Eat You

QUIET RIOT In Houston Photo Gallery

WARRANT, STEELHEART In Houston Photo Gallery