NO LEGACY RECORDS Debuts With A Full-Length Compilation Vinyl Release Vol. 1: Socal/Norcal


By Larry Petro, News Monkey
Wednesday, March 7, 2018 @ 1:14 PM


| | | |
| --- | --- | --- |
| | | In Celebration Of Today's California Heavy Metal Underground |
Los Angeles, CA's No Legacy Records formally announces their debut full-length No Legacy Vol. 1: Socal/Norcal is available strictly on vinyl pressing. Featuring nine of California's modern heavy music acts that span the full genre spectrum of 'heavy', including IRONAUT, DISASTROID, MADROST, ASTRAL CULT, VOID VATOR, and others. There are 'no legacy' acts on the compilation, as the label was created to specifically highlight professional up & coming bands not already in popular awareness.

California is long-known for its contributions to the heavy metal music world. Be it bands, venues, and for many eras - record labels. With the digital stream eruptions, physical music sales plummeted and many major labels focused only on their 'legacy' artists, or outright folded. This gave smaller, independent labels room to grow and their underground artists found that same sunlight. Recent years sprouted a resurgence of physical format music on CD, Vinyl, and even cassettes. Yet, major labels still tote primarily 'legacy' artists, with reissue after reissue of legendary artist releases in every color vinyl in the rainbow.

However, music lovers still attend live music shows, searching for new heavy music that doesn't carry that hefty legacy price tag. No Legacy Records was launched for this specific purpose. Erik Kluiber, label founder and executive producer of the compilation, knows his way around the California heavy metal scene. Erik is a long time heavy music artist, currently a member of both VOID VATOR (guitar) and IRONAUT (bass and vocals), as well as former guitarist for GYPSYHAWK and WHITE WIZZARD.

According to Kluiber,

"The title is called No Legacy, because this album features exclusively contemporary up-and-coming bands in the underground California heavy music scene. From my perspective, the heavy metal movement has shifted over to an unhealthy focus predominantly fixated on established legacy acts. Metal has become all about the brands, instead of the bands."

"I met all of the bands included on No Legacy by sharing the stage with them at club shows across California. I hear and see hundreds of bands every year and the good ones stand out. In 2017, I had this idea of the compilation album in my head. I approached bands that made an impression the night I played with them and asked them if this idea of a compilation album was something they would be interested in participating in. I was surprised on the immediate positive feedback. They reminisced about albums like Metal Massacre from decades ago and understood the fan crossover potential."

The No Legacy Volume 1: Socal/Norcal compilation is available in a limited edition, first press run of 500 on 180 gram black vinyl, with printed sleeve insert. Executive produced by Erik Kluiber, with assembly and additional mastering by Michael Hateley at Lotus Mastering. Cover artwork, design, and layout by Ryan Bartlett. The album compilation features nine California heavy underground bands, including IRONAUT, DISASTROID, MADROST, ASTRAL CULT, VOID VATOR, ABOLETH, GRAND LORD HIGH MASTER, HAZZARD'S CURE, TZIMANI.

No Legacy Volume 1: Socal/Norcal Track List: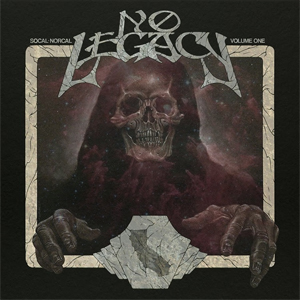 Side 1
Ironaut - "Sick Stupid Lies"
Disastroid - "New Day"
Madrost - "Scorned"
Astral Cult - "Drowning"
Side 2
Void Vator - "No Return" (Video On KNAC.COM HERE)
Aboleth - "No Good"
Grand Lord High Master - "Sludge"
Hazzard's Cure - "Starvation"
Tzimani - "Final Hour"
Compilation of Artists - Information:

1. Ironaut - Los Angeles, CA
2. Disastroid - San Francisco, CA
3. Madrost - Lake Forest, CA
4. Astral Cult - Folsom, CA
5. Void Vator - Los Angeles, CA
6. Aboleth - Los Angeles, CA
7. Grand Lord High Master - Apple Valley, CA
8. Hazzard's Cure - San Francisco, CA
9. Tzimani - San Diego, CA




Please log in to view RANTS

If you don't have a username, click here to create an account!