MINISTRY AmeriKKKant


By Ruben Mosqueda, Contibutor
Friday, March 9, 2018 @ 8:35 AM


| | | |
| --- | --- | --- |
| | | |
MINISTRY
AmeriKKKant
Nuclear Blast Records 2018




Unless you've been residing under a boulder, as a rock and metal fan you know Al Jourgensen and MINISTRY are one of the pioneering acts of the industrial rock and industrial metal revolution. After the Last Sucker world tour MINISTRY went on was to be believed as 'indefinite hiatus', mostly due to Jourgensen's poor health, but he did eventually resuscitate the band once his health improved.

After releasing a pair of extremely underwhelming records with 2012s Relapse and 2013s From Beer To Eternity, Al Jourgensen has regrouped. MINISTRY had a very successful run of dates last fall and were in writing and recording mode for most 2017, the result of which is their latest effort titled AmeriKKKant. Jourgensen debuted a song off the new album on the string of live dates in 2017; the song was "Antifa" which depending on your take of these 'nu-protesters' it will either have you saying "Right on" or "Fuck off". In any event, this song is the only unremarkable moment on the album, but sure to get the crowd pumped up like I witnessed last fall.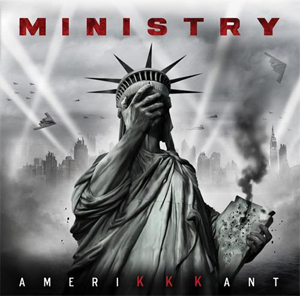 AmeriKKKant brilliantly merges thrash riffage, mechanical beats with samples and scratching; which makes for a brilliantly orchestrated chaotic rollercoaster. Jourgensen has got his footing and has released THE best album since 2007s The Last Sucker. Jourgensen has issued his best work while a Republican is in office; Reagan, Bush Sr., Bush and now Trump. While it remains to be seen if the latter will inspire the level of work that his predecessors, AmeriKKKant is off to a glorious start. The highlights on AmeriKKKant include "Twilight Zone", "We're Tired Of It" and "Wargasm". As a collective body of work the album is cohesive and strung together seamlessly. Jourgensen hopes to perform most or all the new album live on on the spring North American tour which should be a real treat for the fans.
4.0 Out Of 5.0




Please log in to view RANTS

If you don't have a username, click here to create an account!






QUEENSRYCHE, FATES WARNING In Worcester, MA

Y&T In New Bedford, MA With Photos!

EXPERIENCE HENDRIX In Clearwater, FL With Photos!

OVERKILL, DESTRUCTION, FLOTSAM & JETSAM In Munich, Germany

TORA TORA Bastards of Beale

THE ELYSIAN FIELDS New World Misanthropia

IRON SAVIOR Kill Or Get Killed

BEAST IN BLACK From Hell With Love

CANNIBAL CORPSE, MORBID ANGEL In Santa Ana, CA With Photos!

NOTHING MORE, OF MICE & MEN In Los Angeles With Photos!

DREAM THEATER Distance Over Time

NIGHT RANGER In Houston, TX With Photos!

Y&T, GILBY CLARKE In Houston, TX With Photos!

LAST IN LINE In Houston, TX With Photos!

AENIMUS Dreamcatcher

CHILDREN OF BODOM Hexed

ASTRONOID Astronoid

RHAPSODY OF FIRE The Eighth Mountain

MALEVOLENT CREATION The 13th Beast

SILVERTUNG (But, At What Cost??!)

KILLER BEE Remember The Times

OVERKILL The Wings of War

SWALLOW THE SUN When A Shadow Is Forced Into The Light

LAST IN LINE II

HERMAN FRANK Fight The Fear

DARKEST HOUR, UNEARTH, TRIPLE MURDER In Ottawa, Canada

AMON AMARTH The Pursuit Of Vikings - 25 Years In The Eye Of The Storm DVD

STEEL PANTHER In Portland, OR With Photos!

AMARANTHE Helix

SOILWORK Verkligheten